On August 1, 2013, Adamis Pharmaceuticals, (NASDAQ:ADMP) entered into an agreement, paying $3m to initially license and with an additional closing payment fully acquire from 3M Company certain intellectual property and assets relating to 3M's Taper Dry Powder Inhaler technology under development for the treatment of asthma and chronic obstructive pulmonary disease. On December 27, Adamis filed an 8k showing that they made the additional and final payment of $7M to 3M and that ownership of the assets and intellectual property were transferred to the Company. With this closing, Adamis now has rights to a dry powder inhaler that combines a patient-friendly design with active aerosolization to provide effective delivery of drug in a multi-dose and will attack Glaxo's (NYSE:GSK) $8 billion a year Advair franchise.
Can be used with single or combination drugs
Virtually eliminates need for complex powder treatments or lactose in most formulations
Holds up to 120 doses in convenient pocket sized design
API dose range up to 1 milligram
Protects against moisture ingress
Utilizes patented 3M breath actuated technology for simple open, inhale, close functionality
Integrates dose counter to ensure patients know how many doses remain
APC-5000 - Dry Powder Inhaler ***NEW PRODUCT***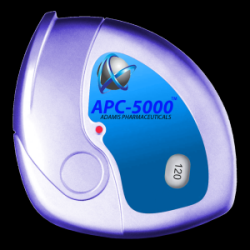 APC-5000 is Adamis' first product using the Taper Dry Powder Inhalation (DPI) technology that the Company has exclusively licensed, and with additional payment, fully acquire from 3M Drug Delivery Systems. The Taper DPI is a patented pre-metered device that Adamis expects will have a number of advantageous features when compared to competing DPI products including: greater efficiency, less dependence on the individual's inspiratory flow rate (due to the aerosolization energy inherent in the device), no need for excipients in most formulations, capability of delivering up to 120 doses (a two month supply), moisture protection, and ease of use. In addition, the device has been designed to reduce the likelihood of delivering a double dose.
Addressable Market ~$4.0 billion
According to IMS Health data, the global asthma and COPD prescription market is more than $34 billion and is averaging 7% growth per year. Also according to IMS, annual sales of the AdvairDiskus® are currently in excess of $5 billion in the United States and $8 billion globally.
FDA Guidance clears path for Advair generics
In September, the US Food and Drug Administration (FDA) has published draft guidance on generic copies of combination drugs for respiratory diseases which could hasten generic competition to GlaxoSmithKline's (GSK) big-selling Advair brand. The FDA's new draft guidance provides a simplified framework for companies trying to develop generics of Advair as well as other combination inhaled medicines such as AstraZeneca's Symbicort (budesonide/formoterol), also a blockbuster with sales of $3bn-a-year. The FDA laid out the kind of scientific studies generic companies need to submit to be considered for approval. The new clarity means generics could potentially hit the market by 2016 or 2017, analysts said, though some cautioned that the complexity of producing an exact copy could still delay generics to a later date.
Dr. Dennis J. Carlo, President and CEO Adamis stated, "There are a limited number of companies that have the capability to develop this type of novel inhalation drug delivery technology, and 3M is considered one of the leaders. To date, there is no low cost alternative to Advair. We believe that the exclusive license and acquisition of the 3M Taper DPI technology provides Adamis with a blockbuster opportunity in the branded generic asthma/COPD market, where even a small market share could generate a very large potential return on investment for Adamis shareholders. This technology strengthens the Company's respiratory product pipeline and has the potential to provide solid growth for Adamis for years to come and I believe the acquisition of this pivotal technology could be a transforming event for our company. This acquisition is consistent with one of the objectives outlined in my recent letter to shareholders in a press release dated May 3, 2013."
Adamis Specialty Pharmaceuticals Product Pipeline

Products
Epinephrine Pre-filled Syringe (
PFS
) - single dose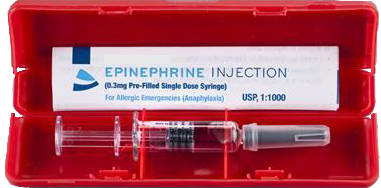 The Epinephrine Pre-filled Syringe (PFS) (Epinephrine Injection USP 1:1000, 0.3mg Pre-Filled Single Dose Syringe) will compete as a simpler, more intuitive, low cost therapeutic alternative to epinephrine auto injectors like the well-known brand EpiPen® in the anaphylaxis market. The Company's New Drug Application to the FDA for marketing approval of the product is completed and ready to be filed.
Addressable Market ~ $800 million
In the U.S., an estimated 5% of the population suffers from insect sting anaphylaxis, up to 6% are latex sensitive and up to 1.5% of adults and 5% of children under three years of age experience food related anaphylaxis. The number of prescriptions has grown annually as the risk of anaphylaxis has been more widely understood. Adamis also intends to introduce the Epinephrine PFS world-wide through licensing agreements.
TeloB-VAX: Prostate Cancer Telomerase Vaccine
Adamis Pharmaceuticals TeloB-VAX vaccine is composed of the patients' own circulating B lymphocytes harboring a unique patented engineered plasmid DNA. The transfection procedure is "spontaneous", requiring no facilitating molecules or devices. After 60 minutes of incubation with the plasmid, the cells can be re-infused back into the patient. In studies conducted to date, TeloB-VAX cancer vaccine induces a potent cellular immune response against the first truly common cancer antigen, the telomerase reverse transcriptase (TERT).
Telomerase is an enzyme that adds DNA sequence repeats (e.g., "TTAGGG") to the 3' end of DNA strands in the telomere regions of chromosomes at every cell division. Telomerase confers the immortality trait that converts normal cells into cancer cells and prevents the erosion of telomeres and end-to-end chromosomal fusion. As such, telomerase is over-expressed in the vast majority of differentiated cancer cell types. Importantly, telomerase is also necessary for self-renewal of cancer stem cells and cancer cell progenitors. Based on the foregoing, TERT is an antigen expressed in both differentiated and progenitor cancer cells making vaccination against TERT a potentially effective measure to induce an immune response against cancer cells at both stages of differentiation.
If successfully developed, Adamis believes the technology offers certain significant advantages over the existing FDA approved vaccine, Provenge. Some of the advantages include: 1) prolonged antigen presentation by B cells (5 days) as compared to the short presentation time by dendritic cells (12 hours), 2) a unique patented technology using a universal cancer antigen (marker) that is increased in approximately 85% of all tumors, 3) induces an immune response after a single injection, 4) no need for complicated culture procedures (easy to manufacture), 5) much fewer steps, and 6) lower cost.
If future clinical trials are successful, TeloB-VAX may very well be called a "universal cancer vaccine" that could induce immunity against multiple cancer types as well as targeting the specific cancer stem cell.
Upcoming Catalysts:
Focusing on submitting our single dose epinephrine syringe for regulatory approval and sale next year
Completing the manufacture of our Beclomethasone-HFA product to initiate Phase III studies in asthma and COPD
Finalizing our allergic rhinitis product development in order to initiate Phase III clinical trials
Acquiring or in-licensing an established product or technology that, following regulatory marketing approvals, will compete in large (multi-billion dollar) product markets and will be synergistic with our existing assets. (Done)
Completing our Phase I prostate cancer drug trial
Finalizing the activities necessary to begin a Phase I/II trial for our second prostate compound
Initiating a Phase II prostate cancer vaccine trial for TeloB-VAX.
Conclusions:
On December 13, Adamis completed an uplisting to the NASDAQ and announced the pricing of an underwritten public offering of 3,720,000 shares of common stock at an offering price of $5.95 per share, the Company also completed a 1-17 reverse split. In addition to paying off the $7m to 3M Company for the Taper Dry Powder Inhaler Technology, Adamis intends to use the remaining net proceeds to fund the filing and launch of the Epinephrine PFS product candidate and fund clinical trials.
As I have outlined above, in addition to APC-5000, using the just acquired Taper Dry Powder Inhalation (DPI) technology addressing a $4b market , Adamis has a very deep pipeline that addresses multi-billion dollar markets. With just a $64m market cap, small public float and many significant near term catalysts, Adamis appears to be extremely undervalued. Once this tiny biotech is discovered, we could see a dramatic share price appreciation in 2014 which would reflect the true value of the Company and its current pipeline.
Disclosure: I am long ADMP.