Trend reversal patterns in Gold and Silver related ETFs are now firmly in place, indicating that further downside is likely. As the perception that the economy is improving demand for previous metal ETFs see a short term reversal of fortune. Indications are that this is a normal correction in an uptrend, and that once finding support, gold and silver will again rally.
Declines have been led by gold and silver miners as can be seen on the accompanying charts. 
Resistance of the Triple Top was found right in the area of the 261.8% Fibonacci extension of the downtrend measured from the June 2010 high (purple). 
Triple Top -
SPDR Gold Trust (GLD)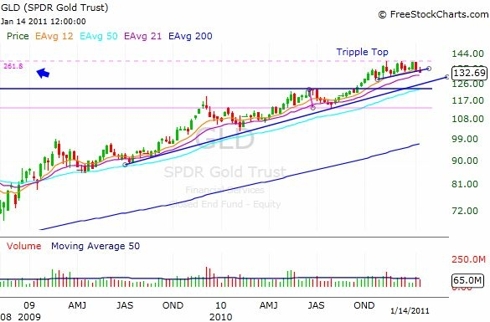 GLD broke through the neckline of the pattern on above average volume on Friday. However, volume did not increase for the week. 
It has also cleared support of the 50 period exponential moving average (ema) on the daily chart, which had been trend support since August 2010, and has also broken below the 12ema on the weekly chart. The 12ema confirmed the significance of the neckline, as you can see on the weekly chart they are both aligned together.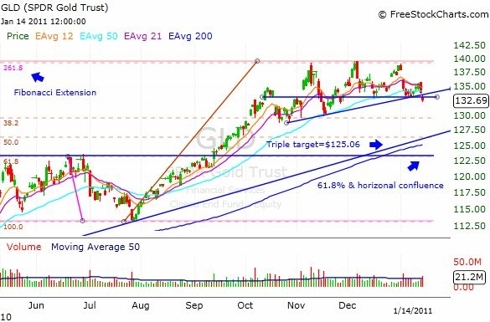 The odds now favor a further decline down to the uptrend line, 200ema (now at $125.08), horizontal support around $123.5, or the measuring objective of the Triple Top. Note that the area of horizontal support identified on the daily chart is aligned with the 61.8% Fibonacci retracement level, thereby increasing the potential significance of this support area. 
Calculating the target for the Triple Top gives us a support level of $125.06. Interesting that this level is almost exactly where the 200ema is currently. Of course, the 200ema price level will be adjusting over time as the decline in GLD proceeds. 
Triple Top target calculation:
High price, 139.54, less neckline on that day, 131 = difference of 8.54. Neckline support = 133.60 less 8.54 = Target of 125.06.
 Head & Shoulder Top - iShares Silver Trust ETF (SLV)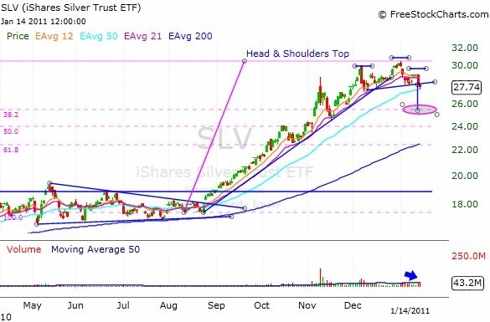 Double Top - Global X Silver Miners ETF (SIL) - Further along in its decline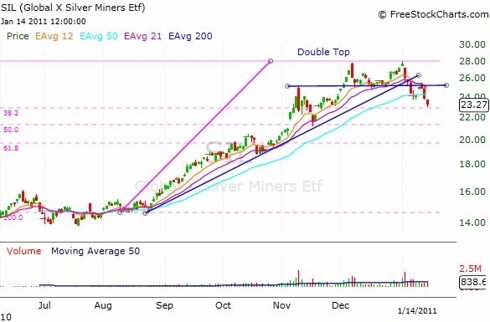 Head & Shoulder Top - Market Vectors Gold Miners ETF (GDX) – Leads the way down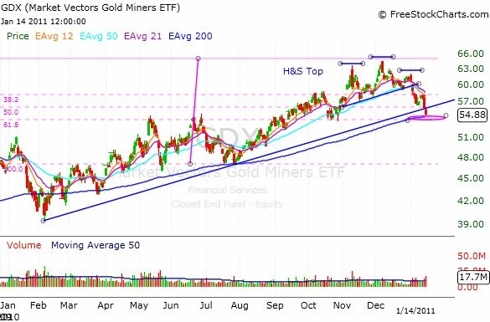 Head & Shoulders Top - Market Vectors Junior Gold Miners ETF (GDXJ)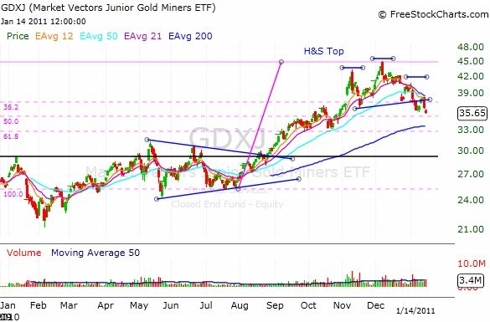 There are two reverse leveraged ETFs that are setup still in the earlier stage of reversal. One is
ProShares Ultrashort Silver (ZSL)
showing a Head & Shoulders Bottom Reversal, with average 50-day volume of approximately 3,000,000, and the other is
ProShares Ultrashort Gold (GLL
),
with a Triple Bottom and average 50-day volume of approximately 300,000.   (
www.etf-portfolios.com
)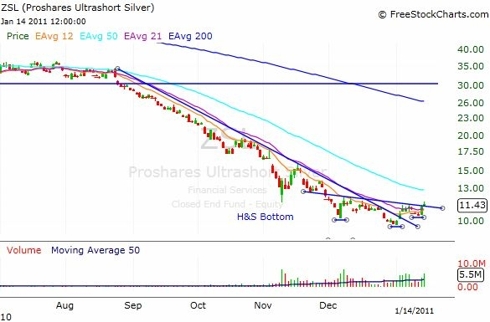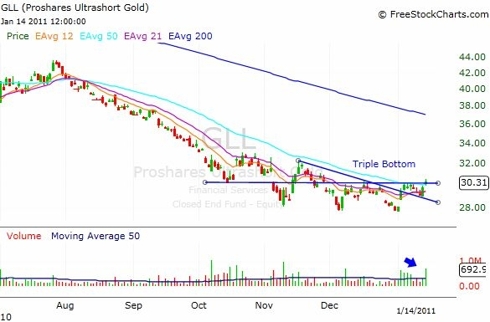 Disclosure:
I have no positions in any stocks mentioned, but may initiate a short position in
SLV
,
GLD
over the next 72 hours.