A number of bond ETFs broke down out of trend continuation patterns last week on higher volume. In all cases the price patterns were clear. 
The breakouts to the downside are already well in place, but a retracement back up towards resistance is likely and should present other entry possibilities for taking short positions. 
Here we take a look at some of the higher volume (> 900,00 ADV) bond ETFs that have nice clear patterns. 
Follow the trend. You can see that many of these bond ETFs topped out with a head and shoulders pattern before trending lower.  Subsequently, the trend retraced and consolidated into either a bearish wedge or descending triangle price pattern before breaking down last week. 
These downtrends are continuing in classic fashion – clear breaks out of continuation patterns, multiple sequential down days, and increasing volume. This is the beginning of the second leg of the downtrend therefore the potential for a sustained decline in the medium and long term exists. 
In each of these ETFs price is below the 200 period exponential moving average (ema), a long term trend indicator and in some cases the 50ema has crossed down through the 200ema, further confirming the bearish trend.

iShares Barclays 20+ Year Treasury Bond Fund ETF (NYSEARCA:TLT)
TLT broke down out of a bearish descending triangle several days ago. The 50ema now marks a resistance barrier for the larger downtrend.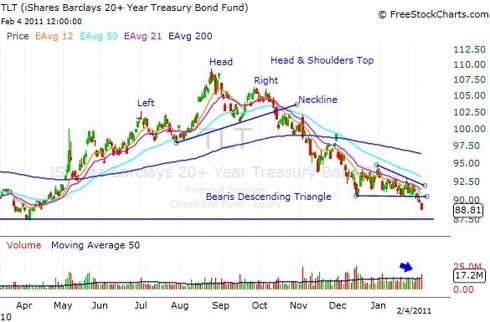 ProShares UltraShort 20+ Year Treasury ETF (NYSEARCA:TBT)
TBT is an inverse ETF for 20+ year treasuries and leveraged 2x. It's another way to play a declining bond market while utilizing the benefit of leverage.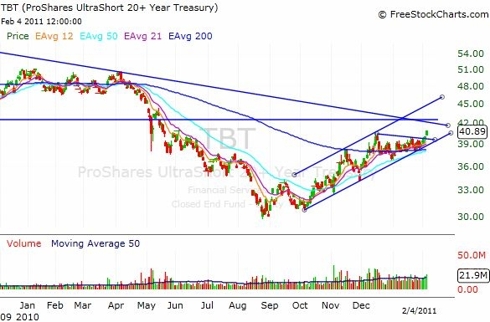 iShares Barclays 7-10 Year Treasury Bond Fund (NYSEARCA:IEF)
IEF broke down five days ago and closed barely below the low of the wedge pattern on Friday. Its 50ema crossed down through the 200ema early in January confirming the bearish signals.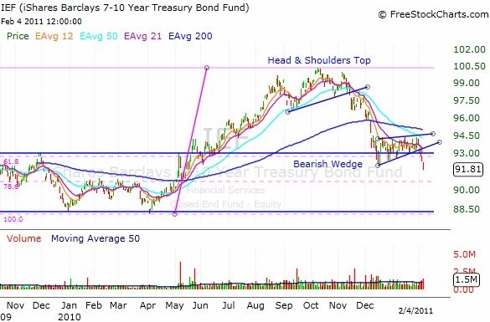 iShares Iboxx $ Investop Corp Bd ETF (NYSEARCA:LQD)
LQD broke down from a wedge towards the end of January but took a while to start its decline. It still has a little ways to go before reaching the low of the wedge (first potential support area). Note that the 50ema is just now starting to cross down through the 200ema. This shows that downside momentum is gaining in LQD, but also that it is lagging IEF and indicates greater weakness in IEF. After a retracement or consolidation and the bond ETFs setup again for new short entries, we can assume the selling will be more aggressive in IEF relative to LQD.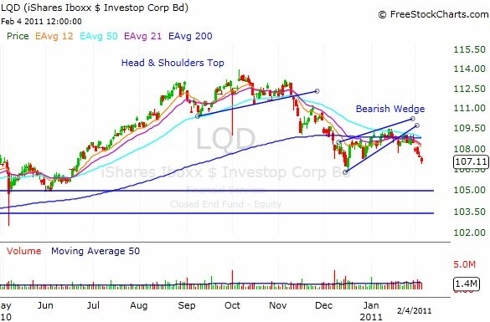 iShares Barclays Aggregate Bond Fund (NYSEARCA:AGG)
AGG broke down out of a wedge early last week after bouncing off resistance of both the 50ema and 200ema, which have also now crossed.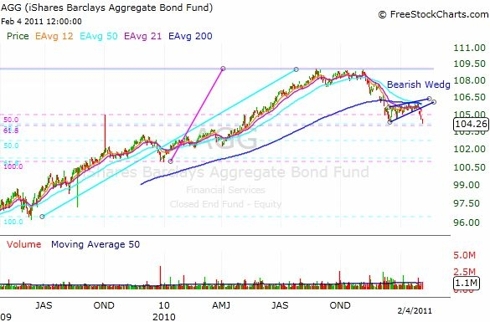 iShares Barclays 1-3 Year Treasury Bond Fund (NYSEARCA:SHY)
In SHY we see some slightly different behavior relative to the ETFs previously mentioned. Until the end of last week SHY had stayed above its 200ema, and the 50ema is not yet even close to moving down through the 200ema. Also, during the recent retracement after the decline from the top, SHY was able to rally back up above its 50ema, whereas all the previous ETFs mentioned stayed below their 50ema. This indicates relative strength in SHY compared to the other bond ETFs discussed here.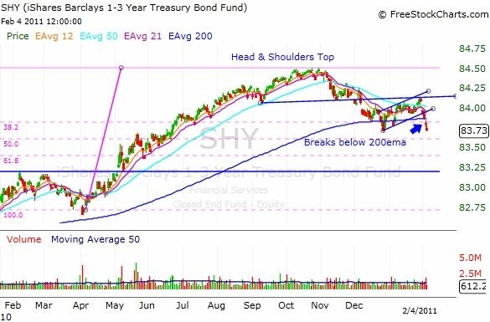 (www.etf-portfolios.com)
Disclosure:
I have no positions in any stocks mentioned, and no plans to initiate any positions within the next 72 hours.