Back in June 2012 iShares Silver Trust (NYSEARCA:SLV) ETF found long-term support at $25.34, completing a 61.8% Fibonacci retracement of the internal uptrend, and stopping at the important 200 weekly exponential moving average (ema). That was a 47.6% correction off the $48.35 high reached in April 2011. A rally followed with the ETF rising above its long-term downtrend line. Resistance was subsequently found at $34.08 in October 2012, leading to a correction down to the recent low at $28.61.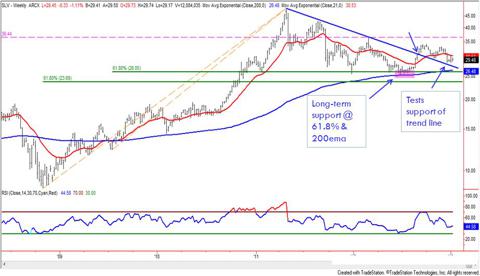 SLV may now be close to continuing the uptrend begun off that June 2012 low. The downside correction off the $34.08 high completed a 61.8% Fibonacci retracement ($28.68) of the prior rally, and formed a bullish AB=CD pattern. For the past four weeks SLV has been testing support in the $28.61 price area and support has held. In addition, support of the long-term downtrend line has also been tested.
Further weakening, down to the 78.6% retracement at $27.21, is likely if SLV sees a daily close below $28.61. Otherwise, signs of strengthening should lead to a second leg up in the uptrend off the weekly 200ema. After reaching an oversold level upward momentum is improving as seen in the daily RSI.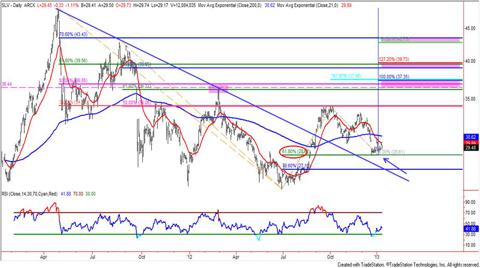 There are several target zones that can be watched. The first is from approximately $36.12 up to $37.46, and includes a number of Fibonacci levels, as well as the important peak from February 2012 at $36.44. The price structure of the long-term downtrend would be broken on a daily close above that peak giving further strength to a bullish long-term outlook. At $37.35 the second leg up would match the move in the first leg.
The second target zone to watch is from $39.85 to $39.75. If reached SLV would have completed a 61.8% retracement ($39.56) of the full downtrend. Above there is another resistance zone around $42.73 to $43.43, consisting of the 161.8% projection of the first leg up and the 78.6% retracement level, respectively. etf-portfolios.com
Disclosure: I am long SLV.