HOLDRS BioTech ETF (BBH) formed a very clear bearish Shooting Star Candlestick pattern last Thursday indicating a further correction is likely in the short term.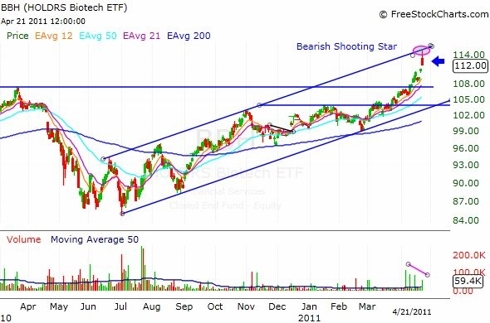 The Shooting Star in the BBH daily chart is particularly ominous as the range of the day was relatively large; the largest in more than several months, and it comes after a second sequential runaway gap. 
A Shooting Star formation reflects a high level of enthusiasm by buyers at the start of the day which completely flips to bearish by the end of the day as sellers aggressively counter the early buying strength. 
Runaway gaps frequently show up near trend exhaustion. Gaps are common with ETFs but if you look at the two recent gaps in BBH relative to previous price action you can see how they stand out. 
The combination of the shooting star and runaway gaps puts BBH in a high probability category for a further correction. You can also see that BBH found resistance on Thursday at the top trend channel line. It's also interesting to note the significant decrease in volume over time as seen on the weekly chart, and during the recent rally, on the daily chart.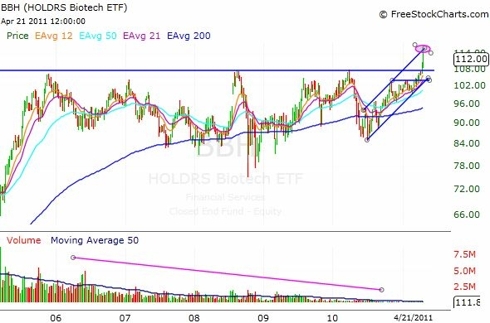 When looking at the bigger picture the outlook for BBH is bullish. Biotech is one of the leading sectors in the market. 
Two weeks ago BBH moved to new highs after breaking out of a five and half year (5.5) basing pattern. A retracement of BBH at this point could find support at around $107.59, the top of the base (previously resistance) or around $103.78, previous resistance of a smaller base inside the larger base.  (www.etf-portfolios.com)