UUP, the PowerShares DB US Dollar Bull ETF, gaps up off support in the area of confluence of several Fibonacci measurements, with a surge in volume. This may be an indication that the recent low of $20.84 will hold, at least for now.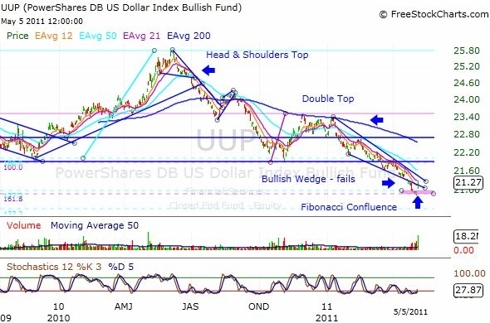 Fibonacci confluence occurs in the range of $20.92 to $21.09, with $20.92 to $20.99 being the more important area given the close proximity of the two measurements.
127.2% extension of the uptrend measured from the 11/09 low = $20.99
161.8% extension of the uptrend measured from the 11/10 low = $20.92
61.8% projection of 6/8/10 swing high to 12/1/10 swing high (not shown on chart) = $21.09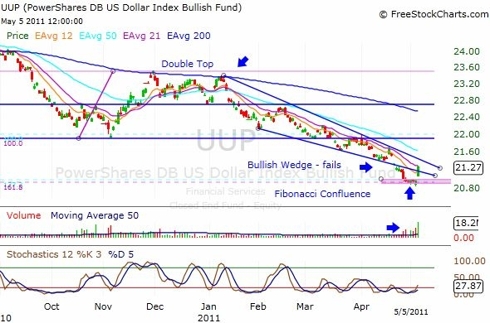 Over the past several months UUP had been forming a bullish wedge formation with a failure signal on a break down out of the wedge on 4/21/11. UUP closed yesterday back in the territory of the wedge. However, this does not mean that the bullish wedge formation is again valid.
Given the 1.48% rally yesterday on high volume, after hitting a support area confirmed by several measurements, further upside is likely. UUP can to be watched for an entry setup on a pullback towards support ($20.98 closes gap) of the confluence area.
On the upside, at a minimum there's a good likelihood that the gap from 4/20/11 will be filled at $21.50. This is also near the area of confluence of two Fibonacci downtrend retracement measurements, as can be seen on the third chart. (www.etf-portfolios.com)