There are a number of bullish technical signs showing up in the charts of the iShares Barclays 20+ Treasury Bond Fund (NYSEARCA:TLT) ETF that indicate further upside is likely.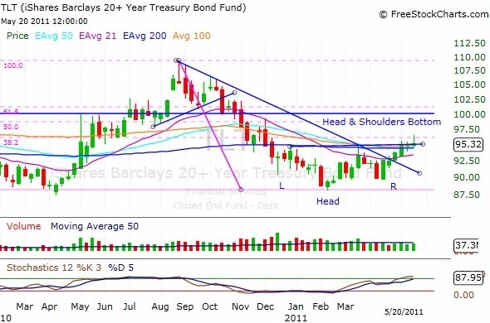 First, TLT broke out of a Head & Shoulders Bottom Reversal pattern several weeks ago which was confirmed this week as a clear move above the neckline occurred. TLT is now attempting to follow-through to the upside after reaching the 38.2% Fibonacci retracement level of the downtrend measured from the late August 2010 high. Another close above the neckline for confirmation would be welcomed.
In the bigger picture as seen on the weekly chart, the long term downtrend line was broken a month ago and the 21 period exponential moving average (ema) is trending up. Also on the weekly chart, TLT has closed above support of the 50ema, 100ema, and 200ema. These moving averages had converged recently and the 100ema is now starting to diverge, confirming the likely continuation of the uptrend.
In the near term, momentum slowed a bit last week which could indicate TLT is close to a further pullback or consolidation. The close last week was in the lower half of the weekly candle and not too far from the opening of the week and volume has been declining. Stochastics is also confirming short term bearish momentum.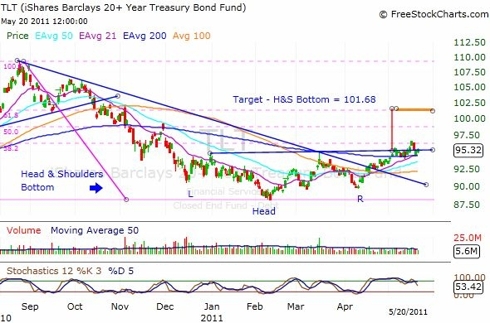 If a pullback does occur, watch for a setup for a new entry to take advantage of the medium term bullish behavior at a lower price.
As long as TLT stays above support of the downtrend line then the chance of further upside remains. However, more bullish behavior would be indicated if TLT stays above support of the 21ema on the weekly chart. A pullback to the 21ema is certainly possible without changing the medium-term bullish picture.
Alternatively, there may not be much of a pullback from here as there are a couple confirming bullish signs on the daily chart. Last week the 200ema and 21ema was tested as support and the 21ema is now crossing up through the 200ema.
The target for the Head & Shoulders Bottom is approximately $101.68. This matches the 61.8% Fibonacci retracement level of $101.24. Although this target may not be reached, it does add to the bullish evidence that TLT could see further upside over the coming months. (www.etf-portfolios.com)