Will negative sentiment in the United Arab Emirates (NASDAQ:UAE), Dubai and Abu Dhabi, spread to other Middle East stock markets?
Both the Dubai and Abu Dhabi stock exchanges saw another day of selling today (Wed., Dec. 9) with each index closing at the low of the range, although volume has been declining. So far, there is no sign of buyers jumping into the market. Leading companies continue to hit their daily decline limits.
Other Middle East stock markets such as Qatar, Saudi Arabia, Oman and Egypt may be starting to show signs of weakening as well.
There are four US traded ETFs that can be considered when looking at the Middle East. Be cautious though as they all have very low volume and therefore execution risk and potential volatility is high:
SPDR S&P Emerging Middle East and Africa (NYSEARCA:GAF)
Exposure: 62.6% South Africa, 25% Israel, 6% Morocco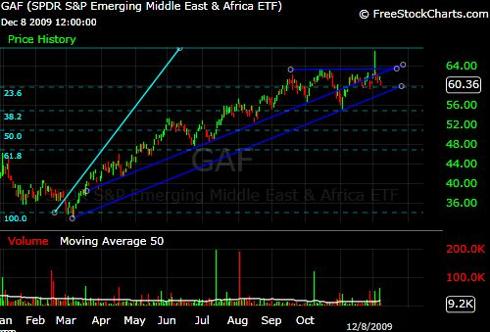 WisdomTree Middle East Dividend Fund (NASDAQ:GULF)
Exposure: 34% Qatar, 17.7% Egypt, 15.9% United Arab Emirates, 15.5% Kuwait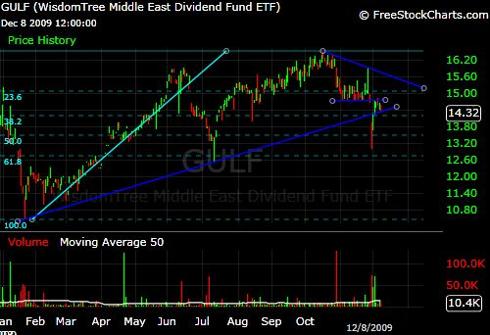 Market Vectors Gulf States ETF (NYSEARCA:MES)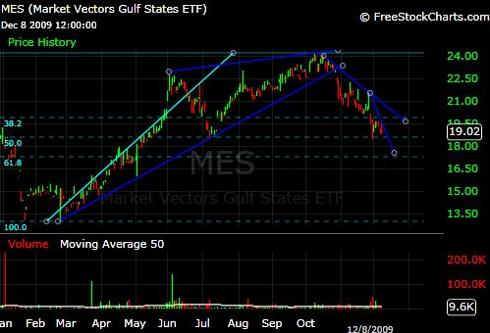 Exposure: 47.7% Kuwait, 25.5% United Arab Emirates, 18% Qatar
PowerShares MENA Frontier Markets (NASDAQ:PMNA)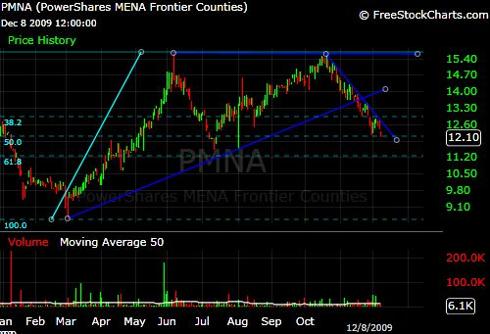 Exposure: 23.7% United Arab Emirates; 20.3% Egypt; 19.1% Kuwait; 13.8% Jordan
Disclosure:
No Positions