Investors are starting to fear long-term rates will head higher. A number of bond ETFs have started to drop. Vanguard Intermediate Term Bond ETF (NYSEARCA:BIV) is one such ETF. It broke down from a Head & Shoulders top reversal pattern indicating the likelihood of further downside. The move is a confirmation of a reversal of the larger uptrend starting from the June 2009 low.
The neckline support level of approximately $80 was broken two days ago with volume increasing yesterday indicating more aggressive selling. A move back towards resistance of the neckline should provide a second possibly entry area. Watch for confirmation of hitting resistance then turning back down.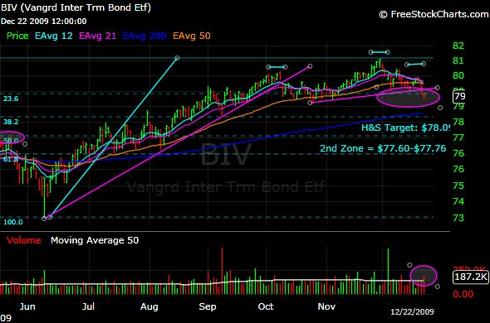 A first target can be determined by the measuring objective of the pattern. It indicates a minimum target of $78.09.
Measuring objective: The distance between the top of the head, $81.71, to the neckline at that time, $79.80, equals $1.91. Subtracting $1.91 from the neckline break of $80 equals $78.09.
Based on Fibonacci retracement analysis we can anticipate a minimum retracement of 38.2 per cent of the larger uptrend, which is $78.61.
A more significant support zone is found between $77.60 and $77.76. The 50 per cent Fib retracement level is at $77.65 and confirmed by previous resistance (resistance becomes support) found twice, on March ($77.76) and May 2009 ($77.60).
Disclosure:
No positions in BIV