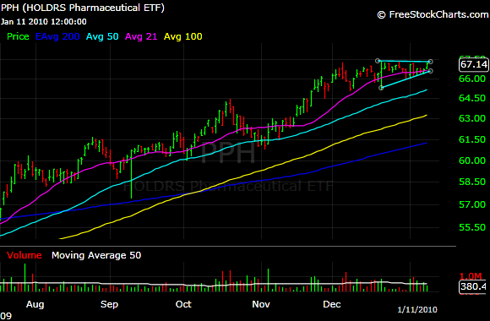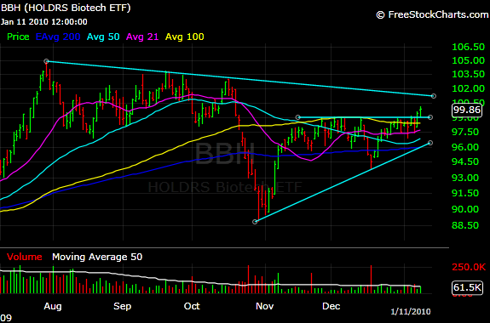 (
www.etftrends.net
) Related sectors;
SPDRS Select Sector Health Care ETF
(NYSEARCA:
XLV
),
HOLDRS Biotech ETF (NYSEARCA:
BBH
)and
HOLDRS Pharmaceutical ETF (NYSEARCA:
PPH
) ETFs have been consolidating in tight bullish Ascending Triangle consolidation patterns over the past month or so, providing clear resistance levels to be used for entry on the long side. The trend in XLV and PPH is especially strong while the Ascending Triangle in BBH is within a larger choppy pattern.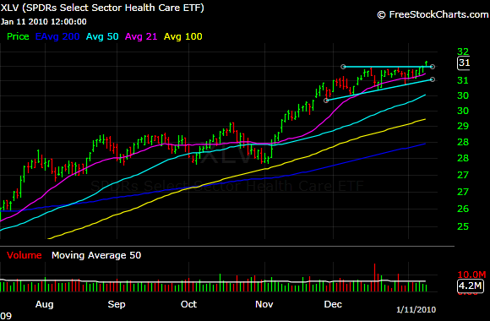 SPDRS Select Sector Health Care ETF (XLV) broke out yesterday with volume slightly lower than the 50 day average. The minimum target is the measuring objective of the Ascending Triangle which is derived by taking the distance between the top horizontal line and the upward sloping bottom trend line, then adding that distance to the breakout price. 
This distance is estimated at $1.00 (31.76 high – 30.76 low) with $31.76 being the breakout resistance level, giving us a target of $32.76, at a minimum. A failure of the breakout can be noticed quickly, if price moves back into the pattern.

HOLDRS Biotech ETF (BBH) broke out of its Ascending Triangle two days ago. The distance between the top of the triangle and its bottom upward sloping trend line is $6.70 (99.05 – 92.35) with the breakout price at $99.05. Adding $6.70 to $99.05 gives us a minimum objective of $105.75. 
HOLDRS Pharmaceutical ETF (PPH) has not yet broken out but looks very close. The minimum measuring objective for PPH gives a target of $69.44. Distance of triangle is $2.10 (67.34 – 65.24) with breakout at $67.34.
Disclosure:
No positions