This first chart on Bitcoin (BTC/USD) below is a 4-hour showing a wider view of recent price activity.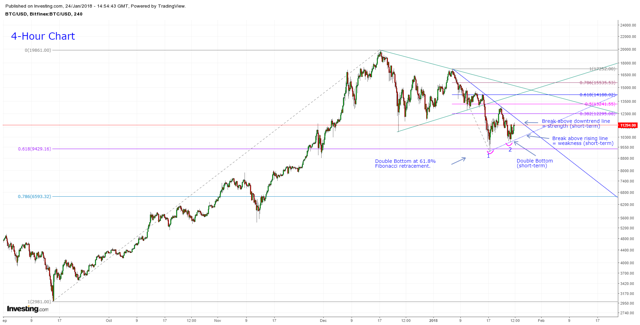 Highlights for above 4-hour chart:
Potential double bottom trend reversal pattern forms around the 61.8% Fibonacci retracement of the uptrend starting from the September swing low.
Breakout above approx. 13,052.12 swing high to trigger double bottom breakout
Another smaller double bottom forms at the most recent swing low (9,927.54) (2nd bottom of larger double bottom pattern).
 Current price action contained within the internal downtrend line and the small uptrend line starting from the first bottom (corrective low) around 9,222.
Breakout through a line will signal either further strength of weakness.
 Decisive move above downtrend line indicates further strength, and drop below short-term uptrend line, a sign of additional weakness.
Breakout above downtrend line may lead to eventual rally into resistance around the larger downtrend line coming off the record high around 19,891.
Watch Fibonacci retracement levels for interim targets, as displayed on the chart.
Next we have a 2-hour chart with a shorter term view.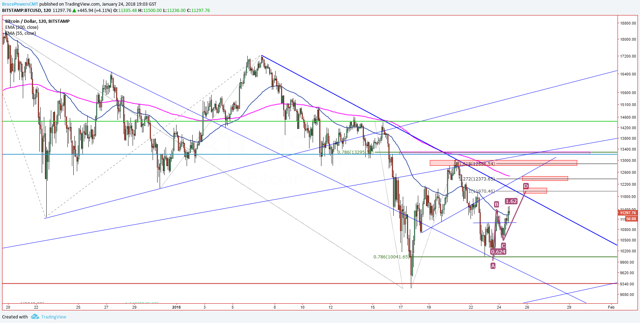 Highlights:
Short-term double bottom was triggered on move above 10,994.56.
Small double bottom forms around support of the 78.6% Fibonacci retracement (10,0041.65) of short-term rally and on a test of support of the long-term downtrend line [starting from the record high (not shown on chart)]
ABCD pattern (short-term minimum target) completes at 11,970.46.
ABCD extension to 127% completes at 12,373.65.
ABCD extension to 161.8% completes at 12,886.54
Follow Twitter: @BrucePowersCMT Instagram: bruce_powers
Disclosure: I am/we are long BTCUSD.