iPath Dow Jones-AIG Copper Total Return Sub-IndexSM ETN (NYSEARCA:JJC) deserves to be watched as it sets up for a good entry. Upon hitting a high of $48.25 on January 6, 2010 JJC dropped $9.80 or 20.3% over subsequent weeks before finding support at $38.45 on February 5. This was the largest retracement during the bull run started from December 2008 lows.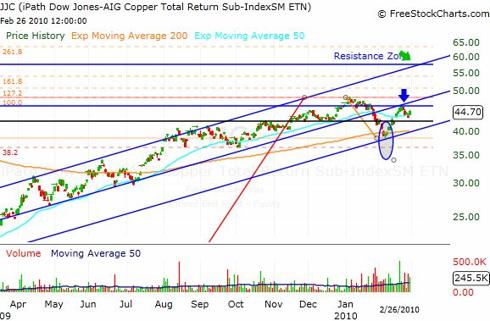 Although the $38.45 support level was below the 200 exponential moving average (NYSEMKT:EMA), price quickly moved back above it after hitting the bottom channel trend line and rallied to $46.03, or 19.7% before retracing over the past week. The $46.03 price resistance area is confirmed by previous support/resistance levels from back in 2008, as seen on the accompanying long-term chart.
The up trending channel continues to be bullish as price remains within it and is above the 200EMA. Further, the 20.3% retracement found support above the 38.2% Fibonacci retracement level of the larger uptrend, a sign of strength. An inner trend line has been drawn inside the channel which can be seen to historically act as a rough guide for support or resistance.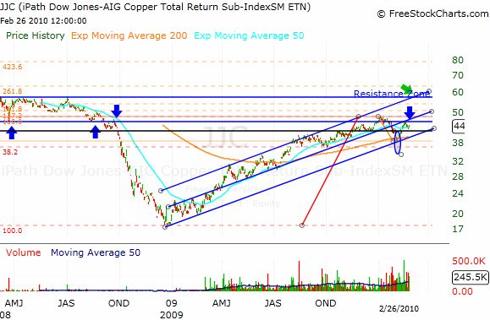 Once the bottom of a channel has been hit and price moves away the odds increase it will go back to the top of the channel. In this case, that would indicate news highs possible on JJC.
Resistance of $46.03 found six trading days ago is also resistance of the inner trend line and higher than the swing high of December 2, 2009, a sign of strength. If price can get back above $46.03 JJC will be clearly back above its 50EMA and the odds increase that it could go above recent highs of $48.25.
Fibonacci extensions can be seen on the short-term chart as well as horizontal resistance based off previous resistance from 2008, in addition to the upper parallel channel line. (www.etftrends.net)
Disclosure:
no current positions