On April 26, 2010 the Dow-30 Index hit a high of 11,258.01 (1) and has since sold off sharply. What's interesting about that date is that there were at least two analysts who foresaw the potential of the market running out of steam – to the day. 
First, we have Larry Pesavento, a 45 year Wall Street veteran, who on April 23, 2010 reported his analysis of the "Pesaveno Index" on Dominic Frisby's radio show. Analysis of this index indicated that April 25, 2010 (Sunday) was a high probability day for the US markets to top. 
The Pesavento Index looks at when more than 14 planets at any time are making particular angles in the sky (aspects). On April 25, 2010 there were 16 aspects. Since April 25 was a Sunday, Monday would be the earliest the effect could be seen in the markets. On Monday the Dow made a top and on Tuesday, April 27 the Dow sold off 231.86 points, or 2.1%. We all know what's happened since then. 
What's even more fascinating is that Larry was not the only one who had that date pegged. Ermanometry Research's analysis also indicated a high probability of the US markets topping on April 26th. 'Ermanometry holds that humans interact in a way that creates geometrically perfect movements and cycles in their economic transactions" and analyzes the geometry of markets based on time. 
Of course, there were others who had identified high probability days or periods of time for the market to top in April. On April 17, 2010, Barclay T. Leib of Sand Spring Advisors reported that April 19, 2010 is exactly 3141 (pi *1000) days from September 11, 2001 and therefore could indicate a top for the US markets. This is only one week prior to the April 26 date. 
And, for some prior weeks, Robert Prechter of Elliott Wave International had been anticipating a top followed by a more serious correction than had been seen since the markets bottomed over a year ago.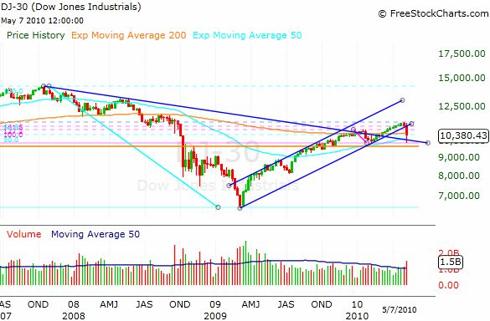 Using more "traditional" technical analysis of the Dow-30  (see accompanying charts) we find that the top (1) was in an area of confluence of two Fibonacci ratio resistance levels, the 61.8% Fibonacci retracement (2) of the larger downtrend (October 2007 high to March 2009 low) and the 1.618% Fibonacci extension (January 2010 to February 2010 low). 

The 61.8% is at 11,245.95, less than 1/10th of one percent from the actual high and the 1.618% extension level (greater than 100%) is at 11,282.88, 2/10th of one percent from the actual high.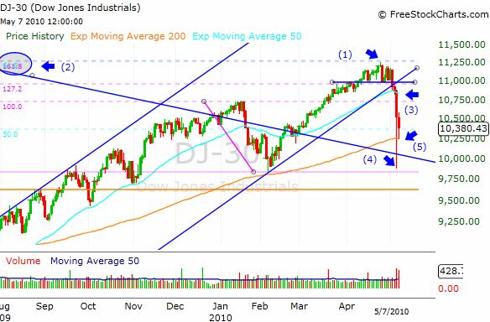 Since then the 50 period exponential moving average (ema) has turned down (3), support was found on the big Thursday, May 6th selloff around the previous support zone (4) from February 2010 (assuming these prices stay given market structure concerns), and on Friday at the 200ema (5). 
We'll have to watch closely how the high volatility will play out over the coming days and weeks to determine signals for the SPDR Dow Jones Industrial Average ETF (NYSEARCA:DIA).  (www.etf-portfolios.com)
 
Disclosure:
No current positions