iShares MSCI South Korea Index Fund ETF (NYSEARCA:
EWY
), along with the markets, has topped out and broken through key support indicating a trend change. The behavior of price coming off the top has been classic as a bullish phase moves to a bearish phase.
A bearish wedge has now formed indicating the beginning of the next move down starting in the immediate future.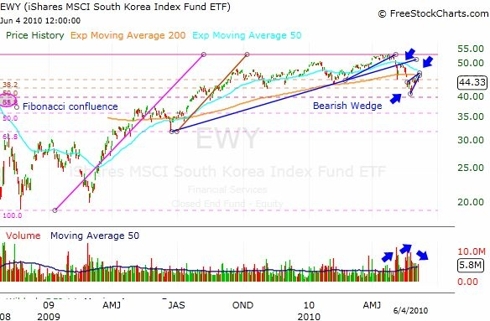 EWY's trend line was broken early last month and tested on the retracement after the break (the 50ema resistance converged with the trend line at this point), and its 200 period exponential moving average (ema) was subsequently broken before EWY found support at $40.65, the bottom of the wedge formation. Support was just above the area of confluence of two Fibonacci retracement levels, 61.8% of the medium term trend and 38.2% of the larger trend, respectively.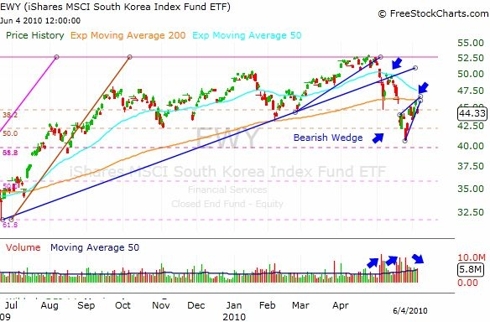 Volume indications have confirmed the strength of selling with rising volume on each of the two declines off the top, and declining volume on the current retracement forming the wedge.
 
The current retracement forming the wedge found resistance right at the 200ema – support becomes resistance.
 
A wedge is formed during the correction phase of a trend and is identified similar to a symmetrical triangle, expect that instead of it pointing horizontally, the triangle points up, in the case of a bearish wedge. At a minimum, a breakout of a wedge should reach the bottom of the pattern, but can certainly decline further.
 
If clear declines are not seen within the next day or two then the possibility of the wedge evolving into a different formation exists and trade plans would then need to be adjusted accordingly. (www.etf-portfolios.com)
Disclosure:
no current position in EWY
Disclosure:
no current positions in EWY