The iShares Dow Jones US Home Construction Index Fund ETF (ITB) has been forming a Head & Shoulders Bottom for the past couple of months and looks close to breaking the neckline.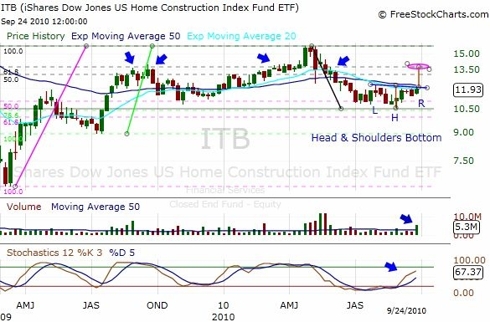 There are some signs of strengthening. During the recent decline from the May 2010 highs, support was found just above the 78.6% retracement level (green Fib measurement on chart), now, the bottom of the head. The right shoulder is clearly higher than the left, a bullish sign. Upon a breakout of the neckline the 20ema will have crossed the 50ema on the daily chart. Stochastics on the weekly chart has turned up. And, volume last week was the highest in four months and clearly above the 50 period average. 
On a formation like this we want to see a break through the neckline on higher volume and a close clearly above as confirmation of a breakout.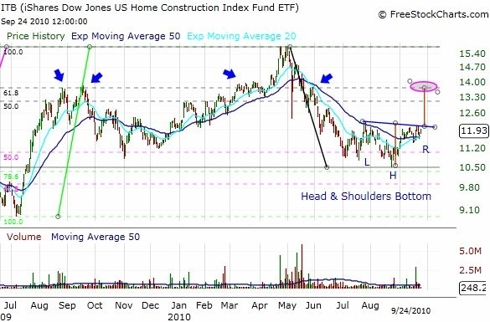 Based on the Head & Shoulders, the minimum target is $13.73. We arrive at this target by taking the distance between the neckline and the bottom of the head of $1.64 (12.14 – 10.50). Then, add that distance to the breakout pivot of $12.09, to arrive at $13.73. 
Of course, additional confirmation of that target would be useful and strengthen the likelihood that ITB will reach that level. 
When applying a Fibonacci retracement measurement to the downtrend begun in May 2010, to the low of the head, we find that the 61.8% level is at $13.59. We now have a zone of resistance between $13.59 and $13.73. The 50% retracement level is at $12.91. 
That price resistance area is further strengthened by previous price support/resistance levels as are highlighted with blue arrows on the enclosed weekly chart. (for more see www.etf-portfolios.com)
Disclosure:
no current positions in ITB