Banks are preparing to grab a share of the growing economy and Comerica (NYSE:CMA) has good reason to restructure. Making operations more efficient should help raise its revenue levels. To this end, it has launched a suitably called GEAR UP initiative. In the process pre-tax income should grow by an additional $140 million by 2017 and $230 million by the end of 2018.
The company is forecasting a $30 million increase in revenue by the end of 2017 and up to $70 million by 2018 through a focus on higher margin products and increased productivity. Its decision to boost employee output is for the best. More software and data analytics use has become the key to increased productivity for all companies alike. For that matter, productivity gains should push net interest income up 10% compared to 2016, not taking into account new increases in interest rates.

On the other side of the equation, expenses should decrease in 2017 by $110 million and by $160 million by 2018. The bank will be consolidating functions and reducing hierarchical layers. Flatter structures tend to ease communication and execution and have gained traction with the success of startups. Other improvements include the merger of some banking centers and a decrease in the size of the workforce by 9%.

More efficiency equals more revenue
While the bank aimed for an efficiency ratio of 60% in 2017 and lower in 2018, it reached 58.63% in the second quarter of 2017, showing in my opinion its determination to outperform. At this level it is below its peers' average of 61.24% and at a considerable advantage to produce larger income levels. In its infinite race against the competition, Comerica was able to achieve the most significant change in its efficiency ratio.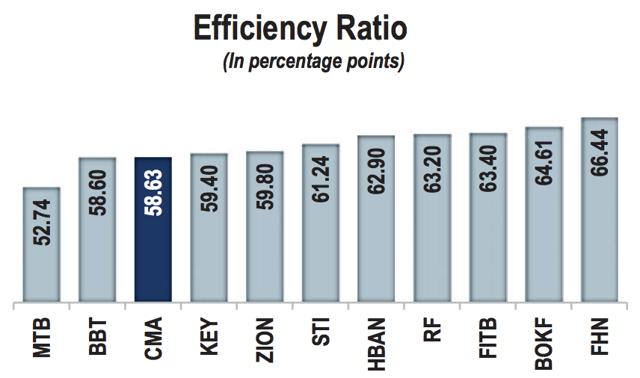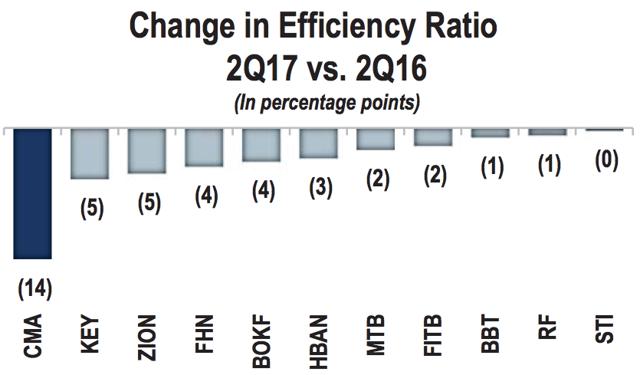 The GEAR UP program, as the name suggests, is yielding good results and should help the bank negotiate the changing market better. Like all revenue segments, loans performance suggests good revenue production by the end of the year. While total loans issued by the bank were falling quarter-on-quarter in 2016, the opposite is happening this year. In total, loans are expected to rise 1% this year as well as yields, which rose from 3.31% in 2016Q2 to 3.74% in 2017Q2. Noninterest income is expected to grow 4-6% in 2017 with the bulk of the rise coming from card fees and wealth management services.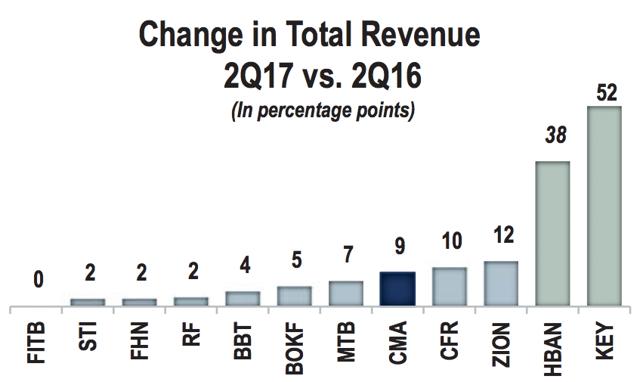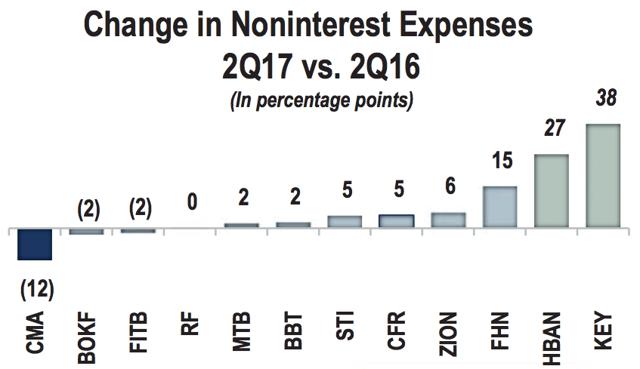 Monetary policy is heading in the right direction
On the macro level, the bank, like most of its peers, will benefit from the changing monetary policy and higher interest rates. The last 25 basis points increase impacted revenue $30-40 million to the upside and a new one should have a similar effect.
While economic indicators left some people worried the economy will slow down others are eagerly awaiting December's central bank meeting for another hike. In fact, the Fed has put its hawkish stance on hiatus for the moment and the return to monetary tightening is going to make bankers happy for sure.

Good exposure to economic growth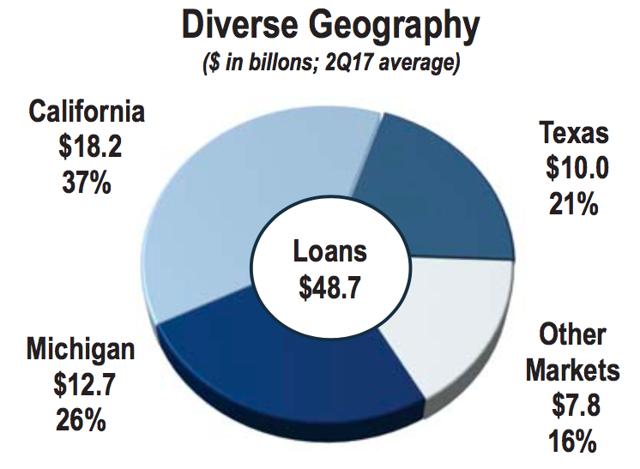 As of 2017, Comerica's banking operations extended to Texas, Michigan, California, Arizona and Florida. 37% of its total loans are produced in the outsized and growing Californian market and could well inflate under the sunny weather. Texas and Michigan accounted for 21% and 26% of loans and recorded 3.9% and 1.5% in annualized growth rate in 2017Q1 promising higher loans portfolio growth as more businesses and households invest and spend.

Comerica's loans portfolio is concentrated on the middle market serving companies with revenue between $20-500 million, which account for 53% of the total. Mid-sized companies' established business presents lower risks and better potential for renewed business. The bank's focus on this segment should serve it well in the future.

Attractive price
Comerica's P/E ratio puts it in the spotlight among its peers; it is attractive and underpriced. Most other banks were unable to achieve the same level of performance in terms of efficiency ratios, revenue growth and expense reduction.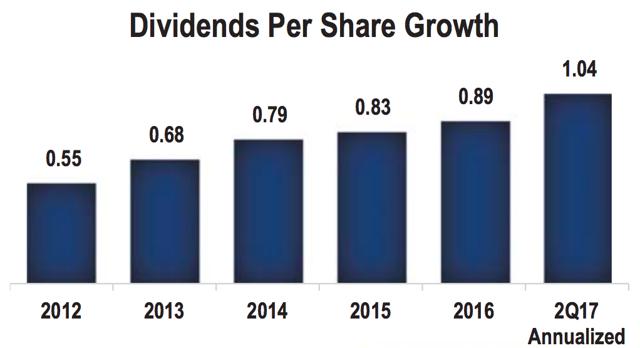 For those who like recurrent cash streams, Comerica has announced a 15-cent increase in dividends raising the total per share to $1.04 for 2017. The company has kept raising its dividends 13.79% year-on-year for the past five years, so no need to worry about where it is headed.
CMA yields 1.80%, which is relatively low compared to its peers. But to be frank, companies that leave some capital for growth are safer. Additionally, this is the right time to be planning for expansion if one wants to bank on the current US economic resurgence.
With the dividend payout ratio being one of the lowest in the industry, at least we know the company has the cash to stay open and secure year-on-year dividend growth. And it leaves room to dream about even larger dividends distribution.
Comerica's stock outperformed its sector and the market as a whole for the last twelve months. It climbed 43.95% during this period while the S&P 500, financials and banks only rose 15.24%, 24.02% and 21.41% respectively. While the past is no crystal ball, it does bode well for what is coming.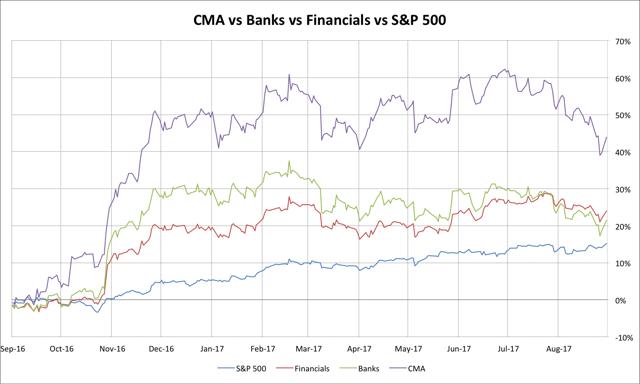 CMA is currently in a correction after it doubled in price during the last 18 months. It remains to be seen whether it will rebound durably when it approaches its previous support level around the $64 level. Trying to time the market however raises some risks as the correction may not stop and breach the support.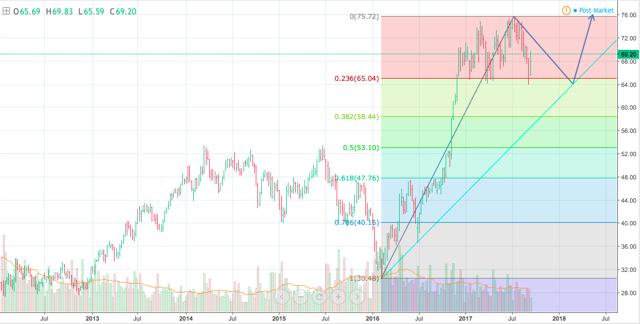 Conclusion
Comerica is well positioned to ride the coming interest rates rise and the recovering economy thanks to its enhanced revenue and expense structure. A buying opportunity might show itself by the end of the current technical correction if the stock resumes its growth. Still the stock looks like a price climber.