Bitcoin was the big player last week trading upwards of 1200 BTC/USD. Although SPX's rise above 1810 and the Dow's rise above 16170 is nothing to scoff at. It's prime time for huge forecasts, as they always come when markets are about to peak. This one is right on schedule, and not only for its big round-number headline, but also for its use of the four most dangerous words in finance following the colon.
On the lonely side of the bench, this article shows a comparison that most don't want to know about. And, finally, speaking of what no one (that is too long and too leveraged) wants to think about, here's a "spoiling" message to those that fail to review history, or ignore the history they actually know.
Remember these days, my friends, as they'll be historic, and you'll be able to tell your children about them one day.
A couple of quick updates on some names we've been following
TSLA has come down from the highs near 200 to the zone that DSE suggested there was risk to back in September; the 110 +/-10 zone. This is NOT currently the time to be short, even if lower prices continue to develop. The odds of a bounce into the Fibo resistance zone of 160 +/-10 is too great to ignore. Put holders should exit anytime 125 is broken above, and pull that down 5 points for every 5 points lower the stock moves under 120. So, at 115, the cover point will decline to 120, and at 110 the cover point drops to 115, etc. (a 5 point 'trailing' buy stop).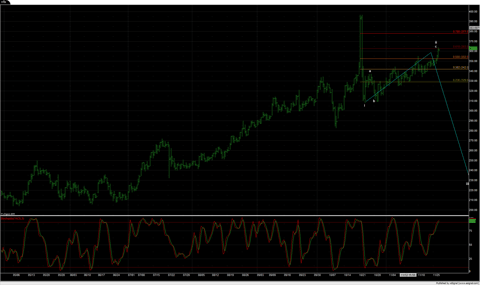 Bitcoins have "crash" written all over them. We don't know if $1030 is the top, or whether $1500, or even $2000+ will be, but be certain that within a year, if not weeks-months, Bitcoins will be far below $300 (the "craziness" high from April of this year), and possibly below $100. They began this year around $14. The Winkelvoss twins have hit the home run again, perhaps bigger than their FB score. The only question here is whether they'll capture it, or end up like the Hunt brothers, who tried to corner the silver market in 1980. History teaches the latter, but have they studied the past?

Why must Bitcoins crash? All parabolically rising curves end the same way; back at the origin of the parabola. WaveBOOM is known far and wide as THE source for pointing this out at/near the ends of these "herding" phenomena. The list is long, but includes the recent move in tsla this year, as well as nflx; tpx; qcom, cmgi, jdsu, yhoo, msft, csco, intc, and dozens of others in '00; aapl in '12; silver in '11; goog in '07; and gmcr in '11, to name a few. Like our notoriously early Nasdaq exit at 3500 in Nov. '99, before the blow off to 5200 at the March '00 peak, the current market has the same risk, but unlikely the same reward potential.
Now the DSE warns not to be short Metals, Tbonds, or Crude