One of our top 12 stocks in the Nasdaq, Intel (NASDAQ:INTC) is reporting on Thursday. We've been tracking this one for a while as we track the top 12 weighted stocks in the Nasdaq 100 amongst other markets. Our analysis lines up pretty clearly on this one so we wanted to share our combined thoughts about what is happening with the company and where we think the company is going to be going as a result.
Fundamentals: Intel announced last week at CES that they would finally drop the McAfee name from their security division, in an effort to boost their brand recognition amongst consumers. Any efforts to boost consumer brand recognition helps to strengthen the speculation that Intel's consumer electronics projects, that have never been a major source of revenue, may be a larger focus in 2014. Despite this focus, few analysts foresee a consumer product line becoming significant in 2014. Odds favor increased chip sales to Apple and others, as well as improved profitability in the existing product lines. Most analysts see 2015-2017 being closer to a realistic time frame for payoffs to Intel in the consumer space; however, at this juncture they have not been clear if this will be an entirely ecosystem play (in which case the McAfee re-branding doesn't make a difference), or a true consumer play (in which case they need to get some consumer branding leadership on the team). For example, Apple hired the CEOs of Yves St Laurent and of Burberry to the team and they are already a great consumer brand. Who will Intel bring on board to lead wearable device fashion (yes fashion is important for a wearable product to succeed).
Today, the consumer products along with embedded, & ultra-mobile make up just 12% of revenues with Server, Notebook, & desktop chipsets and processors making up the rest. Of those server processors has been the only one to offer any significant improvement over the last few years and we suspect ARM chips to offer significant competition here in the lower end server platforms that are powering today's cloud environments. This will continue to put pricing and margin pressure on Intel which again focuses the attention on the consumer strategy mentioned above.
Historically, we've seen Intel trade based on news and product line changes. Earlier last year the stock was down for months heading into August 2013 as issue after issue arose in the Haswell release. The company continually underperformed all market expectations, and after the release of the chip, returned to beating the Wall St. Consensus. Those product headwinds have gone away as has the renewed interest in establishing a better brand. This should lead to a return to beating Wall St. and other estimates.
Wall St. Expectations - EPS $.52, Revs $13,714
Estimize Number - EPS $.53, Revs $13,792
The average analyst target price for Intel is $24.50 per share, slightly lower than the current market price. Shares of Intel have risen about 25% from the 52-week low. That matches fairly well the options activity according to Schaeffer's Research, the expectation is for Intel to finish at or below the breakeven level of $24.81 (bought strike less the net debit of $0.19) by next Friday's close, which is when the front-month options expire. Ideally, Intel will land right at $24, allowing the trader (or traders, as the case may be) to collect the maximum potential profit of $0.81 (the difference between the two strikes less the net debit) per pair of puts. If Intel remains above $25, the loss is limited to the net debit paid.
The key numbers to watch for in the earnings release will be server processor/chipset marketshare changes and consumer devices/services marketshare changes. Intel has been kicking the can down the road for a while now and these are truly the only two things that can keep the can from getting crushed the next time it is kicked.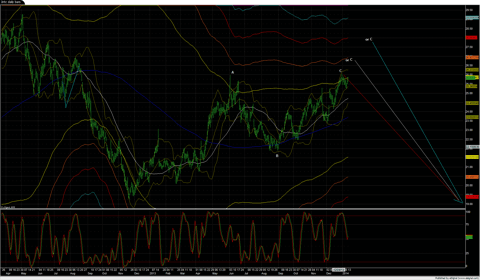 Technicals: Last week, we showed this chart, allowing for a bit further upside, before a major decline follows. Regardless of the next 1-2 points though, the next 6-10 points should be to the downside, with more bearish potential thereafter. The monthly and weekly stochastics (not shown on this daily bar chart) are at the extreme overbought levels typically seen at highs (June '13 and April '12). The last two revolutions of which led to 12% and 30% declines, respectively. Our DSE (decision support engine) warns that either into 27, or upon a break of 25, objectivity favors the downward path for the next few months, at least.
This lines up nicely with what we are seeing from a fundamental perspective. The flip side is the continued pressure from ARM and other processors is putting heavy pricing pressure on Intel. Even if they are able to grow their consumer brand and device sales, their chip business may already be too damaged to make a difference. The obvious signs that Intel recognizes this problem are evidenced by events such as the delay in opening their Arizona chip factory.
If you are already long Intel, you should start looking for a good place to exit. We think that is going to be in the $25-27 range (which means now). From there we see a slow decline for the next few months while we await to see progress on the consumer side and improved margins in the chip business. Until then, now is a good time to not be invested in Intel.
Disclosure: I have no positions in any stocks mentioned, and no plans to initiate any positions within the next 72 hours. I wrote this article myself, and it expresses my own opinions. I am not receiving compensation for it. I have no business relationship with any company whose stock is mentioned in this article.