A Short-term Play With Great Risk/Reward:
Investors in Arena Pharmaceuticals (NASDAQ:ARNA) are familiar with the volatility of owning stock in a pharmaceutical company, but what about when that company is about to launch a new drug?! Arena's Belviq, the latest drug targeting anti-obesity and weight-loss, is scheduled to hit the market this week on Friday June 7th.
What investors need to know: There is a lot of hype about this drug which is not unwarranted, as it has great potential to far exceed its most recent predecessor Vivus's (NASDAQ:VVUS) Qysmia and with Arena's marketing partner Eisai, it is on target to do so. But launching a new drug is still a crap shoot, with high risk and high volatility, so how can we make money without taking a bunch of risk?
The covered call strategy. Buying the stock and selling a call option to collect a premium and thereby reducing your cost-basis, is considered a conservative strategy and yet, when have conservative strategies yielded 4.4% in 20 days?....right now!
ARNA is trading, as of Friday's close 5/31/2013, at $8.84/share. Prior to a week ago, the volatility of its price had been waning, tapering off to almost nothing as the trading band narrowed and we saw 2 weeks from 5/9/13-5/22/13 where the price change was never more than .09 cents up or down from day to day and the end result of those 2 weeks was only a .02 cent move from $7.94-$7.92. Here is a one month chart to help show these numbers: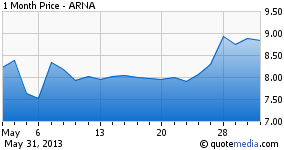 Enter the hype.....With only 4 days left till the launch of Belviq, the daily moves have seen increased volatility, which if you were watching, you might expect. From May 22nd with a close of $7.92 to Last Friday's close of $8.84, we have seen a .92 cent rise equal to an 11.61% gain in only 9 days. Granted, during that period shares did trade all the way up to $9.22 on May 29th and have fallen back since then. So how can we capitalize on what we know?
For a short term play my suggestion is a near term covered-call. Purchasing ARNA below $9 and selling an ARNA CALL: June 22 2013 $9 strike which as of close on Friday was bid .39 offered .42 and last .39. From the most recent price of $8.84/share, that's a 4.41% premium to hold the stock for 19 days, from 6/3-6/22.
Upside: Take in .39 cents/share for the sale of ARNA CALL: June 22 2013 $9 strike, stock goes above $9 by the close of market on June 21st, option is exercised forcing the sale of ARNA for an additional .16 cents/share from the purchase price of $8.84 for a total of .55 cents/share profit or 6.22% in 19 days! I wish these opportunities came every month!
Downside: Take in .39 cents/share for the sale of ARNA CALL: June 22 2013 $9 strike, stock goes down or at least does not hit $9 by June 21st...if price drops, you've got 4.41% protection to the downside and can decide to either sell ARNA or play again and sell another call in the future
Another possibility: Stock goes through the roof...well, as with any covered-call, you have limited your upside potential by reducing your downside risk, but that's why it's considered a conservative strategy!
Things to consider: The real reason this is strong play at the moment is that there is little REAL (fundamental) reason for movement in this stock in the very near-term. Yes, performance of the new drug will have tremendous bearing on the price of ARNA, but not in the near-term suggested here as ending June 22nd. What will happen when the drug is launched on June 7th? It will hit the market and sales will begin. From launch date to the expiration of this suggested covered call, the drug will have exactly 2 weeks of sales in which one can rest assured the media will be following each and every moment, but in reality, it takes at least a month, if not a full quarter or more, to see the actual performance of a new drug...so with that in mind, we can expect to see some volatility due to media articles, not unlike this one, which will sway the price of ARNA up and down. There is a good chance we will see the price continue to rise towards and likely through the $9 mark as we get closer to this Friday when Belviq is scheduled to launch as investors who follow ARNA are cognizant of the potential this drug has for Arena Pharmaceuticals. That said, the opposite is possible as well, if some unforeseen negative event or media article comes out it can drive the price down, but that's the beauty of a covered-call, giving the investor in this case downside protection from the receipt of premium from the sale of the call.
To conclude, if you're looking for a good 4+% short-term investment, with relatively low risk, ARNA's covered calls are looking good...remember though, this entire article is about a very short-term play, extending your call strategy past June 22 2013 increases your risk, and likely your reward, but that topic will be saved for another article....
Disclosure: I am an author, successful investor, and someone who follows the market closely, not a registered investment advisor and I do not provide specific investment advice. The information in this article is for informational purposes only. No part of this article should be taken as a solicitation to purchase or sell securities. All investing includes risks, including loss of principal.
Disclosure: I have no positions in any stocks mentioned, and no plans to initiate any positions within the next 72 hours. I wrote this article myself, and it expresses my own opinions. I am not receiving compensation for it (other than from Seeking Alpha). I have no business relationship with any company whose stock is mentioned in this article.