Amarin Pharma, Inc. (NASDAQ:AMRN) has not been loved by Wall Street over the past 12-months. It all started when the CEO announced a go-it-alone strategy for their first approved FDA indication after he elected not to go the initial route of securing a strategic partner or selling the company. Despite a rise over the past month, the stock has disappointed, especially given strengthening fundamentals and mainly positive news along the way.

In fact, the stock is trading at nearly the levels it traded prior to releasing positive data on its first phase-3 trial years ago (called Marine trial)--no less, trading at levels lower than the 2012 FDA approval of that indication!
I'll be clear though: AMRN is currently the most risk-mitigated biotech opportunity with extremely high return potential in a relatively short amount of time. I will explain factors that lead to my continued and building sentiment below, but one factor that is hard to ignore is that the stock is trading at levels that discount the company's IP, ignore the pending Anchor trial indication and suggest complete failure of the approved Marine indication. There are presently no analyst financial models that support the stock's current low levels. So, let's look into whether the stock should continue trading at under $10 or rise to over $20.
The Science: AMRN's drug is not the fish oil you can purchase in drug stores, online or even consume through food sources. It is also unlike any other FDA approved (Lovaza) or developmental (Epanova) Omega-3 class drug known to science. Vascepa, (known as AMR-101 by medical journals and the scientific community) is derived from a highly purified form of fish oil, and lab modified to ethyl esters in order to concentrate out the active ingredient. This ingredient is specifically identified by AMRN and confirmed by FDA as EPA, icosapent ethyl. This very much technically, and on its face, is unlike GlaxoSmithKline's (NYSE:GSK) Lovaza, which is an uncharacterized combination of Omega-3 Ethyl Esters--so says FDA and GSK.
EPA reduces hepatic very low-density lipoprotein triglycerides (VLDL-TG) synthesis and enhances TG clearance from circulating VLDL particles. While Omega-3s are generally known to be anti-inflammatory in nature, EPA can also help inhibit acyl-CoA:1,2-diacylglycerol acyltransferase (DGAT); decrease lipogenesis in the liver; and increase plasma lipoprotein lipase activity. Yes, it's a mouthful but know that preparations with DHA and other Omega-3 fatty acids have not clinically demonstrated all these potential actions. In addition, Niacin therapies work very differently by only limiting your liver's ability to produce LDL and VLDL cholesterol. It's a different drug class altogether. Prescription and over-the-counter niacin is available, but prescription niacin is used by doctors and patients because it has the least side effects. Dietary supplements containing niacin that are available over-the-counter are not proven effective for lowering triglycerides, and may damage your liver. Niacin outcomes study suggests these therapies do not reduce CV risk. On the contrary, the Japanese JELIS study suggests EPA has statistically significant positive effects on CV outcomes. Note that JELIS was done on a population already on a high level fish diet. So, AMRN's massive Reduce-It study on western subjects should demonstrate clear and significantly higher benefits.
The Regulatory Environment: The FDA approved Vascepa based on a randomized, placebo controlled, double-blind, parallel-group study in 151 subjects with severe hypertriglyceridemia. Baseline TG levels were between 500 and 2,000 mg/dL. The subjects received Vascepa 4mg per day for 12 weeks. Vascepa significantly reduced median TG (p< 0.001), VLDL-C (p< 0.05) and Apo B (p< 0.05) levels from baseline relative to placebo. Bottom line, it blew expectations out of the water, as it was effective and completely safe, unlike prior drugs. This indication serves a market of $1-2 billion annually.
AMRN is now up for regulatory evaluation on their next drug application for Vascepa in the expanded 'Anchor' indication, the treatment of patients with high triglycerides (>200 mg/dL and <500 mg/dL) With Mixed Dyslipidemia. The Prescription Drug User Fee Act (PDUFA) date is December 20, 2013 and a FDA decision should be expected on that date.
The importance of this decision cannot be under-stated or over-looked. The Anchor population comprises no less than 1/3 of the American public, likely far more, with market values 10x that of the Marine indication.
Like Marine, the anchor phase-3 trials were a major success. Best of all, the trial was done under SPA, or special protocol assessment agreed to in writing by the FDA. You can learn more about that topic in a recent AMRN press release here. This SPA, along with the safety and efficacy profile of the drug should be a home run at the advisory panel prior to the PDFU decision. I remind readers that this panel is required by FDA due to the first-in-class status of Vascepa in a new patient population. I also point out that these panels primarily focus on safety, only go outside of the scope of the indicated use if safety is a concern (read into this that Reduce-It outcomes not a factor), and that FDA has not informed AMRN about any topics that would be out of the realm related to their sNDA marketing claims (record of 'clean' communication by FDA to AMRN) on the advisory panel. I further call out that if weight loss drugs with serious harmful and life threatening side effects like Vivus's (NASDAQ:VVUS) Qsymia and Orexigan's (NASDAQ:OREX) Contrave can be approved for marketing without concluded outcomes studies than it's best you be on the side of AMRN come panel-time
The Legal/Intellectual Property/Exclusivity Situation: This is where we touch on patents and regulatory exclusivity (NCE/NME). AMRN has an astonishing amount of granted IP related to composition of matter, and methods of treating, both broad and narrow. FDA recognizes 19 granted AMRN patents. In contrast, Lovaza has three patents, only one which really affords any level of regulatory protection, and it was quite broad. So broad in fact that a recent appeals court opinion reverses a prior ruling about the ability of generic firms to produce Lovaza. That story can be found here. Long and short is that this decision should come as no surprise. It was actually a surprise within the industry (I'm in the industry) that the patents were not thrown out in the past as being too broad. Still, Lovaza prevailed all this time and the fight is not over. Consider, by the time generics can even source the material (if they can even get it) and conduct their studies and documentation, Lovaza IP protection would have been over anyway. This turn of events gives AMRN investors much reason to get excited, as Teva, AZN and GSK now have vested interests in the Omega-3 drug class space. More later on that.
Nobody saw a 12-month plus delay on NCE decision, including me. I have always maintained AMRN will achieve NCE and I still do. I have evaluated (with 3rd party sources) the science side, the regulatory side and the legal side and my conclusion is the delay is related to FDA process. The topic is moot now with all the patents, but still would provide a psychological thumbs up and additional upside to the stock (probably $2-3 worth).
The Continued Momentum Of Marine Indication: No new drug launch to the medical community comes out of the gate to be a blockbuster overnight. That's not the way it works and is the reason stockbrokers and Street.com writers don't need to go to medical school to get their series 7s, if you catch my drift. In retail alone, we need a good 3-6 months of clean POS data, meaning data that comes 3 months after initial launch (6-9 months total). For Rx, double that, even triple it with a smaller sales force. AMRN is steadily increasing scripts by 3-5% incrementally per week and has achieved over 6,000 (not including 20% under-reporting) on weeklies as of the time I am writing this article. IMS data indicates it's coming at the share loss of its prime competitor, Lovaza.
As far as health insurance coverage, Amarin looks to be doing quite well. At the end of the first quarter, management stated that it had secured formulary access for the drug in plans covering more than 190 million people. At first, none of those plans included Vascepa in their tier 2 category. However, during April and May, Amarin said that health plans covering 40 million individuals switched the drug to tier 2. By the end of the second quarter, Amarin announced that 72 million people had access to Vascepa as a tier 2 drug -- more than twice the amount at the end of the first quarter. We are now observing sales increases really starting to respond to the additional coverage.
Anchor and Reduce-It Indications: Simply stated, Vascepa can be the blockbuster of blockbusters when Anchor is approved late this year. The future potential of Reduce-It doubles that market again, if outcomes prove positive later in the 2016 timeframe.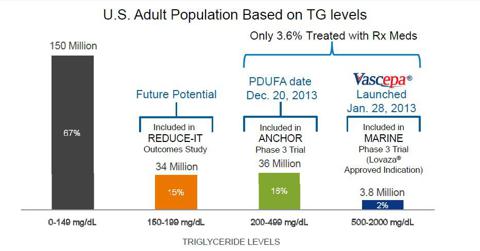 What we are looking at is a high-multi-billion-dollar company in the making. And you ask yourself why there has not been a partnership or acquisition yet at the $15-20 level...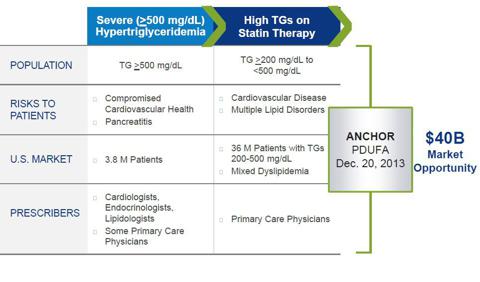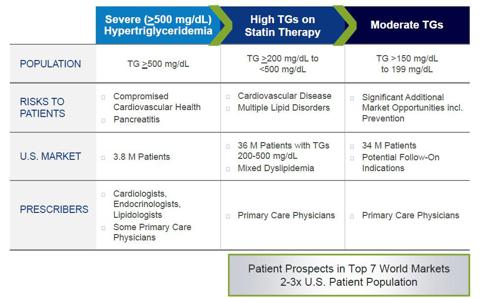 Past Trading Patterns By Majority Holders: Wall Street has a funny way of returning kindness. AMRN is not really too different. If you evaluate the movements and actions of the big money funds around catalyst events for AMRN, you see sudden spikes, followed by some upward momentum. Healthcare investors are risk adverse and will not go in until reasonably sure that a return can be made. Time is money and it's not to be wasted waiting around. Catalysts are coming, and so is the money.

A Major Development That Adds Substantial Weight To Strategic Importance of Vascepa to "Big-Pharma": Adding additional perspective and credence to my consistent view that an acquisition is the end game for AMRN is the recent generic ruling buzz on Lovaza. Many people have been asking if this will negatively effect AMRN. Let me be clear: There are only two companies that it will negatively impact, GSK and AstraZeneca (NYSE:AZN). If the court ruling stands (and regardless, in the future when Lovaza IP expires), Lovaza will become meaningless as there will be generic options. Not so with AMRN's Vascepa. As a best-in-class therapy for Marine indication, it will be the one that docs prescribe and insurance companies will pay for. Therefore, if GSK wants to be in the game, it needs to offer Vascepa as soon as possible.
AZN purchased Epanova primarily for use with their statin, but probably thought it could pay for the trial expenses with sales of Epanova in the very high triglyceride market. Big mistake and big lesson learned. Epanova, even if approved by FDA is unlikely to be prescribed by doctors (given side effects similar to Lovaza), and will not be covered by health insurance now that Vascepa is on the market and generics will be an option in the future. Great case study and acquisition 101 class for CEOs that look to do transactions on the cheap. You get what you pay for. So, given the Epanova drug is a complete waste of time and money as a primary and adjunct triglyceride therapy, AZN is likely back in the market, and if not, they should be. Finally, if you believe in the generics story for Lovaza, you have to believe Teva would be interested in making a play for AMRN in order to own the entire space and control pricing (for brands and generics). Admittedly, this is not my preferred or most logical way things play out. Would be brilliant for Teva, and I know a bunch of brilliant people there... AMRN's supply agreements prevent access by other companies and provide price protection over generic companies, which is a major reason Teva would need to own the whole deal.
Finally, there is Pfizer (NYSE:PFE), the company with the most executive ties back to AMRN, the company with deep pockets and a wanting pipeline for its flagship cardio segment, and the company with the most popular statin, the statin named in AMRN's combination trial...Lipitor.
So, it has been established and now is hopefully very transparent that Rx Vascepa is not standard fish oil; is building sales revenue and scripts consistently; is ahead of the game on health insurance tier coverage; will emerge the winner in the Marine indication space; faces likely approval in the Anchor indication within months, where there will be no direct competition until at least 2021; has additional multi-billion indication trials underway; and presents itself as a serious strategic asset to nearly every major pharmaceutical company playing in the cardiovascular space.
The catalysts will come steady and quickly throughout the rest of 2013. AMRN has corrected more than 100% in the past on binary events, and I would expect a similar correction through December well up into the teens, with additional payoffs coming dependent on Anchor launch strategy and strategic dealings. A double or triple on the December stock price (should Anchor receive favorable approval) is fair and reasonable for a biotech asset covering this many potential lives.
Disclosure: I am long AMRN. I wrote this article myself, and it expresses my own opinions. I am not receiving compensation for it. I have no business relationship with any company whose stock is mentioned in this article.