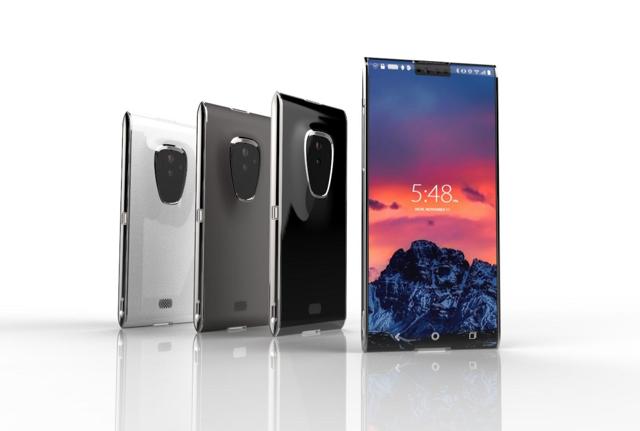 Source: Sirinlabs.com

Sirin Labs (SRN-USD), completed the 4th largest ICO in history, raising $158 million with an ICO price of $0.47 to develop the world's first ultra-secure blockchain-based smartphone, the Finney. Finney will be released October 2018, just in time for the Holiday season. It is my opinion that this company is undervalued in the market and will foster mass-market adoption for the general public that has yet to embrace blockchain technology. Finney will feature its own cold-storage wallet, a user-friendly decentralized app store where developers can use the open-source framework of Sirin to merge the decentralized blockchain world with the smartphone world; a feat yet to occur, as well as feature an independent blockchain network using a distributed ledger consensus mechanism, likely based on or partnered with the Cardano team (ADA-USD) as announced back in February. The feature-rich applications and a mix of proprietary software operating system technology are being developed internally by Sirin Labs, headquartered in Schaffhausen, Switzerland; an important intellectual property and transfer pricing tax benefit implication that will come into play down the road.

As industry titans such as Samsung (SSNLF) and Apple (AAPL) sit on the sidelines with respect to entering the crypto/blockchain space due to multiple reasons such as the high volatility of the crypto world and an uniformed audience to the benefits of a blockchain-enabled smartphone, the Finney will in my opinion be the key to mass-market consumer adoption of blockchain enabled cryptocurrencies and their many use-cases. Currently, the (SRN-USD) token is trading at ~$0.30, a 36% discount to its ICO price, and is massively underpriced by the market according to my valuation analysis which I will detail later.

Finney Smartphone Overview and Specs
The Finney is essentially identical to the Samsung Galaxy S9+, using the same processor, RAM, OS, similar screen size, and battery capacity. The Finney will however sport double the storage and of course house the critical blockchain-enabled features: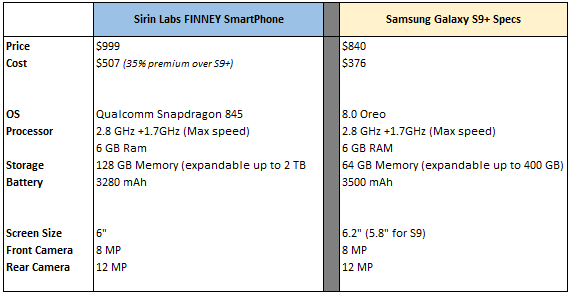 Source: Sirinlabs.com
What makes the Finney special compared to industry players like Apple's iPhone and Samsung's Galaxy? Simple, it will host the world's first physical blockchain-based product featuring strong decentralized applications, known as dApps in the crypto community, that other phone-makers have so far failed to embark on due to the fact they are focused on more traditional non-decentralized technology as the profit signal has not yet been established. Apple and Samsung's bread and butter platform has yet to be challenged, but that is all about to change. Sirin is naming their blockchain-enabled products after the late Bitcoin (BTC-USD) developer, Hal Finney, and as you see will offer the top-end hardware/software suite.
And as to what sets this apart from the Samsung Galaxy S9+? Glad you asked. The suite of blockchain based applications, the Sirin OS, as well as the integration of a distributed ledger consensus algorithm mechanism is a major gateway to the "tectonic shift" toward world of blockchain. The partnership with a top 10 cryptocurrency that is often hailed as a 3rd generation cryptocurrency, Cardano, (ADA-USD), is a major addition as the CEO, Dr. Hoskinson was a co-founder of what is arguably the most successful cryptocurrency to date, Ethereum (ETH-USD). Cardano focuses on an academic, scientific research driven approach using engineering quality control standards and peer-reviewed research that is published before implementing its protocol; a time-consuming process, but one that seems to be more concerned with getting the technology right rather than pushing minimum standards to the public. Practically all of Cardano's staff are PhD's in the field of computer engineering, mathematics, and programming. Here is what is listed on Sirin's website as features the phone will come with:

Sirin OS Blockchain Features:
Secure P2P resource sharing
Built-in cold storage crypto wallet which supports major cryptocurrencies and tokens
Distributed Ledger Consensus
Sirin Labs Cyber Protection suite:
Behavioral based Intrusion Prevention System (NYSEARCA:IPS)
Blockchain-based, fully tamper-proof
Physical security switch (for wallet protection)
Secured communications (VoIP, text, email)
Source: Sirinlabs.com
With the world running amok from hackers, fraud, cybercrime, and intrusion from state actors, there is a strong need in the marketplace for such a highly secured phone and eventually PC that is user-friendly yet offers elite-level privacy and incorruptibility. Some background color as to the roots of the Finney, which is derived from Sirin Labs' 1st generation smartphone, the Solarin:

"Sirin Labs was founded in 2014 with the mission to develop the world's most secure phone. Solarin - our flagship product - was launched in May 2016 to high acclaim, after an intensive research and development process."


Additionally, the Sirin OS will offer developers worldwide a Software Development Kit (SDK). As explained in the whitepaper:


The SDK will enable faster and more secure development of distributed apps for the blockchain generation, based on Sirin's network captabilites and functionalities, taking advantage of a seamless and secure peer-to-peer resource sharing and payment system. Sirin Labs' SDK will implement and make available all the building blocks of decentralization - gossip protocol, decentralized database, voting/polling mechanism and oracle API. Using Sirn Labs' SDK, developers could get directly paid (sic) for software, services and tangibles. In addition, users can make "in-app" micropayments. Sirin OS, the basis for Finney  devices, is a freely distributed open source operating system based on Android, designed to enable safe use of blockchain applications on mainstream devices. The Sirin OS provides an enhanced blockchain feature, decentralized resource sharing and a lightweight, fee-less, quantum-proof transaction of cryptocurrencies (without involvement of Sirin Labs).
Valuation
I base my valuation on a combination of TTM EV/EBITDA for the Telecom Equipment industry as provided by Aswath Damodaran and checking for reasonableness by comparing this to Apple, HPQ, and other smartphone/computer manufacturer's TTM EV/EBITDA. I then discount Sirin Labs' EV/EBITDA to this average TTM EV/EBITDA since it is essentially a small-cap company with a current market cap of ~$70 Million. Sirin lists out its projected budget in their whitepaper and gives an indication of COGS, SG&A, and other key variables which I use to help supplant my model on. Since Sirin does not have any debt, the market cap is essentially a good proxy for EV. They do have some cash on hand but I won't include this as that cash will be spent ramping up production, which by the way will have mass production potential since they inked a deal to produce the Finney with Foxconn, the world's largest contract electronics manufacturer.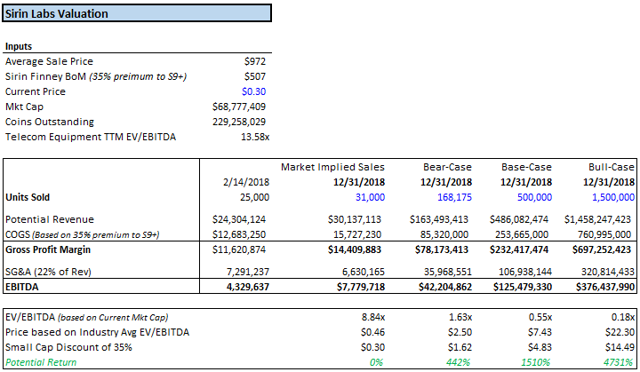 As you can see in the image above, Sirin has already procured 25,000 smartphones for pre-order. The average sale price is based on a combination of the 10% discount if one were to pre-oder using the SRN token and those who will pay full price. I base my COGS figure off of Samsung's S9+ bill of materials, which stands at $375.80. I then add a 35% premium to this figure as Sirin does not have the economies of scale that a large phone maker like Samsung or Apple currently enjoy. The SG&A is based off the Telecom Equipment industry SG&A average. If Sirin Labs is viewed by the market as a producer in the Telecom Equipment industry, and the other assumptions are reasonable, then the market is currently implying Sirin will only sell 31,000 smartphones, despite already having 25,000 on pre-oder, which is a figure last updated in January; this figure is likely far higher. The bear-case scenario above is based on Sirin Labs' projected COGS which as described in the whitepaper is 54% of ICO-raised funds, which would equal ~168,000 smartphones manufactured.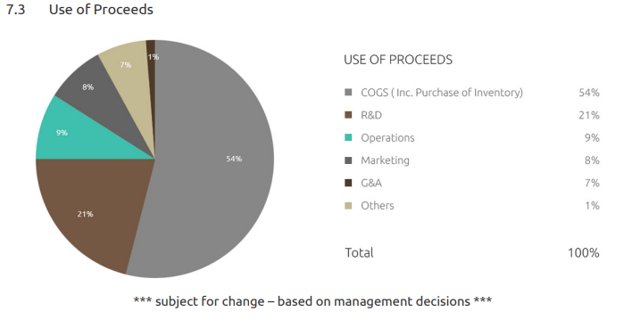 Foxconn, as a Tier-1 contract manufacturer would not deal with a company unless they believe there to be merit in the product and its market viability. If the bear-case scenario plays out and Sirin only sells its initial inventory by year-end 2018, the SRN (SRN-USD) token could be valued in the $1.60 range. If my base-case scenario plays out, then we are speaking of a potential 15 bagger with the token trading at ~$4.80, 45% higher than its recent 52-week high. Sirin traded as high as $3.30 as recently as this past January: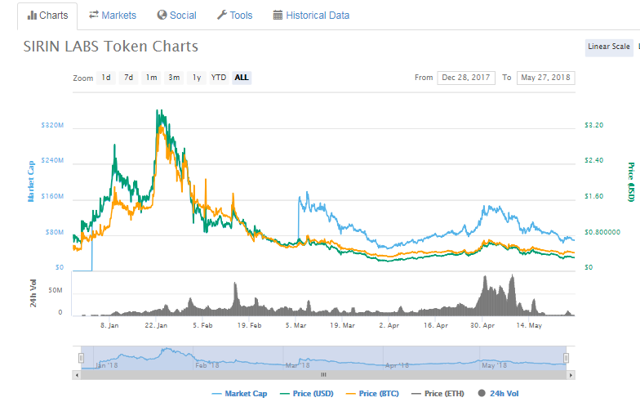 Source: CoinMarketcap.com
As to the reasonableness of my figures, that in part lays with the total market willing to pony up for a blockchain-enabled phone and Sirin Labs' marketing campaign and how well it is viewed in the cryptosphere. As to the most likely market base to purchase the Finney, the total amount of people who own cryptocurrencies, there is no way to precisely find this data. However, we can get rough estimates. As of May 2018, Coinbase boasts it currently serves 20 million customers. Not all of these accounts have substantial holdings, which would correlate with interest in cryptocurrency and other crypto based products, but many of them do. An April 2017 joint study done by VISA and the University of Cambridge found there were between 5.8 million and 11.5 million active wallets. This was of course when BTC (BTC-USD) was trading for ~$1000 and the total market cap of the crypto space was a mere ~$25 Billion. Bitcoin currently trades for ~$7000 and the total market cap of the crypto space is ~$325 Billion. Knowing that cryptocurrencies are much more popular in Asian countries like South Korea, China, and Japan, it's safe to say that the total active crypto market is around 50 million people globally, a number that will continue to climb. This gives Sirin Labs a clear chance to capture market share in a sizable market with absolutely zero competition at the moment. This implies that only 1% of the total market that is active in the crypto-space would have to buy the Finney for my base-case scenario to play out.
Conclusion
Sirin Labs offers a market ready product in an industry that has been coined the 4th industrial revolution. The native token is currently undervalued based on my EV/EBITDA valuation analysis and should be bought prior to the October 2018 release. The unique features of combining a smartphone with blockchain-enabled hardware and software offers the potential for mass-market adoption as many would-be buyers currently wait on the sidelines for more user-friendly products that every day consumers can enjoy. Sirin Labs' Finney will offer that catalyst to the mainstream and to the current user-base of cryptocurrency enthusiasts, investors, and intellectuals. I therefore am long the SRN token until market data and information changes or if key variables are disrupted.
Disclosure: I am/we are long SRN-USD, ADA-USD.