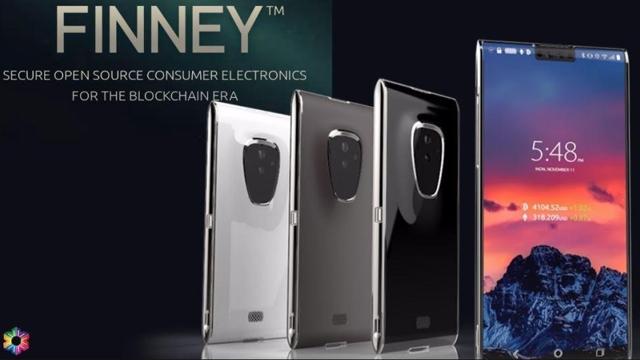 Source: Sirinlabs
Introduction
In my last article written about Sirin Labs' blockchain phone back in May 2018 here, I detailed the Finney launch that at the time was expected to be 4Q18. The Finney is based on the (SRN-USD) token, which has a current market price of ~$0.038, down 99% from its all time high of $3.40 set back in January 2018. The Finney was originally widely anticipated to launch 12/15/2018 which has now been delayed due to:

Source: Sirin Twitter Feed
Additionally, they released that they would work with Amazon distributing the phone and would list it in Amazon's 'Launchpad' website, which according to Amazon's FAQ section is an "onboarding and marketing program for startup products funded by crowdfunding, VCs, or incubators."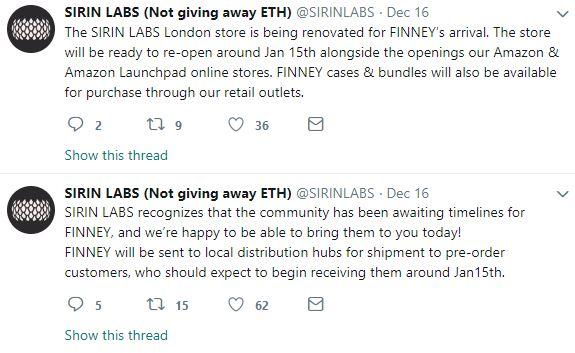 The new launch date, January 15th, 2019 is a bit of a letdown considering competitors like HTC's blockchain based phone, Exodus1, will now have a leg up on Sirin as they will be launching initially in India December 28th, 2018. While it is never good to be launching after your competitor in a brand new nascent industry, the impact is likely not as strong considering the market for blockchain phones is so fragmented and new that a mere month or 2 of timing isn't going to be the needle mover for these blockchain companies. What will be the needle mover is the quality of the product itself and how big the potential addressable market is. Getting a deal inked with Amazon for distribution hubs also helps reach consumers that have never heard of a blockchain phone. The big miss for Sirin was that they will not have phones to consumers before the holidays which would have been a tailwind to the number of product sold. 
Phone Specifications & Features
In case you need a refresher on the specs of the Finney, below is a handy side by side comparison to the Samsung Galaxy S9+: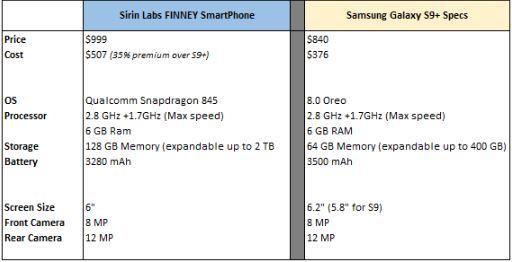 Source: SirinLabs
Additionally, taken from the website, here are some features the Finney will provide when it comes to software applications and its operating system: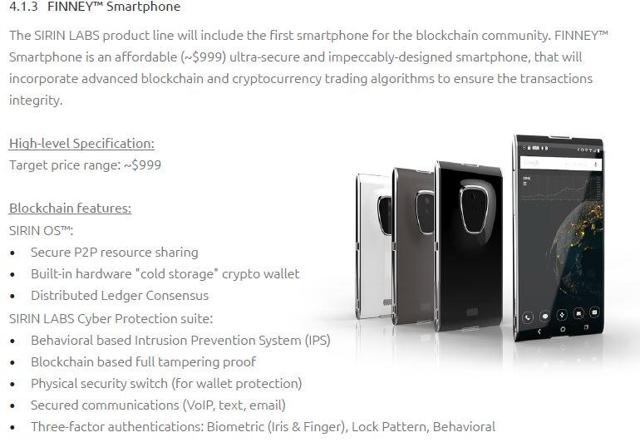 Source: SirinLabs
Valuation
Finally, below I give an update to my previous valuation ranges. Previously, there were only ~229 million coins freely floating. According to coin market cap, there are now more than 492 million coins in circulation so this will have an outsized impact on valuation.
Previously, my valuation which depends on some assumptions such as industry average EV/EBITDA in the Telecom Equipment space have now changed. I am now using a blended EV/EBITDA as Sirin is partly a hardware manufacturer and partly a software developer as they develop apps and their own internal Operating System called the Sirin OS. I weight them 70% as a Telecom hardware equipment producer and 30% as a software (systems & app) developer. Direct costs (COGS)remain ~51% of Revenue and indirect costs (opex) remains ~25% of sales. In my base case scenario, if Sirin can sell 500,000 phones by year-end 2019; this would imply an EBITDA of $376 million. Using my discounted EV multiple of 10.6x for Sirin would imply a price of $2.61 or a return of ~7000% based on current market prices of $0.037. Although this seems like a sky-high valuation; keep in mind that this price is still 23% below the all-time high of $3.40 set January 24th, 2018.
All three cases are detailed below. In my bull case, I have the coin potentially reaching $5.22 (53% higher than all time high) by year end 2019. Keep in mind while these prices seem astronomical, they are based purely on cash flow and I've heavily discounted the multiple to reflect the fact that Sirin is still a micro-cap company essentially. By using cash flow we ignore the effects of systematic risk from bitcoin and the health of the wider crypto market.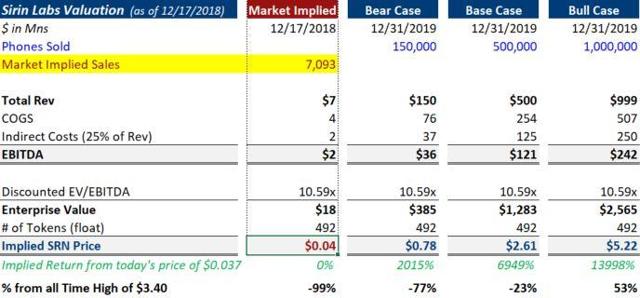 Source: me
Conclusion
Sirin Labs has about a month to be market ready after letting coinholders down about their initial release date. I'm still optimistic that the company will double efforts to ensure the launch in January will be a success as they have committed to newly announced partnerships with Amazon to distribute the product globally. This actually means that they will launch in more countries than we initially thought as Amazon will allow their warehouses to be used as distribution hubs for Sirin phones. Amazon Launchpad describes its service as being available in potentially 80 countries and initially in more than 10 countries including "Canada, Mexico, United Kingdom, France, Germany, India, US, and Japan"; three of these are already listed as being countries Sirin plans to sell the Finney in which should help reduce their budget costs on distribution and bring down Opex, creating some upside tailwind to valuation. As with most things valuation, these numbers are only indicative and are not to be used to solely base your investment decision on. You should always do your own due diligence but right now the market is severely underpricing Finney sales, implying that Sirin will only sell ~7k phones despite the fact the company already has >160k preorders. This may not seem logical, but basically the market is saying that the company will never hit their preoder totals. So unless the preoder figures released by the company are completely fabricated or some unknown factor happens between now and launch, the current market price will eventually be forced to reprice upwards to reality considering it isn't even pricing in preorder sales by year-end 2019 and assumes Sirin only produces a paltry $7 million in Sales. Remember, even if the preoder total of 160k is off, let's say by 50%, then 80k phones sold is still more than 11x higher than what the market currently believes. 80k phones only sold (an unlikely scenario) would imply a (SRN-USD) price of $0.42, 1000% higher than today's prices. With these odds stacked in your favor as price = risk, I'm definitely on the long side of (SRN-USD) for the foreseeable future.