NexTech AR Solutions Bullish Thesis: 12-Month Price Target
Please Note: Blog posts are not selected, edited or screened by Seeking Alpha editors.
Summary
Based on fundamental growth - NEXCF deserves a higher 2020 trading multiple of 40-50x (ZOOM currently trades at 41x 2020 Revenue and 118x 2019 Revenue).
NASDAQ up-listing will propel a wider array of institutional investors into NEXCF.
The hiring of an Elite 12-member sales team (and growing) in the last 45 days is an immeasurable catalyst to growth.
Operational growth in the two largest continents by GDP and high smartphone penetration, a legitimate path to global growth.
NEXCF's timing of the global 5G, IoT, AI, AR & VR adoption cycle which started in 2019 is near perfect.
Based out of Vancouver, Canada, NexTech AR Solutions (OTCQB:OTCQX:NEXCF), offers investors today a highly confident chance of spectacular short, medium, and long-term growth given the fundamental top-line drivers and growing Gross Margins (currently 60% and growing) that will eventually drive profitability further down the road.
2020 Year-To-Date Chart

Source: TradingView
NEXCF's stock price currently sits above its 50 Day Moving Average. While it has seen explosive growth since its inception, returning anyone who received original shares from the Future Farm Technologies (OTCQB:OTC:FFRMF) spinoff nearly 2,000% as of yesterday's close on 7/22/2020.
The reason for the explosive growth in the share price is simple, exponential revenue growth, growing margins, consistently accurate guidance from the steady hand of management. A little background - NEXCF spunoff from a relatively obscure pot stock with property in Florida, positioned for a speculative opening up of marijuana in a state known for its agriculture and elderly South Florida populations that are increasingly opening up to the idea of CBD and THC use as a medical therapeutic.
Since the spinoff, NEXCF has had essentially no other connections or ties to FFRMF and the relationship today is completely irrelevant, other than the fact that the current CEO, Evan Gappelberg was an early advisor and investor in FFRMF.
NexTech Business Segments
NEXCF operates in two main business segments and in four verticals:
Business Segments
Software (InfernoAR, ARitize, 3D/AR Ad Network, EdTech, Telemedicine ScreenAR, AR Hosting Services)
E-Commerce
Verticals
3D/AR Ad Network
Eduation ("EdTech")
Retail
Entertainment
The biggest driver of revenue in the next 12 months in my view will be the InfernoAR platform. Currently, InfernoAR is benefitting from a shift to Work-From-Home "WFH" due to COVID-19 which has currently infected nearly 15.5 million with ~640,000 deaths globally. Although, there will be a vaccine on the horizon, the shift to working from home has clear cost benefits to companies and employees in a post-COVID world.
However, to view this as only a COVID investment would be a highly myopic view. InfernoAR was acquired by NEXCF on March 16, 2020: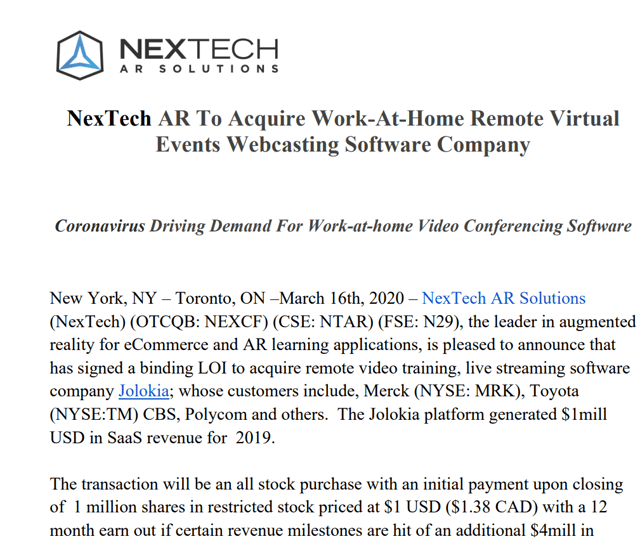 Source: GlobeNewswire
NEXCF acquired Jolokia (InfernoAR) at essentially a bargain buy for only $1 million in upfront payments with a $4 million earnout for a total of $5 million. A small sum considering the impact that InfernoAR will have as a 3D video conferencing platform that expands the capabilities of a Zoom-like experience where individuals can immerse themselves in Augmented Reality spaces. The platform itself allows for expanded virtual conferencing, 3D product booths, and the future potential for 3D exploratory spaces where an individual will pair AR glasses, 5G smartphones, and laptops with the InfernoAR platform.To give you a flavor of the technology, below are some sample screenshots of the InfernoAR platform in action: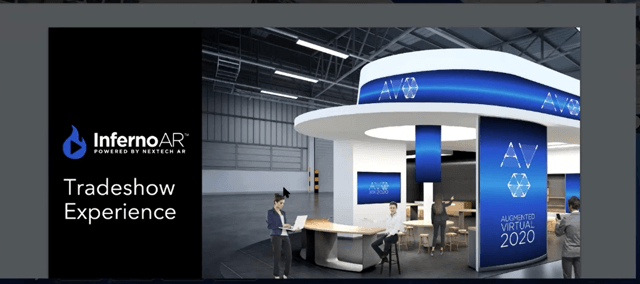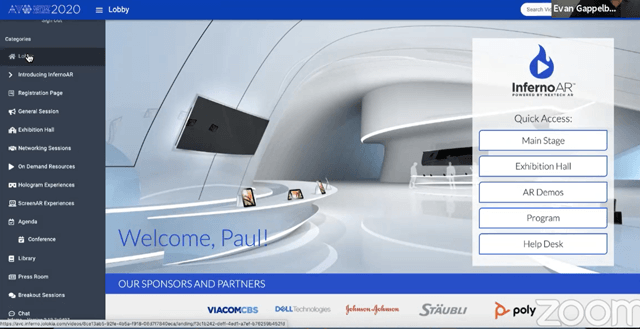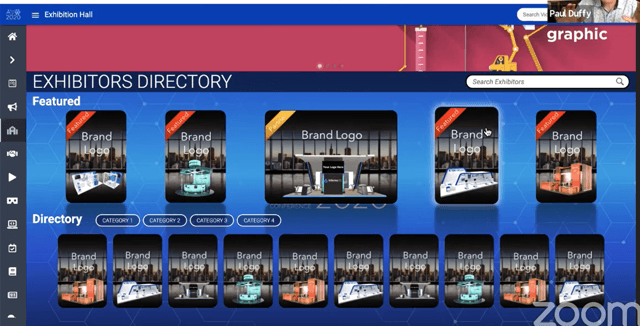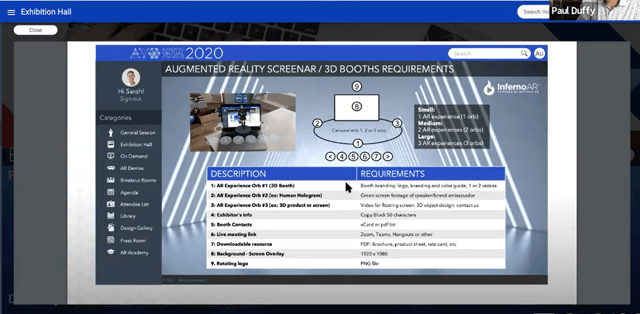 Digital Conferencing and Trade Shows will represent a cost savings for corporations. It's easy to see that not having to pay for per diem meals, flights, hotels, and setting up the physical location has obvious cost savings for a corporate world that is now looking at operational savings across the board any way they can get it; including time to travel. NEXCF will be the one standing there to reap the benefit of companies shifting from physical to digital meetings.
As you can surmise, InfernoAR's platform alone will be a major catalyst to growth in 2020 and beyond but there will be one other segment that I am anticipating the most. This segment will focus in on the ability to pair AR glasses or a smartphone with NEXCF's platform to explore digital versions of physical retail stores.
Individuals will be able to try on clothes on a digital holographic version of themselves and decide whether or not to purchase an item all from the comfort of their own home.
NEXCF currently has a partnership with Miele, a high-end German manufacturer of domestic appliances and commercial equipment: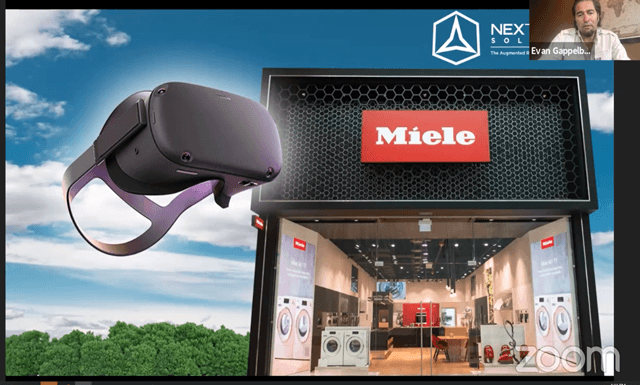 NEXCF will focus more on this segment in the later half of 2020 and early 2021. This will be one of the key drivers to future growth as this is a completely unexplored technology that no current competitor has on the market today. This sort of segment represents a real paradigm shift akin to the change between horse travel and automobiles.
Catalysts to Growth
As already mentioned above, there are key catalysts to revenue growth in 2020, 2021, and beyond that are visibly on the horizon. Some key metrics to follow are NEXCF's KPIs such as their Full-Time Employees "FTEs". NEXCF, currently has 57 FTEs as of 6/25/2020, including 12 Senior Level Sales Managers.
They also hired a European GM based out of Paris with 10+ years of experience at Microsoft (NasdaqGS:MSFT), Arnaud Amet.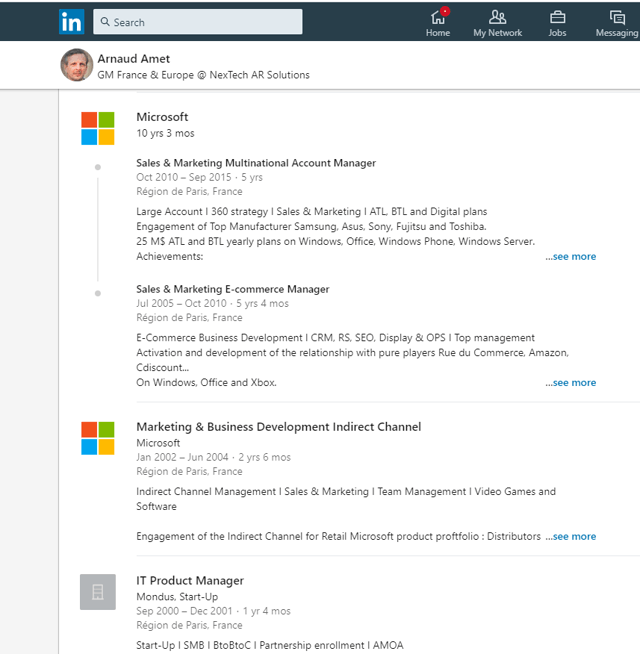 Source: LinkedIn
Mr. Amet has significant sales and marketing experience with the most premier global software company one could find themselves in. With this hire, NEXCF has shown itself completely committed to credible growth based on elite level senior management. It's quite clear that the business relationships that Mr. Amet has forged over the last decade are going to be significant and will end up into signed recurring contracts for NEXCF.
Each of these elite level 12 Sales Managers that NEXCF has hired in the last 30-60 days all come with a minimum revenue quota of $100k/month. It's very logical that elite level sales and marketing team members would join NEXCF because salespeople are all motivated by their commission to sell a product and what better way to make higher commissions than selling a product that will quite literally sell itself? The attraction for top-flight elite level talent to NEXCF's tech platform is limitless.I project that NEXCF will end 2020 with 74 FTEs. Each of the initial 12 member elite level sales staff will all hire mid-level and junior-level teams and will likely focus on regions and accounts that they specifically have personal relationships to. By year-end 2021, I project NEXCF will have nearly 110-150 FTEs, driving revenue to $84 million, year-over-year growth of 187%
Revenue Projection (2020 and 2021)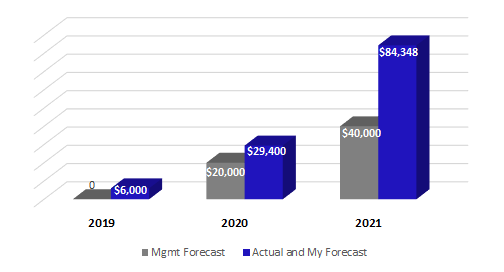 Source: Mgmt and My Estimates in blue based on NEXCF's KPIs
A note about the disparity between my estimate and Management's estimate in 2020 and 2021 revenue is merely the fact that Management created these estimates in 2019 and has not had a chance to refresh their view after the transformational and pivotal Jolokia acquisition in March 2020.
To be clear, future drivers that we will start to hear more about in upcoming Quarterly Earnings reports and press releases will be in the EdTech, Telemedicine, ScreenAR, immersive 3D & AR-paired E-retail stores "Miele concept store", and some transformational and synergistic acquisitions.
Value Comparison Between Zoom and NexTech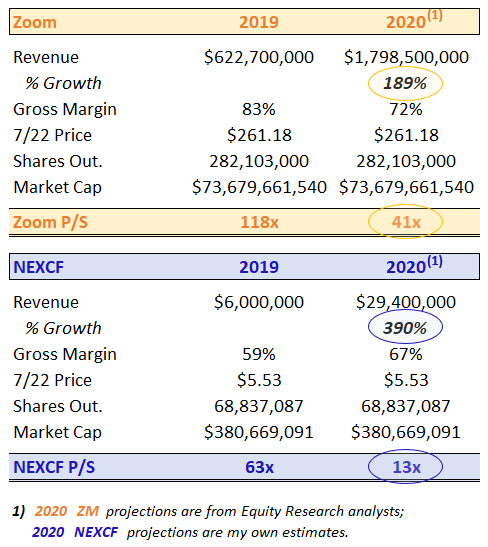 As can be gleaned from the table above, Zoom, a close comparable company to NEXCF is growing only 189% year over year, while I project NEXCF will grow double Zoom's projection. Additionally, Zoom is having issues controlling costs with the new growth as Gross Margins compress from 83% to 72%. In contrast, NEXCF's Gross Margins are expanding which I expect to end in the high 60% range by year end.
Not only is NEXCF experiencing much stronger growth compared to Zoom but it's growing Gross Margins without sacrificing growth.
With this in mind, NEXCF is currently trading at only 13x my projected 2020 revenue of $29.4 million.
12-Month Price Range Based on 40-50x Revenue Multiple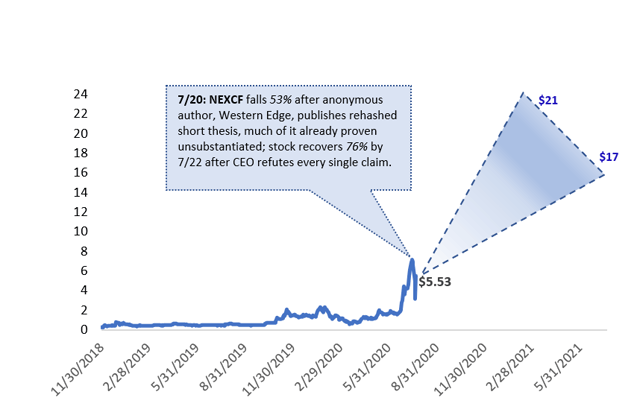 Source: My Estimate
This 12-month price range is based on my estimated KPIs and growth drivers, combined with growing margins. Gross Margins in 2019 were 59% and we should see this come into the mid to low 70% range by 1Q 2021.
Furthermore, the strong quarterly revenue growth is difficult to ignore. Jolokia did $1 million in SaaS revenue in all of 2019 and post acquisition, NEXCF's incremental revenue increased $1 million in a single quarter. Thus far in two quarters of 2020, NEXCF has surpassed all of 2019's revenue.
I remain bullish on NEXCF before the eventual up-listing to NasdaqCM, which as the CEO stated would occur in the next 4-6 weeks, putting it around late August, early September timeframe.
This fact alone will allow NEXCF to gain traction from institutional investors that are prevented from buying OTC listed stocks in their fund prospectuses. Additionally, being Nasdaq listed will bring optical benefits that NEXCF is no longer a small player in a large $209 billion Mixed Reality space.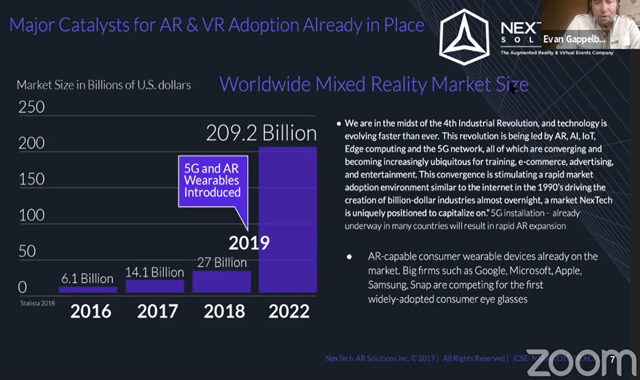 There are use cases that many aren't even aware of yet who are shareholders of NEXCF. The limitless possibility of Augmented Reality is just the beginning and NEXCF is a pioneer in the space that will have acquisition target written all over it within the next 24 months as they continue to build a MOAT around their core IP and elite level sales team that continues to expand every month into the two largest continents by GDP, North America and Europe. Headed by capable, competent managers that have a significant skin in the game; CEO, Evan Gappelberg, owns nearly 6 million shares out of a float of 68 million or ~10% of the company. His wife even has 50,000 shares, which is probably a bigger tip-off than any that this company is the real deal and here to stay advancing the field of AR, mixed-reality, and the human-to-digital experience. This will bring countless benefits to society from cost and time savings, to the potential of unlimited learning experiences both inside corporations for onboarding and inside the education system- a true game changer to reality.
Analyst's Disclosure: I am/we are long NEXCF.
Seeking Alpha's Disclosure: Past performance is no guarantee of future results. No recommendation or advice is being given as to whether any investment is suitable for a particular investor. Any views or opinions expressed above may not reflect those of Seeking Alpha as a whole. Seeking Alpha is not a licensed securities dealer, broker or US investment adviser or investment bank. Our analysts are third party authors that include both professional investors and individual investors who may not be licensed or certified by any institute or regulatory body.