This article was first published at European Small-Cap Ideas on December 3rd, when its share price was at 81.56 EUR. Manutan ended the day last Friday at 93.50 EUR per share.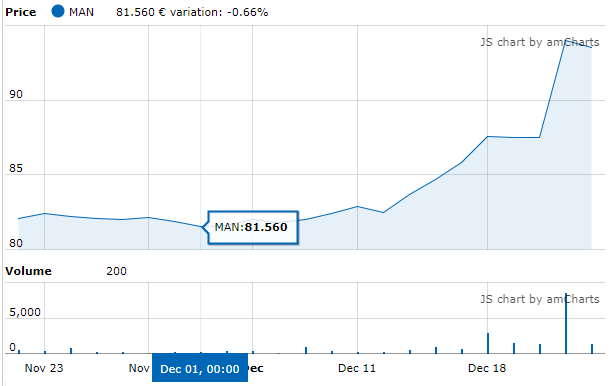 Introduction
Manutan International is a French family-owned company selling office and school equipment via online sales (the company doesn't appear to have any physical stores), which results in excellent operating margins which are still increasing). As this is a family-owned company with increasing cash flows and a net cash position, it definitely deserves a spot in the ESCI portfolio as the net cash position will only increase from here on.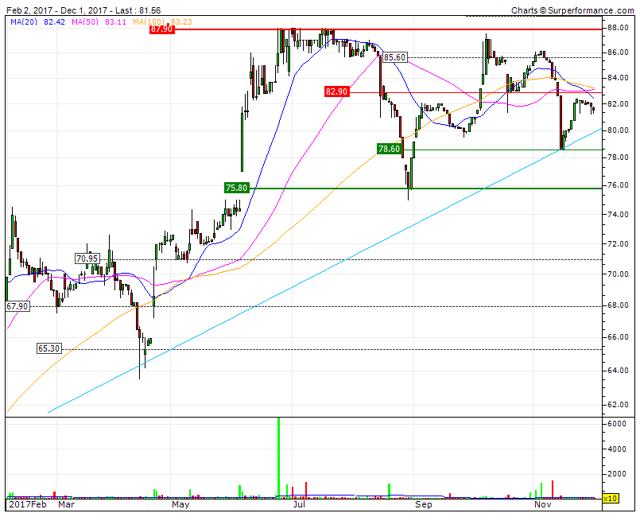 Manutan is trading on Euronext Paris with MAN as its ticker symbol. The average daily volume is 1,700 shares per day, and based on the current share count of almost exactly 7.6 million shares, its market capitalization is approximately 621M EUR based on a 81.56 EUR share price.
Business background and share ownership
Manutan describes itself as 'a European leader in multi-channel equipment distribution for businesses and local authorities'. That's a great way to say absolutely nothing, as after reading that sentence you still have absolutely no idea what Manutan does.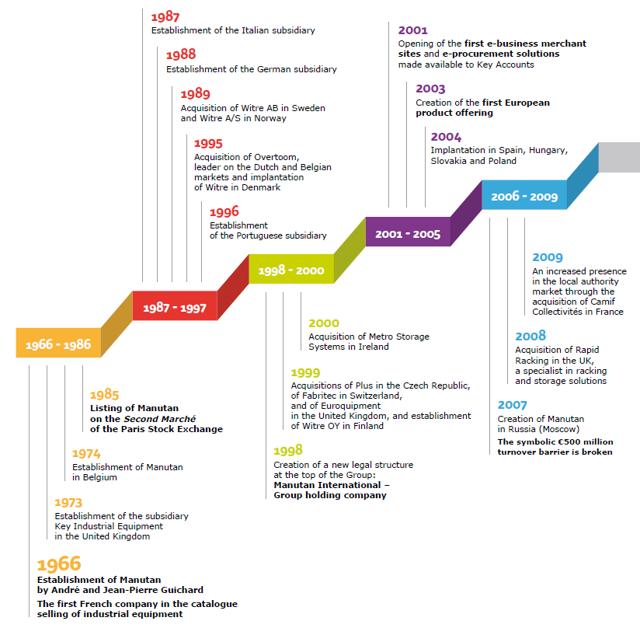 The business model is pretty straightforward though, and Manutan caters to three groups; 'artisans', local authorities (school furniture, sports equipment, school supplies, school/work clothing, …) and 'companies' as a whole, with a specific focus on storage solutions in the UK and environmental protection products in Scandinavia. The company fulfills approximately 1.5 million orders per year, with an average order size of 400 EUR.
That's an important amount, as the smaller bites out of a budget rarely get cut during tough economic times. When a budget needs to be trimmed, local authorities or schools will prefer to reduce one large expense. This doesn't mean Manutan will be immune to adverse economic scenarios, but with in excess of 1 million clients, it's not depending on the wellbeing of one specific client. On top of that, Manutan also works with temporary contracts (9.7% of the employees have fixed term contracts), which makes it easier to make those employees 'redundant' during bad economic times.
What I also like about Manutan is its equal opportunities/treatment-type of employment. Virtually every age category is represented at Manutan, and almost 350 employees (24% of the work force) is older than 50 years, whilst 18% is younger than 30. I think that's a great mix, as you can combine the energy of younger employees with the experience of older employees. I'm not surprised this company is in the top-20 of 'best workplaces in France'.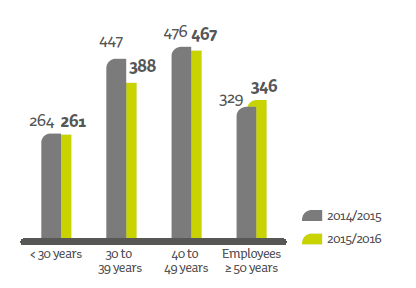 Manutan was founded in 1966  by father and son Guichard (both are still alive – as far as I know), father Guichard is now 93 years old and moved to an honorary chairman role), and it has remained  a family business ever since. Just have a look at the share ownership of the three generations of Guichards (forget about nephews, uncles and cousins, the three Guichards running the company are grandfather, father and son. A hardcore family business!).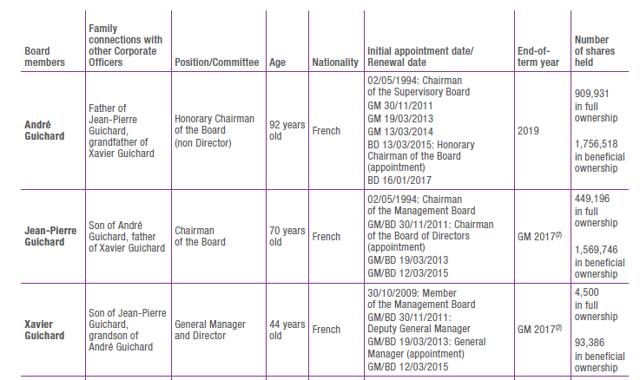 Adding all the individual (and beneficial, very likely due to a trust structure – at least, that's how I would do it!) positions, the Guichards own 4,783,277 shares, which represents almost 63% of Manutan's total share count. Note, this is the stake owned by the three Guichards part of Manutan's board of directors and management team. The 'share structure' part on the company's website seems to indicate the total ownership of the Guichard family is in excess of 70%.
The company will report its detailed financial statements in December
Unfortunately (or well, fortunately?) I don't want to wait for those financials before writing about the company. Some of the basic things (revenue, net income) have already been pre-announced, but you know I'm a free cash flow freak, and those results haven't been announced yet (but I expect them to be really really good).
To prove my point, I will first briefly discuss the FY 2016 cash flow result, move over to the H1 results where I will try to build my expectations based on the preliminary results which were pre-released.
FY 2016
Manutan's financial statements are very straightforward and I don't need to make a lot of adjustments.
It announced an operating cash flow of 49.6M EUR (which it incorrectly describes as 'free' cash flow), and after paying the 8.7M EUR in capital expenditures, Manutan generated approximately 41M EUR in (real) free cash flow in FY 2016. That's how simple the financial statements are, and due to the lack of financial hocus pocus, I don't need to make a single adjustment…
You will notice the free cash flow increased sharply from the 27M EUR in FY 2015 and the 28.5M EUR in FY 2014, and that's mainly related to the fact the company's heavy investments (mainly in IT, which is booked as an intangible asset) are now over. The capex for FY 2017 hasn't been announced yet, but it looks like Manutan should be able to stay below 6-7M EUR.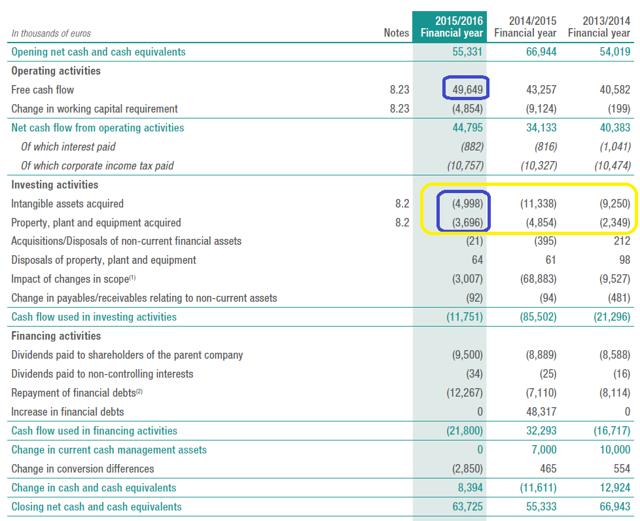 H1 2017
Whereas I was happy with the FY 2016 results, the expectations have increased after the financial report of the first semester of FY 2017 showed a higher operating cash flow and a lower capex (a dream!). Compared to the first half of FY 2016, the operating cash flow increased by almost 20% to 24.6M EUR, whilst the capex decreased to 2.8M EUR for a free cash flow result of 21.8M EUR.
Not only would this already indicate the company remained firmly on track to generate at least 41M EUR in free cash flow, it gets even better as Manutan generates the majority of its revenue and free cash flow in the second half of its financial year (as schools stock up right before the start of the new school year).
Last year, only 40% of the free cash flow result was generated in the first six months of the year, and H2 accounted for 60% (or approximately 25M EUR) of the free cash flow.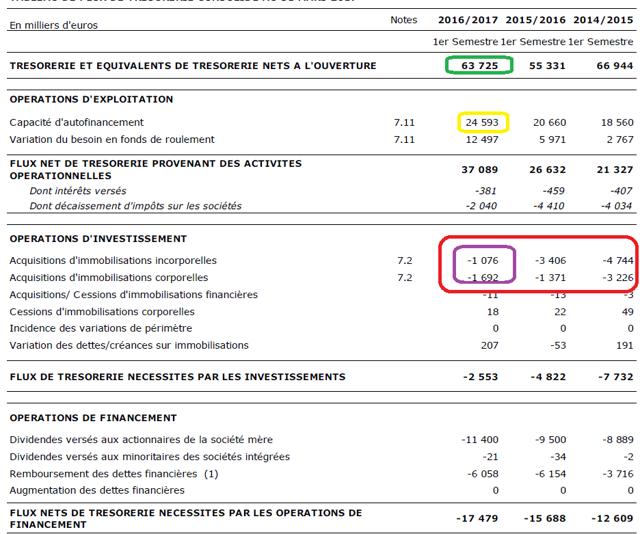 The preliminary results
I now have enough data points to put some sort of expectation for FY 2017 together. In the past three financial years, the average conversion rate of revenue into operating cash flow was: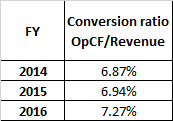 Not only do you see a continuously improving performance, Manutan should also be able to withstand margin pressures.
In FY 2017, the revenue increased by an additional 3.8% to 708.8M EUR. Looking at Manutan's H1 performance, the conversion ratio increased from 6.35% in H1 2016 to in excess of 7% in H1 2017. As the margins traditionally increase in the second half of the year, it looks like Manutan is continuing its momentum of higher margins on higher revenues…
Using a full-year operating margin of 7%, the operating cash flow would be approximately 49.6M EUR, resulting in a free cash flow result of 43-44M EUR. However, if I would apply a 7.25% conversion rate, the operating cash flow would increase to in excess of 51M EUR.
Long story short, I think we will see a very solid operating and free cash flow result in a few weeks. Anything below 43M EUR would be disappointing, anything above 47M EUR would be excellent.
The main risks
I see only one main risk here; the European economy. Manutan is depending on the economic situation as well as school budgets and city budgets. Should 2008 repeat itself, Manutan will face a few tough years, but so will pretty much every single company on the planet.
On its way to a management/family buyout?
This is a perfect example of a family-owned company which has absolutely no reason to be publicly traded. If the Guichard family indeed owns 72.7% of the stock, only 2.1 million shares are owned by non-Guichard investors.
This means that at a current share price of 81.56 EUR, the total stake of non-family members is worth less than 175M EUR. This could pave the way for a management buyout, using leverage on Manutan's balance sheet. If we would assume an ultra-conservative approach and zero net cash (I expect a net cash position by the end of this year), and a maximal leverage ratio of 2.5 with an expected 2017 EBITDA of 68.5M EUR, Manutan could leverage up and purchase the remaining 2.1 million shares.
Although a net debt/EBITDA level of 2.5 could limit Manutan's options, there's a decent way for the company to work around that. As the EBITDA is expected to continue to increase and the free cash flow will go a long way to quickly repay the debt, it's not unlikely its lenders would agree to a leverage ratio of 3.5 which decreases every year (for instance to 3 in Y2, 2.5 in Y3,…).
It's an option, but if I were a Guichard, I'd pursue a more gradual delisting route. If I would spend 50% of my free cash flow on stock repurchases, I could buy back 3-4% of the total share count per year, removing 250,000+ shares from the equation every given year. Manutan would then only have to repurchase 1.6 million shares in 2019 to go private, making the transaction easier to digest.
Investment thesis
With an expected free cash flow result of at least 43M EUR (5.65 EUR per share), Manutan is currently trading at a free cash flow yield of 6.93%. However, as of at the end of March, the balance sheet indicated the company had a net cash position of 13.6M EUR, up from a net debt of almost 10M EUR as of at the end of last year. Keep in mind a part of the cash increase was caused by the conversion of working capital elements into hard euro's, and this will very likely be reversed in the second semester.
Taking all elements into consideration, I expect Manutan to report a net cash position of 0-10M EUR, but what's more interesting is the lack of shareholder renumeration. Last year, the payout ratio based on the free cash flow result was less than 25% which means in excess of 30M EUR is added to the balance sheet every year (either as cash or as debt reduction). Just have a look at the recent H1 balance sheets. In H1 2015, Manutan had 67M EUR in cash and a total debt of 96M EUR. At the end of March, it had 81M EUR in cash and less than 70M EUR in debt.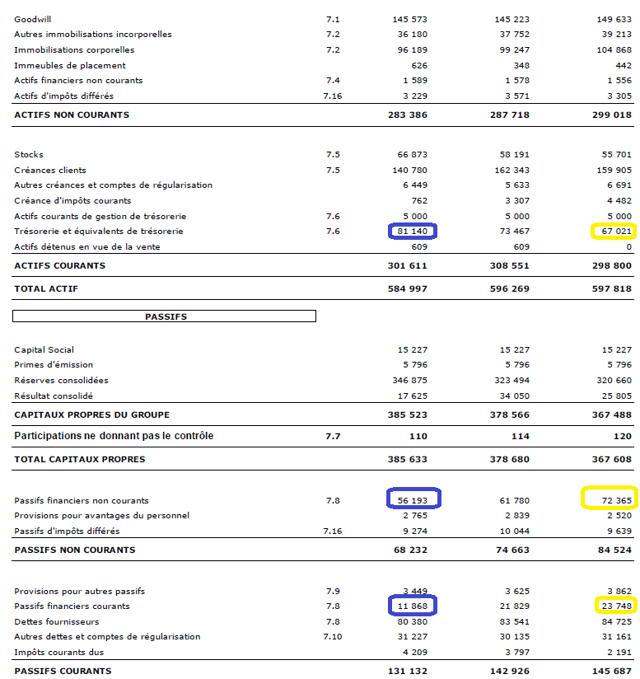 So by the end of next financial year, I wouldn't be surprised to see a net cash position of 5 EUR/share. And then things can go really  fast if Manutan doesn't spend the money on acquisitions…
Assuming a free cash flow result of 50M EUR in FY 2019 (I think we will be very close to achieving that result in the current financial year) and a required free cash flow yield of 6.5% (which is high enough for a family-owned business with an impressive 51 year track record), the fair value of Manutan would be 770M EUR. Adding a net cash position of approximately 60M EUR (which shouldn't be too hard to obtain in 2 years), the fair value of the company using a 22 month window would be 830M EUR.
Assuming the share count (7.6M shares) won't change, this represents a fair value of 109 EUR per share on a conservative basis.
I am adding a first position of 15 shares at 81.56 EUR to the ESCI portfolio (total cash outflow: 1243 EUR), with an order to purchase an additional 20 shares at 76.50 EUR. The purchase and open order will be reflected later this week.
Consider joining European Small-Cap Ideas to gain exclusive access to actionable research on appealing Europe-focused investment opportunities, and to the real-time chat function to discuss ideas with similar-minded investors!
NOTICE: The subscription price for European Small-Cap Ideas for new subscribers will be increased to $35/month or $300/year from January 1st on. All existing subscribers on December 31st 2017 will fall under the "grandfathered subscription fee" scheme at the current price of $25/month or $200/year.
Are you uncertain if this Europe-centered offering with a specific focus on free cash flow results would be a good fit for your portfolio? You can now try it out for FREE in a two week free trial. Have a look and kick the tires on a risk-free basis!
Disclosure: I/we have no positions in any stocks mentioned, and no plans to initiate any positions within the next 72 hours.