This morning, Produce Investments (PIL, London Stock Exchange) announced it received an offer from a private equity group to take the company private. The PE group is offering either 193 pence in cash or 98 pence and a loan note (for small retail investors the immediate 193 pence cash payout would be the preferred solution). The 193 pence offer is a 35% premium compared to yesterday's closing price.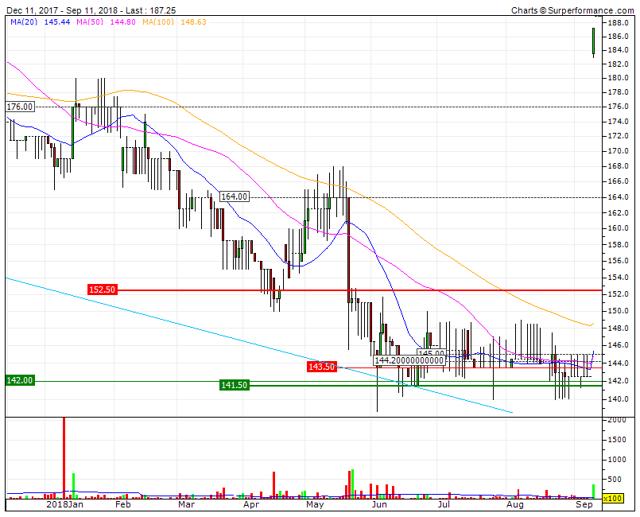 Although the offered price of 193 pence falls short of my fair value of 250-300 pence, I'm inclined to accept the offer for two reasons:
The potato harvest this year will very likely be bad due to the drought that has hit Western Europe. As such, I had anticipated at least 1-2 'weaker' years for Produce Investments as a bad harvest would result in a lower revenue and cash flow. The dividend should have been safe, but Produce wouldn't have had too much 'excess' cash to either reduce debt or make new investments.
There still is no Brexit deal on the table. Should there be a hard Brexit, Produce Investments could lose its cheap (Polish) labour force. Hiring British people to replace them would very likely increase the costs and thus decrease the margins. Automatisation would have been a potential solution, but then I'd have to refer back to the previous argument; PIL wouldn't have enough money to invest in automatization.
Taking these two elements into consideration, I am grateful for this 'liquidity' event and exit scenario. It is however quite unfortunate to see the GBP/EUR exchange rate at just 1.125 as an exchange rate of 1.15 would have provided an additional 2% boost. In the past year, we also collected a net dividend of 7.51 pence (approximately 4.5%). The total return (in GBP) is approximately 18.2% in exactly 1 year. Not great, but I'll take it. 
I am selling Produce Investments in the ESCI portfolio at 188 pence. I prefer the 188 pence today rather than the 193 pence in a few months when the deal closes, as the cash inflow is welcome. Selling 700 shares at 188 pence results in a total cash inflow of 1316 GBP, or 1481 EUR. After deducting the 20 EUR transaction expenses, a net amount of 1461 EUR gets added to the cash position. Note, you can continue to hold onto the stock and tender into the 193 pence offer, but be aware the offer will be reduced if dividends get paid. So if Produce Investments would propose to pay a 4 pence dividend, the offered price will subsequently be reduced to 189 pence.
To celebrate the buyout offer, European Small Cap Ideas is currently offering a (Two Week) Free Trial AND a 20% discount to new subscribers. But don't wait too long, the free trial and discount will be stopped on WEDNESDAY, SEPTEMBER 12 at 11:59 PM PST.
Consider joining European Small-Cap Ideas to gain exclusive access to actionable research on appealing Europe-focused investment opportunities, and to the real-time chat function to discuss ideas with similar-minded investors!

Disclosure: I/we have no positions in any stocks mentioned, and no plans to initiate any positions within the next 72 hours.
Additional disclosure: I have a long position in PIL and plan to sell soon.