I had some trouble finding a US stock screener that meets my needs. I was after something that is:
Excel-based, so I can do my own analysis;
free;
has a good range of value-based investment metrics (PE, yield, EPS growth, etc); and
well formatted / easy to use
Therefore I created my own screening tool. I would like to share it with other personal investors who are looking for under-priced stocks. If you would like your own copy, feel free to follow this link and click 'download':
http://www.2shared.com/file/H_DF4-8T/Co_screener_US_stocks.html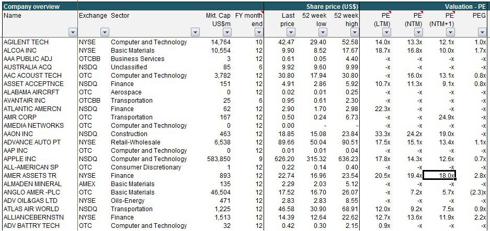 I based it on the NASDAQ stock screener (which is a very useful tool) http://www.nasdaq.com/reference/StockScreener.stm
Key metrics are designed to suit a value investor. I have generally stuck to the most simple (and, in my view, most informative) metrics:
Company overview: Name, ticker, exchange, S&P500, sector, market cap, month of FY end
Share price: Last price, 52 week high & low
Valuation: PE (last twelve months, forward 1 & 2 years), PEG, P/Book, P/Net tangibles assets, P/Cash flow
Dividends: Yield, payout
Growth: 5yr sales, EPS, dividend growth
Broker views: % buy, % hold, % sell. Average recommendation, number of analysts covering stock
Financials: ROA, ROE, NI margin, D/E
Per share: EPS, DPS, book value
The filters allow you to select only stocks that meet a set of criteria. E.g. PE 5x to 10x, dividend yield 4%+ & EPS growth 5%+p.a.
The data is current as at ~10am, 13 April 2012 (New Zealand time). However, the spreadsheet contains instructions for updating (which should only take 10 minutes).
I hope you find this screener useful, and wish you all the best with your trades.