A week or so ago we gave the short term view of silver that a decent sized top was in. Our first choice Elliott wave pattern (see below) looked complete as you can see from the chart we reproduce below. We had an alternate wave count which would be invalidated if it went below $14.80. That has now happened so the first choice count is vindicated.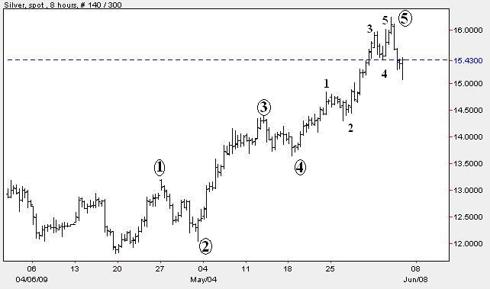 The new situation is shown below and the question naturally is what are we correcting here? The impulse wave which ran from mid April to early June is either wave 1 of a bigger impulse wave or it is a sub wave of a corrective wave which we call "A" here. Obviously being only wave 1 of 5 in a larger impulse would send silver well above the $21 highs of last year but we do not think that is the case for now. The depth of the current correction will answer that question in due course. I have an idea where this drop may end up but I am sure it is the prelude to higher highs (larger correction or not – just not as great as a mega impulse wave).
From a purely Fibonacci point of view (not the only tool we rely on thankfully), the 50% retracement is at $13.91 – we have seen as low as $14.05 so far. The 38% retrace was taken out at $14.40.
After this correction ends it is one final push up and then into a final multi-month correction phase.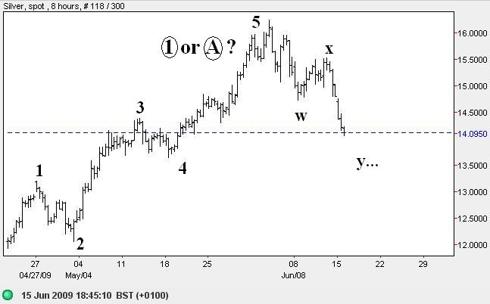 Further analysis of silver can be had by going to our silver blog at http://silveranalyst.blogspot.com where readers can obtain a free issue of The Silver Analyst and learn about subscription details. Comments and questions are also invited via email to silveranalysis@yahoo.co.uk.