Several stocks keep on rolling out of our scanners. Today I selected 3 stocks with interesting volume patterns and (in one case) interesting fundamentals. Let's take a look:
| Ticker | Industry | EPS this Y | EPS Next Y |
| --- | --- | --- | --- |
| MTOR | Consumer Goods, Auto Parts | 319.72% | 40.52% |
| MDVN | Biotechnology | -11.93% | -88.10% |
| ZAGG | Specialty Retail | 52.80% | 16.25% |
If we take a peak on the charts we notice that our biotech stocks - who have the lowest fundaments - have made the biggest gains.
Fascinating how the stock market sometimes doesn't care about core fundamentals. Therefore we always use technical analysis to be our guide in the decision making process.
From all four stocks, MTOR is showing a very interesting Effective Volume pattern. It launched higher on high volume. It is also showing huge large player buying (red line). Finally, MTOR has the highest fundamental rank in this list.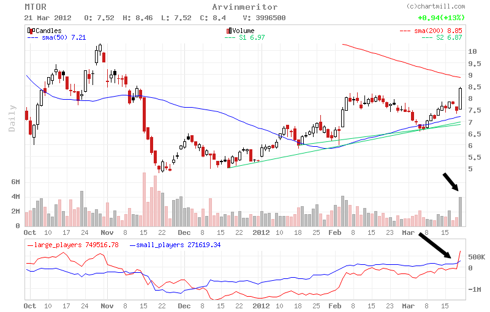 MDVN could break out above the 75 price level. It is showing slow but steady large player accumulation and offers a nice place to put in a protective stop (around 69).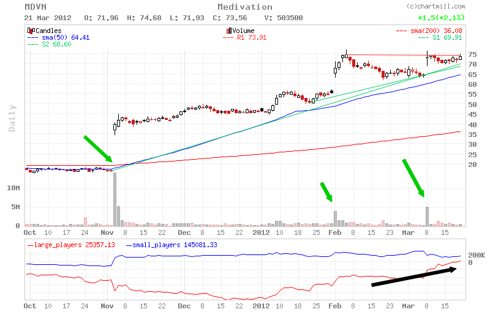 ZAGG has good fundamentals, but due to it's downwarded slope it can just be played on the short term, aiming for a 10% gain, while trailing it with a stop.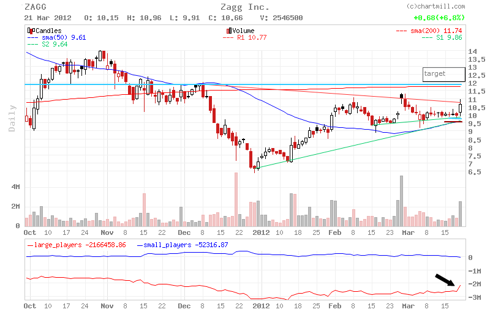 As always, control your risk. This post is no advice to bull or sell underlying assets.
Check out this analysis on our website!
Disclosure: I have no positions in any stocks mentioned, but may initiate a long position in MTOR, MDVN over the next 72 hours.