Up 17% On New BHP Billiton Deal
Shares of Alloy Steel International (OTCPK:AYSI), held their gains Thursday after spiking 17.65% on Wednesday on news that the company had landed a new, 5-year deal to supply its protective wear plates to the iron mining unit of BHP Billiton (NYSE:BHP) in Western Australia. In this post we'll look at what this deal could mean to Alloy Steel. First, though, here's a little background on what the company does.
A Picks & Shovels Play On Mining And Infrastructure
Alloy Steel uses a high tech, proprietary process to manufacture protective wear plates for mining and excavation equipment. The image below, from the company's website, shows a front end loader bucket with Alloy Steel's Arcoplate wear plating installed.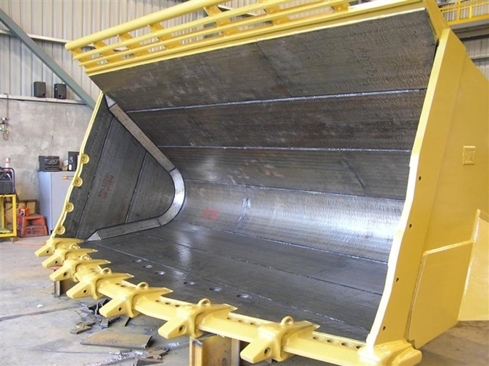 In addition to protecting against wear, Alloy Steel's wear plates are also designed to reduce "hang-up", which is the tendency of ore or earth to adhere to the surfaces of mining or construction equipment, reducing the machines' efficiency. Alloy Steel elaborates on how its wear plates can reduce its customers costs on this page on its corporate website. In addition to BHP Billiton Limited , which it has supplied with wear plates for several years, Alloy Steel's corporate customers have included Caterpillar, Inc. (NYSE:CAT), Arch Coal, Inc. (ACI), Alcoa, Inc. (NYSE:AA), Rio Tinto, plc (NYSE:RIO), and AngloGold Ashanti Limited (NYSE:AU).
Essentially, the company is a picks and shovels play on the infrastructure and mining industries, particularly iron ore and coal mining, and as such, is positioned to potentially benefit indirectly from Chinese demand for those commodities. Alloy Steel has had some stumbling blocks in the past, which I covered in an article in 2011.
What The BHP Billiton Deal Could Mean For Alloy Steel
A few years ago, Alloy Steel International purchased land in Indonesia where it planned to build a manufacturing site about 8 times the size of its manufacturing site in Western Australia. The goal was to increase the company's manufacturing capacity while lowering its production costs. Last October, in a press release announcing record annual sales (Alloy Steel's fiscal year ends at September 30th), the company also announced that, due to economic uncertainty and the company's inability to secure outside financing for it on favorable terms, it would slow down its construction work on its Indonesian facility. The company noted that it had spent $5 million on that site so far, all out of cash flow, and it wasn't prudent to continue financing it that way given the then-current uncertainty.
Alloy Steel didn't mention its Indonesian site specifically in its press release Wednesday, but the company did say this:
the signing of this contract provides further confidence in the appropriateness of the expansion plans and the added incentive to see such plans implemented as soon as can be achieved.
If the new BHP deal enables Alloy Steel to land the financing necessary to expedite completion of its Indonesian site, it could spark a significant increase in the company's future production capacity, operating margins, sales, and earnings.
Still Cheap, Despite Wednesday's Move
Alloy Steel's stock has languished for so long that, even after its double digit move on Wednesday, the company was trading at an extremely low valuation. As of Wednesday's close, this is how the company ranked on a few different valuation metrics on a trailing twelve months basis:
Price/Sales: 0.40
Price/Book: 0.67
Price/Earnings: 3.40
Plenty Of Risk
In addition to the macro risks associated with the economically sensitive mining and infrastructure industries, AYSI carries the additional risks associated with being a small and thinly-traded stock. Unfortunately for Alloy Steel longs, the stock doesn't have options traded on it, so it can't be hedged directly. But several of its corporate customers mentioned above do have options traded on them, and can be hedged. For those invested in Alloy Steel's largest customer, below we'll show two ways of hedging BHP Billiton (the first hedge could also be used by Alloy Steel shareholders to ameliorate macro risk of weakening global demand for commodities, which could lead to a downturn in mining). Then we'll show the current costs of hedging the other four Alloy Steel customers mentioned above in the same manner, along with the costs of similarly hedging the SPDR S&P 500 Trust ETF (NYSEARCA:SPY), for comparison purposes.
Two Ways Of Hedging BHP
Below are two ways for a BHP Billiton shareholder to hedge 1000 shares against a greater-than-20% drop between now and mid-November.
1) The first way uses optimal puts*; this way allows uncapped upside, but is more expensive. These were the optimal puts, as of Wednesday's close, for an investor looking to hedge 1000 shares of BHP against a greater-than-20% drop between now and November 15th: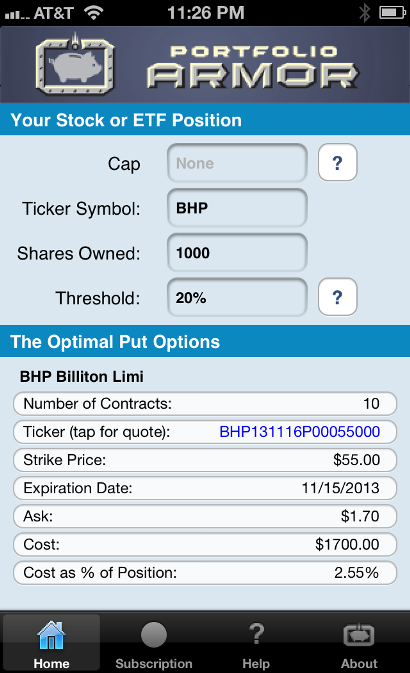 As you can see at the bottom of the screen capture above, the cost of this protection, as a percentage of position value, was 2.55%.
2) A BHP investor interested in hedging against the same, greater-than-20% decline between now and mid-November, but also willing to cap his potential upside at 20% over that time frame, could have used the optimal collar** below to hedge instead (Note: this collar should only be used by investors who own shares of BHP; this is not an appropriate way for someone who does not own BHP but owns AYSI or another stock levered to the mining industry to hedge industry risk. That's because if BHP appreciates significantly, the investor who opens this collar may be required to deliver BHP shares to the owner of the calls specified in this collar, and if he doesn't own those shares already, he will face the uncapped risk of having to buy them at a significantly higher market price.).

As you can see at the bottom of the screen capture above, the net cost of this collar, as a percentage of position value, was 1.46%.
Note that, to be conservative, the cost of both hedges was calculated using the ask price for the optimal puts and the put leg of the optimal collar, and the bid price of the call leg of the optimal collar; in practice, an investor can often buy puts for some price less than the ask price (i.e., some price between the bid and ask) and sell calls for some price higher than the bid price (i.e., some price between the bid and the ask).
Hedging Costs For The Other AYSI Customers Mentioned Above
The table below shows the costs, as of Wednesday's close, of hedging the other AYSI customers mentioned above in a similar manner as BHP above: first, with optimal puts against a >20% drop over the next several months; then, with optimal collars against the same percentage drop over the same time frame, while capping the potential upside at 20%. SPY was added to the table for comparison purposes.
| | | | |
| --- | --- | --- | --- |
| Name | Symbol | Optimal Put Hedging Cost | Optimal Collar Hedging Cost |
| Caterpillar | CAT | 2.44% | 1.82% |
| Alcoa | AA | 2.66% | 0.85% |
| Rio | RIO | 4.50% | 1.43% |
| AngloGold | AU | 4.86% | 0.69% |
| Arch Coal | ACI | 18.6% | 12.5% |
| SPDR S&P 500 | SPY | 0.64% | 0.62% |
*Optimal puts are the ones that will give you the level of protection you want at the lowest possible cost. Portfolio Armor uses an algorithm developed by a finance Ph.D to sort through and analyze all of the available puts for your stocks and ETFs, scanning for the optimal ones.
**Optimal collars are the ones that will give you the level of protection you want at the lowest net cost, while not limiting your potential upside by more than you specify. The algorithm to scan for optimal collars was developed in conjunction with a post-doctoral fellow in the financial engineering department at Princeton University. The screen captures above come from the Portfolio Armor iOS app.
Disclosure: I am long OTCPK:AYSI. I wrote this article myself, and it expresses my own opinions. I am not receiving compensation for it. I have no business relationship with any company whose stock is mentioned in this article.
Additional disclosure: I may also purchase optimal puts on BHP in the near future, as a hedge against the risk of a downturn in mining due to weakening global demand for metals.