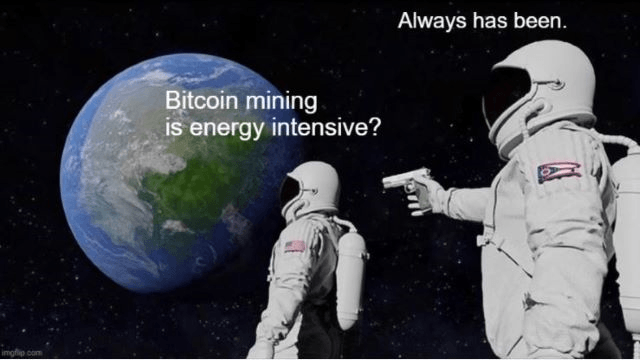 Meme via the Portfolio Armor art department and Imgflip.
Bitcoin Versus Ethereum
In a post a couple weeks ago (Tesla Stops Taking Bitcoin), we wrote that Elon Musk would likely switch to buying Ether in the future:
Our guess is Musk won't be buying Bitcoin next, but Ethereum [technically, Ethereum's cryptocurrency is called Ether]. One reason is that, as our Twitter correspondent Anatoly Karlin reminded us, Ethereum is moving to a proof-of-stake approach, which may require 99% less energy than the proof-of-work approach Bitcoin uses to verify transactions. The other reason is that Roko Mijic is a huge Ethereum bull, who thinks it will exceed Bitcoin's price.

Recall that, as we mentioned in a post last week (Rotation Or Simulation?), in an odd twist suggesting this all might be a simulation, Roko Mijic is responsible for creating the happy family below.

Grimes, Elon Musk, and their son X AE A-XII in Starbase, Texas (photo tweeted by Musk).

Mijic isn't the only Ethereum maximalist, but he's one Musk is familiar with.
Goldman Sees Possibility Of "The Flippening" 
It looks like Roko Mijic's prediction of a 50x move in Ethereum was premature (to say the least) but now Goldman Sachs has embraced the possibility of the flippening, Etherium's cryptocurrency outpacing Bitcoin by market cap. Via ZeroHedge (The Amazon Of Information): 
We therefore see a high likelihood that bitcoin will eventually lose its crown as the dominant digital store of value to another cryptocurrency with greater practical use and technological agility. Ether [Ethereum's cryptocurrency] looks like the most likely candidate today to overtake bitcoin, but that outcome is far from certain. 
ZeroHedge notes that JP Morgan is similarly bullish on Ethereum and that, taken together, Goldman and JP Morgan represent the institutional take on crypto. That raises the question, though, of why Ether has crashed harder than Bitcoin during this crypto correction so far. 
Still A Couple Of Crypto Names In Our Top Ten
Despite the crypto crash, we still had a couple of crypto-related stocks in the top ten of our daily ranking on Friday, Riot Blockchain (RIOT), and Silvergate Capital (SI).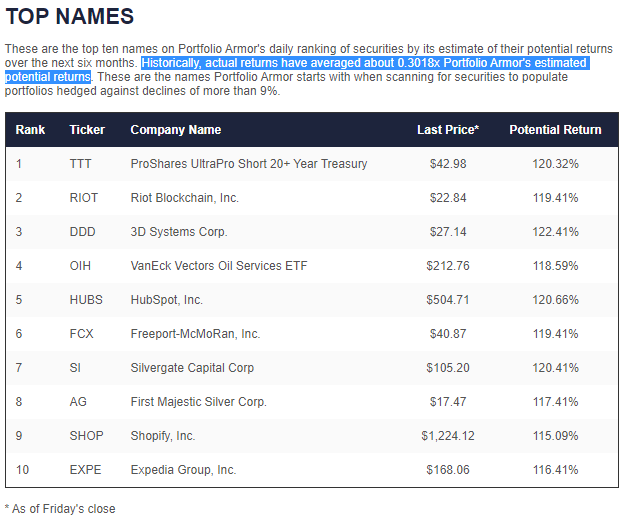 Screen capture via Portfolio Armor as of 5/21/2021.
Shopify (SHOP) was one of the first companies to put Bitcoin on its balance sheet, but the fortunes of RIOT and SI are much more closely tied to crypto: RIOT is a Bitcoin miner, and SI runs the Silvergate Exchange which facilitates dollar settlement between cryptocurrency exchanges.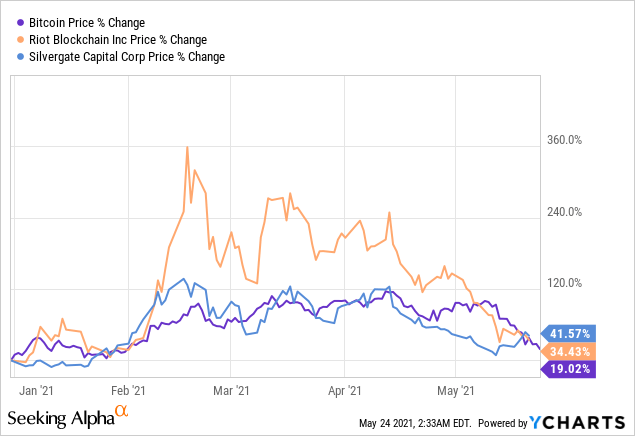 Of the two, RIOT is likely the riskier one, but both of these will tumble further if crypto continues to slide. 
More Non-Crypto Inflation Bets
Interestingly, we had more non-crypto names in our top ten on Friday that would seem likely to benefit from continued inflation: the levered short bet on the long bond (TTT), the oil services ETF (OIH), the copper miner Freeport-McMoRan (FCX), and the silver miner First Majestic (AG). Given that the current crypto correction has happened while inflation is heating up, if inflation is your main concern, those names may be worth a closer look.