This article was originally published on Elcapitalmanagement.com.
Ubiquiti Network (UBNT) has been listed on NasdaqGS market since October 14th, 2011, with the closing price, $17.50, on its first trading day. Now it stands at $19.26 as closing price on July 11th, 2013. It seems that the stock price of UNBT has returned to its IPO price after a rally in the first half of 2012. Just a month ago, it has dipped to $15.10 on June 5, 2013 right before it bounced back to the current level of $19.26. So why UBNT's stock price has gone through such a roller coaster ride, as shown in the following graph from Yahoo Finance? We would like to look at its financial statement before exploring possible underlying explanation.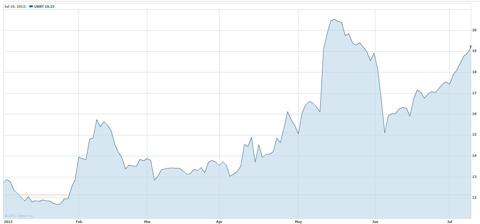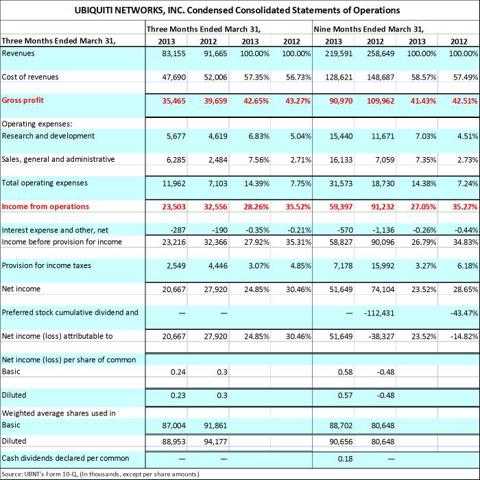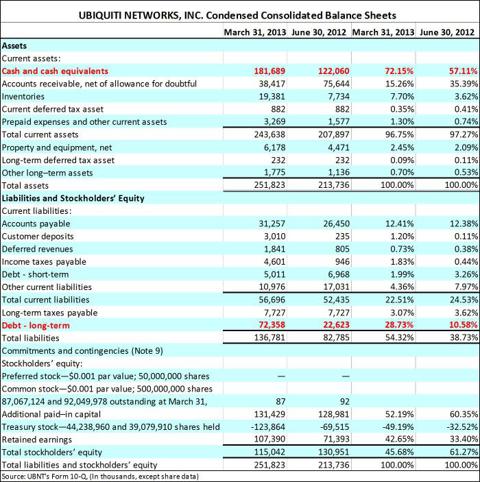 First, we can see that UBNT has healthy profit margins at gross, operating and net income levels. For the nine months ended March 31, 2013, UBNT has gross profit margin 41.43%, which is almost identical to the level in 2012 for the same period. However, there is a 68.5% increase in cost structure concerning R&D and SAG&E for nine months ended March 31, 2013, as compared to the same period a year ago. Given the growth of total revenue for the nine months ended March 31, 2013 has shown a 15.10% decrease for the nine months ended March 31, 2013 on the year-to-year basis, the increase of operating expenses might be worth paying more attention in the coming quarters of 2013. As for UBNT's balance sheet, it has gone through several stages since its IPO in 2011 and UBNT's latest Form 10-K had pointed out the following events according to the timeline.
Immediately prior to the closing of UBNT's initial public offering in 2011, all outstanding shares of UBNT's Series A convertible preferred stock were converted into 23,992,929 shares of UBNT's common stock, as per UBNT's latest Form 10-K. Its Series A Preferred Stock was issued in March 2010 with the recapitalization efforts to transfer the ownership from then existing stockholders, i.e. certain employees and consultants, to the private equity firm, Summit Partners, L.P.
Also, according to UBNT's latest Form 10-k, in July 2011, UBNT had repurchased an aggregate of 12,041,700 shares of the Company's Series A convertible preferred stock from entities affiliated with Summit Partners, L.P., one of the Company's major stockholders, at a price of $8.97 per share for an aggregate consideration of $108.0 million. The 12,041,700 shares of UBNT's Series A convertible preferred stock represented 33% of what Summit Partners, L.P. owned at the time of this transaction, total 36,034,630 shares in Series A convertible preferred stock. UBNT's Form 1-K also detailed that of the aggregate purchase price, $40.0 million was paid in cash at the time of closing and the balance of the shares were paid for through the issuance of convertible subordinated promissory notes in the aggregate principal amount of $68.0 million.
In 2011 and 2012, UBNT had entered into two Loan and Security Agreements with East West Bank for $35.0 million term loan facility and a $5.0 million revolving line of credit facility and with U.S. Bank for (i) a $50.0 million revolving credit facility, with a $5.0 million sublimit for the issuance of letters of credit and a $5.0 million sublimit for the making of swingline loan advances (the "Revolving Credit Facility"), and (ii) a $50.0 million term loan facility (the "Term Loan Facility"), respectively.
These transactions have successfully switched gears in UBNT's financing source from heavy preferred stock structure to debt financing centered structure with some help from the proceed of its IPO. In terms of cash management, UBNT has only engaged 28.73% long term debt and 54.32% total liabilities, which is relatively low in the industry. Positive net income, low PP&E needs, and good working capital management would help build up UBNT's cash and cash equivalent position.
In the midst of all good cash management strategy, UBNT has faced several uncertainties in its operating environment. First, the growth of revenue is facing an uphill pressure, as shown in the current revenue for three months ended March 31, 2013. With its current stock price returning to its IPO price, it shows that market has been waiting to see more positive signals and momentum in UBNT's revenue and overall financial performance. Now it is indeed a different stage for UBNT as compared to the time when it just debuted its IPO.
Bottom Line: UBNT has carried out a nice recapitalization strategy since its IPO. Its cash position has increased to more than 70% of total assets. However, new challenges have been waiting for UBNT to increase its total revenue in line with the growth rate that it used to see.
Disclosure: I have no positions in any stocks mentioned, and no plans to initiate any positions within the next 72 hours.