Vipshop Holdings Limited (VIPS), through its subsidiaries, operates as an online discount retailer for various brands in the People's Republic of China. Since its IPO in May 2012, with $5.50 per share, it has multiplied more than 35x and reached $201.50 per share just not long ago. There are at least several drivers that contributed to this rally from the fundamental analysis point of view.
First of all, VIPS has seen growth in its net revenue, net income and number of active customers. VIPS's business model is based on online flash sales, which offer new sales events daily with a curated selection of popular branded products at deeply discounted prices in limited quantities during limited time periods, creating the element of "thrill and excitement" associated with VIPS' unique customer shopping experience, according to VIPS's Form 20F filing. On the income statement side, VIPS has accumulated $1.70 billion in total net revenue for year 2013, a 145% jump from $692 million in 2012. COGS has risen from $537 million in 2012 to $1.28 billion in 2013, a 139% increase on year-to-year basis. VIPS's gross profit has stayed at around 20% to 25% since 2011. VIPS has turned profit the first time in 2013 by reporting net income of $52 million, roughly 3% of total net revenue. This is one of the drivers that had propelled its stock price to jump on March 5th, 2014. On the cash flow statement, it is shown that much of the share-based compensation expenses were concentrated in VIPS's co-founders, especially $63.9 million related to founders' shares out of $73.9 million in 2011. VIPS has also increased their appetite for inventory on hand from $86 million in 2012 to $160 million in 2013. Another upside is with advance from customers, VIPS had collected $75 million in 2013, a 86% increase from year 2012.
As seen in its U.S.-equivalent online falsh sale sites, i.e. GRPN or Zulily, active customers who have purchased goods from these flash sale sites more than once per year are what drive the underlying growth. VIPS has grown its active members from 4.1 million in 2012 to 9.4 million in 2013. According to VIPS' Form 20F, it has the following statement on repeat customers.
"Our total number of repeat customers was 0.9 million, 2.6 million and 6.0 million in 2011, 2012 and 2013, respectively, representing 60.6%, 63.9% and 63.8%, respectively, of the total number of our active customers during the same periods. Orders placed by our repeat customers accounted for 91.9%, 93.2% and 93.0%, respectively, of our total orders during the same periods."
So the success of growing revenue and active customers for VIPS depends heavily on the numbers of orders placed by repeat customers. The prospect of growing repeat customers would reflect one of the concentrated risks that VIPS face, given that its stock price is valued at Price/Sales at 5.34, as comparable to Zulily's P/S at 5.71 and relatively higher than GRPN's P/S at 1.61, according to Yahoo Finance.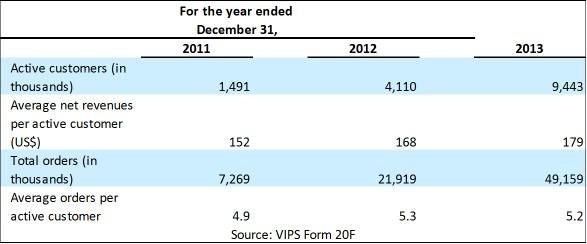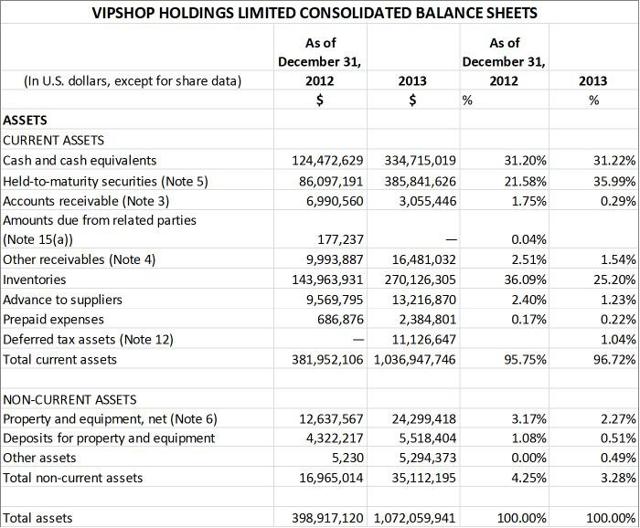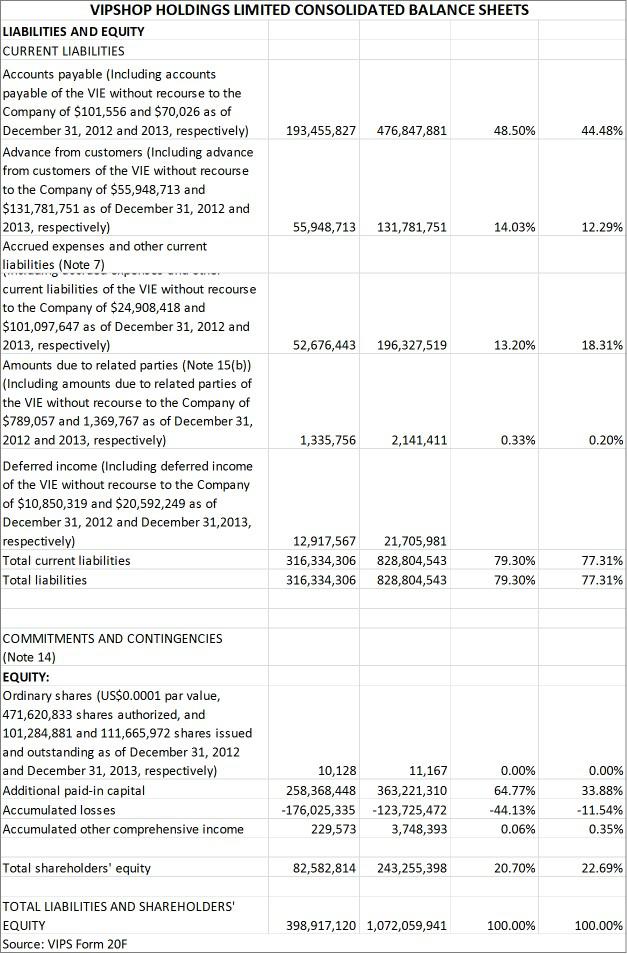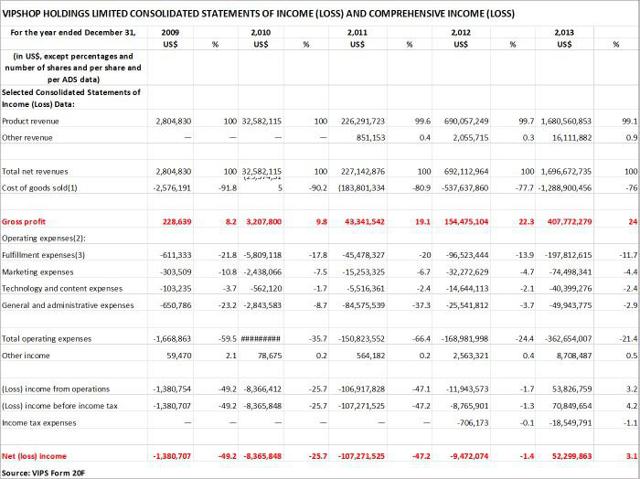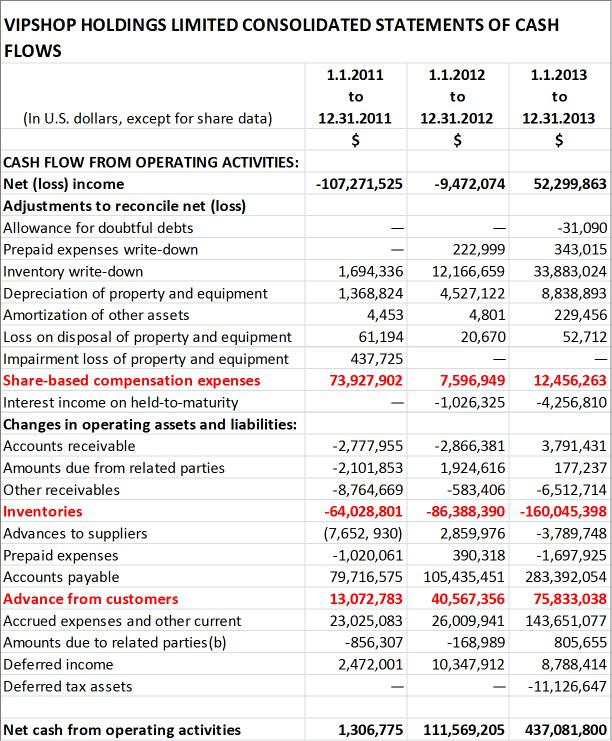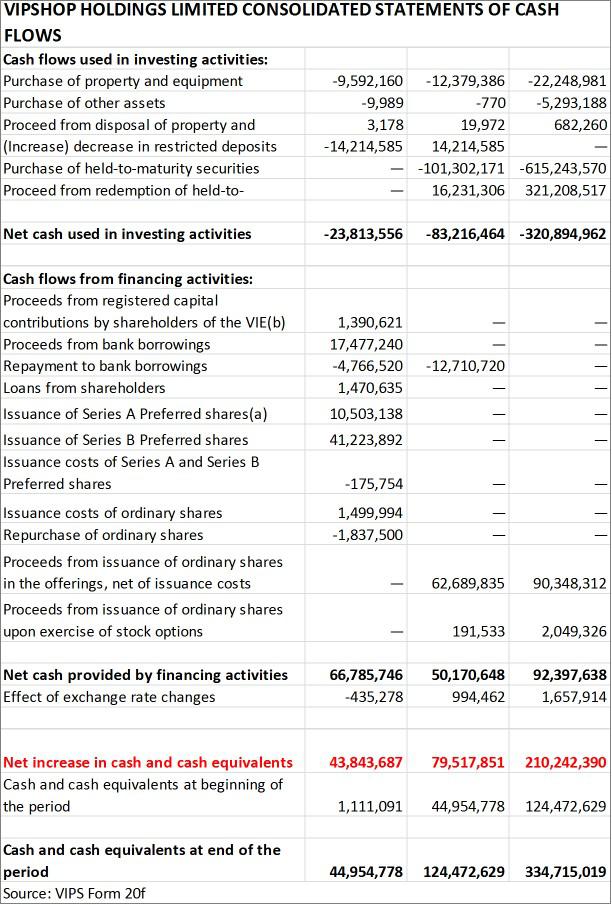 Bottom Line: Flash sale model seem to have much room to grow in China, however, the gradually saturated and easily-replicated nature of businesses in the flash sale industry might start to put constraints on profit margins and its stock price.