Arena Pharmaceuticals (ARNA) efficacy is starting to show a baby bump and it's only been three months. No, Arena is not pregnant, but the results of Belviq are beginning to become noticeable in the public eye.
ABC News in Phoenix has been tracking the performance of three of Dr. Steven Vig's patients in Tucson, Arizona. They sent a news team out early in the process and then did a follow up report. That news piece is now online. You can view it here:
The news anchor Katie Raml reported that patients called Belviq a "Miracle pill" and "game changer". Dr. Vig says he's only had a few patients reporting side effects, 'they were tired' according to the report. Raml also reported: "After our first story one of our ABC 15 producers went on Belviq as well."
ABC Producer Maria Tomasch on Belviq:
"I went to the Scottsdale Weight Loss Center. I have been on Belviq for seven weeks. I've lost 22 pounds."
Katie Raml reports on patient considerations:
"Belviq is pricey"
But the price may be at least partially offset by savings on food (especially if you tend to eat out).
Reported: "Our patients tell us, with the money they save eating less, they break even."
One patient stated:
"The price of the pill, I save that in groceries"
Belviq's efficacy seems to be still misunderstood in the financial reporting but now we are beginning to see the success stories for those that fit in the responder range for efficacy.
As others have also noted there may be a social media response to the success of Belviq. It's limiting factors still may be the price of the medication itself but if it does become increasingly covered by health insurance this limitation will lose weight and the short story will likely diminish.
Dr. Steven Vig on ABC News: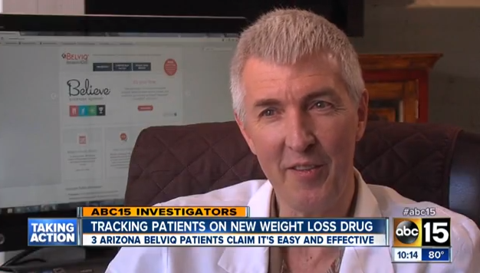 Note: Dr. Steven Vig is a board certified internal medicine doctor in Tucson, Arizona and has been treating patients at the same location since 1987.
Disclosure: I am long ARNA.