Tesla demand will drive Graphite
Commodities have taken it on the chin with this latest deflation wave spreading around the Globe, but many commodities have unique characteristics that can make them long term strategic investments. Graphite prices have languished in the face of a strong US dollar, the slowdown in China and the lack of economic growth in the US/Europe/Japan, particularly as it relates to the steel industry..
However Graphite has strong growth potential in the tech, auto and electrical energy markets. It is the main component that makes up the anode of the Lithium ion battery used in smart phones, laptops and pretty much all portable technology. Society continues to mobilize so this sector will continue to see growth.
Where the real growth story begins is in two other sectors where Tesla Motors (NASDAQ:TSLA) is a market leader.
Tesla is well known for their high quality electric cars and these cars use a lot of Lithium ion batteries, hence graphite. Electric cars are not going to take over any time soon, but just small growth can have a big impact on graphite.
Tesla delivered 10,030 cars in Q1 of 2015, a 55% increase over Q1 2014 and in Q2 2015 it was 11,507 up 52% from Q2 2014. They have very strong growth and have an ambitious goal with a annual sales target of 500,000 cars.
To give you an idea how that relates to graphite - it would require four or six new graphite mines.
Perhaps 500,000 cars sounds like a lot but it is only 1% of the annual new car market. And keep in mind we are talking only one car company.
Tesla produces Battery only cars- but add in Hybrids that use electric and internal combustion the battery demand is much more. According to the Electric Drive Transportation Association, end of July YTD a total 350,688 electric cars including hybrids have been sold in the U.S. alone
http://electricdrive.org/index.php?ht=d/sp/i/20952/pid/20952
The electric car market in China is probably bigger than the U.S. just depending what you count as an electric car.
That aside Tesla will also drive demand in home power or off grid battery applications. This year they announced their new Powerwall home battery that greatly brings down the cost of storing Grid or Solar power. Certainly it is significantly bringing down the initial cost of a battery $3,000 for the 7 kWh and $3,500 for 10 kWh.
During Tesla's Q1 earnings call, CEO Elon Musk just announced that the company has so far taken 38,000 reservations for its Powerwall home battery. "The response has been overwhelming. Like, crazy," Musk said
Since then Tesla has announced two collaboration deals with Sunrun and LichtBlick. Sunrun is the largest dedicated residential solar company in the U.S. and LichtBlick is an energy and IT company. In Germany, over one million people - the "LichtBlickers" - already set store by the pure energy of the pioneer and market leader for green electricity and gas.
The stock has come down in the recent correction and because of the $500 million equity offering announced, I believe this and any further weakness provides a good entry level for long term investors!!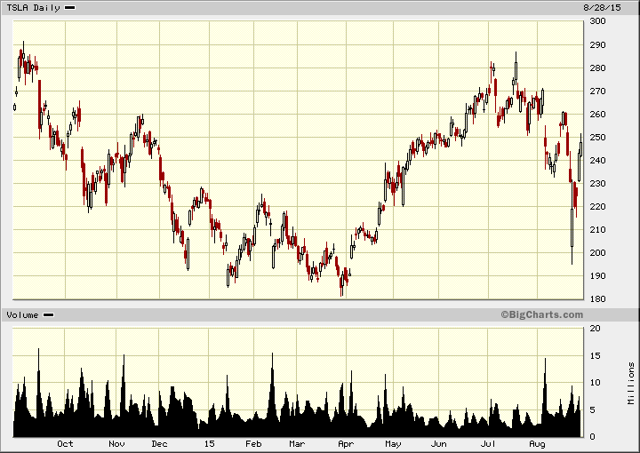 Tesla will see strong growth with their new Home batteries and no doubt their cars. There is no stronger sign of this then the unprecedented news this week from Consumer Reports.
According to a new report out of Consumer Reports, the Tesla Model S P85D, all-wheel-drive electric sedan, performed "better in our tests than any other car ever has, earning a perfect road-test score."
Actually, it did better than that, scoring 103 points in a scoring system that, "by definition," doesn't go past 100.
Now Back to Graphite
Another way investors can participate in the Tesla Growth story is with Graphite.
Tesla is starting construction of their battery Gigafactory with planned production for 2017. Before too long Tesla will have to negotiate an off take agreement with somebody to source graphite to accommodate the growth of Tesla and their Gigafactory.
Just this past Thursday Tesla announced a supply contract with Bacanora Minerals (BCRMF) for lithium, graphite will be next.
There has been much speculation among graphite Investors and graphite junior miners on who that might be. In a recent Corporate update, Greg Bowes of Northern Graphite says a potential catalyst would be a strategic partner/off take agreement or a decision in the Tesla "beauty contest".
Bowes goes on to say "What Tesla wants is no secret. Low cost, near term supply, preferably North American, and mining and processing with a small environmental footprint. Tesla is all in with a very aggressive business plan and represents one catalyst that could stimulate the development of a new graphite mine in the very short term. What Tesla decides remains to be seen but Northern ticks all the boxes in terms of their requirements and might be the only graphite company that does."
Bowes calls it a Beauty contest but I think it might be one that is already won?
Northern Graphite (NGPHF)
News out over the summer makes this a very compelling buy.
Jeff Dahn is recognized as one of the pioneering developers of the lithium-ion battery that is now used worldwide in laptop computers and cell-phones. Dahn's recent work has concentrated on the application of Combinatorial Materials Science methods to battery and fuel cell materials problems. He is the author of over 500 refereed journal papers and co-inventor of 58 inventions with patents issued or filed. Jeff Dahn was born in Bridgeport, Conn. in 1957 and emigrated with his family to Nova Scotia, Canada in 1970. He obtained his B.Sc. in Physics from Dalhousie University (1978) and his Ph.D. from the University of British Columbia in 1982. Dahn then worked at the National Research Council of Canada (82-85) and at Moli Energy Limited (85-90) before taking up a faculty position in the Physics Department at Simon Fraser University in 1990. He returned to Dalhousie University in 1996.
Jeff Dahn? So what is the significance?
Lets put a few pieces together
In May, NGC announced they were providing the first commercial samples of its coated spherical graphite to potential customers. SPG is the anode material used in lithium-ion batteries and is manufactured from flake graphite concentrate produced by graphite mines. Coated SPG sells for $10,000 per tonne to $20,000 per tonne compared with $1,100 per tonne for large flake graphite.
Northern has manufactured SPG from a representative sample of its mine concentrate and purified and coated it using the company's proprietary technologies. LIB cell testing indicates that Northern's SPG has a higher total capacity and better first-cycle efficiency than commercial samples. The reversible capacity is 365 milliamp-hours per gram, which is very close to the theoretical maximum of 372 milliamp-hours per gram, and the first-cycle efficiency is 92 per cent to 94 per cent.
Dr. Edward Buiel, founder of Coulometrics LLC and Northern's chief technology officer, stated that: "Large flake graphite from the Bissett Creek deposit has a uniquely pristine crystal structure. The low degree of disorder creates very high reversible capacity without the need for thermal processing, and the material can be easily purified without acid washing, both of which result in a much smaller environmental footprint than competing products."
Dr. Ed Buiel got his PhD ("Development of Carbon Anode Materials for Lithium Ion Battery Applications") under Jeff Dahn of Dalhousie University and has co-authored patents with Dahn. Buiel has many patents, publications and conference publications of his own. He is an expert and a colleague of Dahn.
Now where it gets very interesting, about 6 weeks ago Tesla announced that they have entered into an exclusive agreement with Dr. Jeff Dahn, a Li-ion battery researcher at Dalhousie University in Halifax, Nova Scotia. After his current work ends Dahn will be exclusive to Tesla for 5 years
http://ecomento.com/2015/06/22/tesla-links-up-with-battery-scientist-jeff-dahn/
If you care here is a video of one of Dahn's lectures, kind of long over an hour and boring unless you have an interest in batteries
https://m.youtube.com/watch?v=9qi03QawZEk
According to the Tesla web site they are beginning construction of the battery gigafactory with planned production for 2017. Before too long Tesla will have to negotiate an off take agreement with somebody to source graphite.
http://www.teslamotors.com/sites/default/files/blog_attachments/gigafactory.pdf
We know NGC has supplied samples to potential customers so no doubt one of them is Tesla. We have Buiel at NGC as there Chief Technology Officer and now his colleague Dahn is at Tesla.
A person can easily join the dots here and conclude that the odds have to be high that NGC will be supplying graphite to Tesla.
Tesla just announced a $500 million stock offering and would have no trouble financing mine construction at NGC's Bisset Creek. I think an announcement will have to be made soon so Bisset Creek can be built in time to provide graphite to Tesla.
News of a deal between Tesla and NGC would no doubt send NGC stock soaring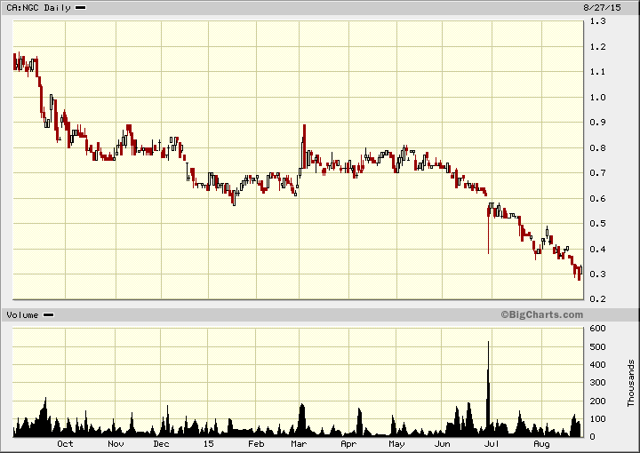 About all I can say on the chart, is the correction of the last few months in the mining sector make this look cheap
http://www.northerngraphite.com
Disclosure: I am/we are long NGPHF.
I wrote this article myself, and it expresses my own opinions. I am not receiving compensation for it. I have no business relationship with any company whose stock is mentioned in this article.