Tesla (NASDAQ:TSLA) Recent Price $1.89
This article is mostly an update on past ones, but first I must comment on Tesla's brilliant move. Maybe it is more circumstance but is certainly working for them. Every 4 years there is an electric car race around the world.
The last one in 2012 called Genesis was around the world in 127 days, a new record at the time set by Rafeal de Mestre driving a Tesla Roadster.
This years race has been coined 80eday race because the goal of all 14 teams is to make it around the world in 80 days or less, driving all electric vehicles. The challenging 15,534 mile-long journey will take them through 20 countries and three continents over 80 days. They departed from Barcelona Spain on June 16th and are scheduled to return and drive together through the Arco de Triunfo in Barcelona on September 4.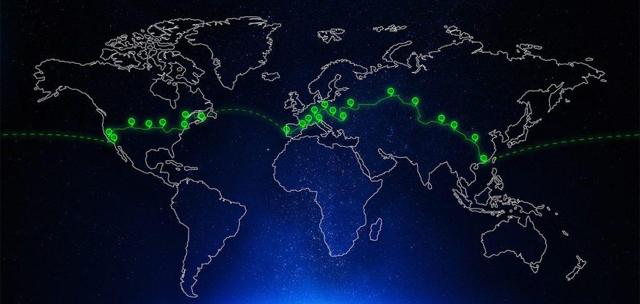 The event has been designed to show the electric cars like the Model S can be a sustainable means of transportation. It will also show the car's capability of covering the spectrum of geographic terrain - from the Alps to the Gobi desert - while making it to another charging station.
The 14 teams participating in 80eDays are from around the Globe, mostly from Europe but there is one China and one U.S. team. Twelve of the teams are driving a Tesla Model S or Roadster, except the Chinese of course, with a Chinese built Denza that can go a distance on 1 charge of 335 km. Shortest Full Charge Time of 60 minutes and 0-100 kph (60 mph) in 14 seconds with a top speed of 150 kph.
It should be noted that team Hungary is driving an electric bus
Team USA is headed by Alan Soule with Donald J Christian, Marilyn Merrick, Matt Gauss, Patrick Lukan, Sabina Spencer and Ren Xiaofeng.
The fact that the majority of cars in the race are Tesla, simply says one thing - Tesla is the market leader in EVs. There has already been numerous media events. For North America, the race started in Haifax Canada on Saturday June 25th.
There are at least another 40 scheduled media events. The first in North America, was Halifax Canada by prominent Candian news network CTV
The e80day media hype started long before the race start on June 16th. This news release from Tesla in April highlights their non advertising strategy that you can relate to the 80eday events.
"A week ago, we started taking reservations for Model 3, and the excitement has been incredible. We've now received more than 325,000 reservations, which corresponds to about $14 billion in implied future sales, making this the single biggest one-week launch of any product ever. This interest has spread completely organically. Unlike other major product launches, we haven't advertised or paid for any endorsements."
According to Forbes orders for Tesla Model 3 were nearing 400,000 and that was mid April
Compare this to Apple who spent $38 million on TV ads for the Apple watch and an estimated $42 million on TV ads for iPhone 6. In fact according to this CBS article their advertising budget for fiscal year 2015 was $1.2 billion. Small potatoes for Apple, but significant advertising.
80eday racers arrive in New York Sunday with their Tesla s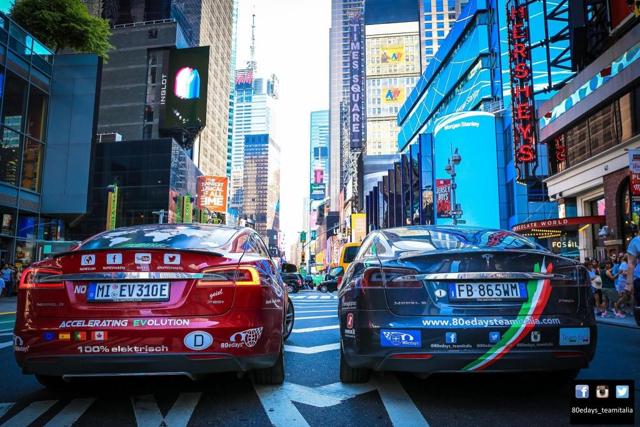 It is things like 80edays that go along way promoting Tesla. Elon Musk cannot perhaps take direct credit for this, but he did create the brand!! Watch for more e80day media as they cross the USA.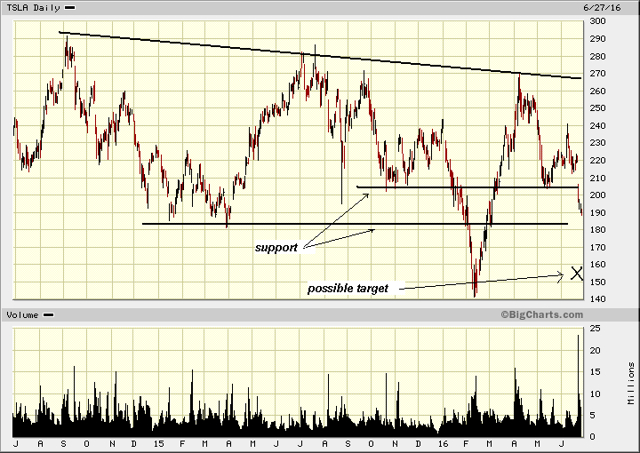 The chart has broken down and we recently fell through the last support level I see around 205 area. The next support I see is around 185 area and I expect we are headed there. The major equity markets have broken through support levels today so I expect more downside momentum. I will be watching 185 area closely to see if Tesla can get a footing there, if not I will be looking to buy around 150 a retest of the February low.
Brexit and Gold
Of course the big news last Friday was the reaction to Brexit. I was getting nervous about a Gold and Gold stock correction with the record short position by the Commercial traders and the July long weekend coming up with thinner summer trading that can induce more volatility. I seen the Brexit vote too close to call and seen it as the wild card in the Gold market.
Markets were pricing in a 'no' vote and if that was the outcome there would be little movement, but a 'yes' vote would upset the apple cart and indeed it did. Comex Gold soared just over $100 to $1362 on the news and then pulled back for a close at $1322 on Friday.
I believe there is too much at stake with Brexit and despite the vote, the elite powers of the world will find a way to keep the British in the EU. They already have the Scots and Irish on their side.
Regardless the uncertainty is there and that is what markets don't like and Gold is thriving from it. According to a Rueter story, Gold demand in England is soaring
I am not so concerned about a significant Gold correction now so look to maximize my gains on the Gold stocks. A big mistake that many investors make is holding onto losers too long and selling winners too soon.
In a bull market all news is good news so I am less concerned about negative fundamentals but more concerned with the stock chart as it reflects the bulls and the bears. I find the best two strategies that work for me is:
1. Use trailing stop/losses below support levels. If an up trend is to continue than good support levels will probably not be violated. Rules are changing and stop/losses will soon be extinct, as the computers fill this role for the big trading houses.
It does not matter to me because I have always used a mental stop/loss. Previously brokerage houses would see a lot of stop/loss orders and would temporarily move markets there through the day to trigger orders. Now computer programs do much the same thing. Therefore I set my mental stop/loss at a price, and if the stock closes below that price, I sell the next morning unless the stock moves above my stop/loss at the open. You would be surprised how often this happens.
2. Next I do not sell a full position when I take profits. Nobody knows how high a stock will go in a Bull move. I like to sell 1/3 position to get all/most my investment out and remove risk. Then sell another 1/3 on a higher move with the idea that between 1/3 and 2/3 is a long term investment. Currently I have not taken any profits in my Gold stock positions as I am comfortable riding the up move and using the trailing stops for now.
I normally find that there is always something in the market or charts that stares you right in the face and says "take profits", so far I have not seen that.
I suggested Kinross Gold (NYSE:KGC) back in December at US$1.87
Kinross has temporarily suspended mining and processing operations at its Tasiast mine in Mauritania. As a result of the Mauritanian ministry of labour's decision on June 17, 2016, to prohibit certain expatriate employees from working at site due to allegations of invalid work permits, the company could not continue to fully operate the site in a safe and environmentally responsible manner.
This should not be much of a factor as long as it does not drag on too long. The Tasiast Phase One expansion is continuing on plan, which is expected to nearly double production and reduce production cost of sales per ounce by half, at a manageable capital cost.
My current trailing stop/loss is at C$5.50 or US$4.20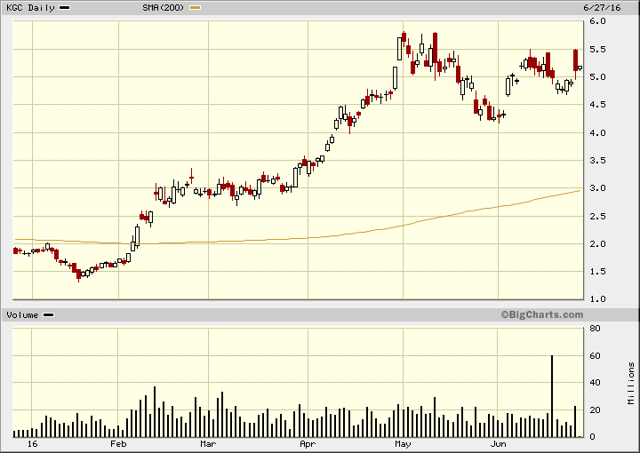 NewGold (NYSEMKT:NGD) Recent Price $4.40
In December I suggested NewGold at US$2.21
There has been no news or developments since my May update. I am keeping a stop/loss of C$4.75 and on the US side $3.60.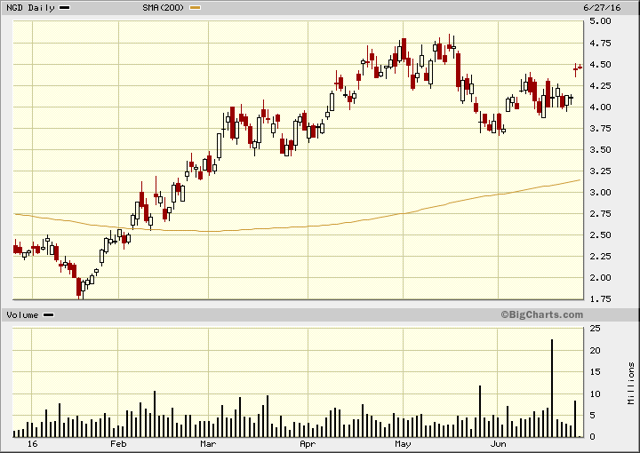 B2Gold (NYSEMKT:BTG) Recent Price $2.44
I picked B2Gold in February as a lagging Gem at US$0.88
B2Gold reported good results for the 1st qtr, earning US$6.65 million
2016 first quarter highlights:
Consolidated gold production of 127,844 ounces, 10 per cent greater than the same period in 2015 and 8,966 ounces better than budget;
Consolidated gold revenue of $144.3-million on gold sales of 120,899 ounces at an average price of $1,193 per ounce;
Record-low consolidated cash operating costs of $499 per ounce of gold, $202 per ounce (29 per cent) lower compared with the first quarter of 2015;
Consolidated all-in sustaining costs of $874 per ounce, $217 per ounce (20 per cent) lower compared with the first quarter of 2015;

Consolidated cash flow from operating activities of $171.6-million (19 cents per share), including $120-million proceeds from prepaid sales transactions;

Strong cash position of $109.1-million at quarter-end;
On track to meet 2016 consolidated gold production guidance of between 510,000 and 550,000 ounces at cash operating costs of between $560 and $595 per ounce and all-in sustaining costs of between $895 and $925 per ounce;

Construction of the Fekola mine is well under way, on schedule and on budget, and is expected to commence production in late 2017;
I am currently using a trailing stop/loss at C$2.10 and on the US side at $1.60.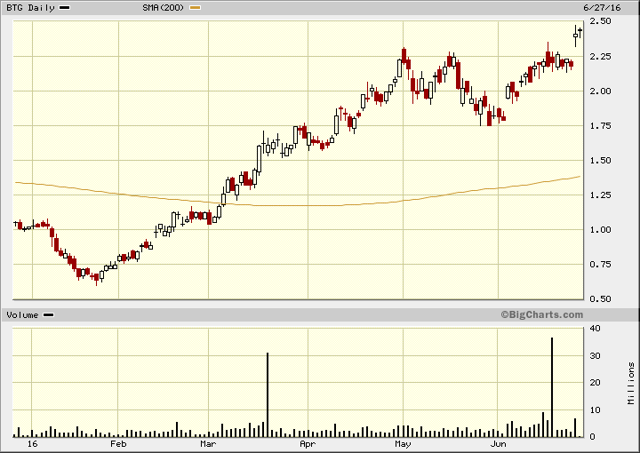 My suggestion for buying Gold at a discount was the Central Fund NYSEMKT:CEF Recent Price $13.93
This is working as planned as the discount at that time in May was about -5% and the discount to NAV is now down to around -3%. So it has outperformed Gold and Silver by roughly 2%
In the same May 9th article I highlighted the big interest and volume in DUST, the leveraged short the gold miners etf. I claimed these investors had it all wrong and lately I have been referring DUST to sheep being driven over a cliff. This is happened twice since May 9th, I wonder if they still need a 3rd lesson?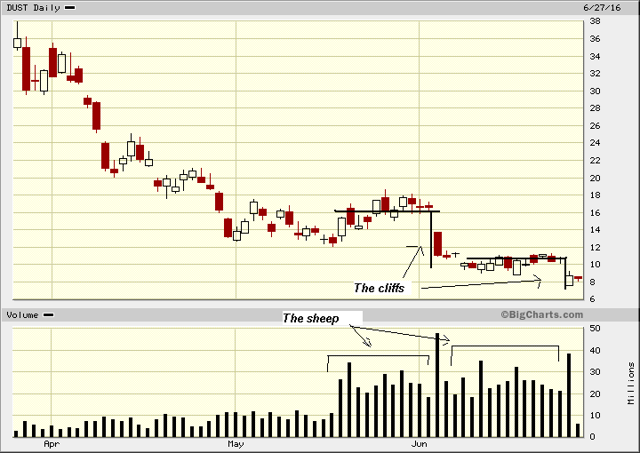 I expected the S&P 500 would see a summer correction and Oil would correct from the $50 area. Brexit has amplified these moves and I will be watching for opportunities and will provide more detail on both in a future article. For now enjoy the ride in the Gold stocks and mind your stops.
Disclosure: I am/we are long KGC, NGD, BTG, CEF.
I wrote this article myself, and it expresses my own opinions. I am not receiving compensation for it (other than from Seeking Alpha). I have no business relationship with any company whose stock is mentioned in this article.