GOLD, Euro, US$
On the weekend and yesterday I was looking through all kinds of charts trying to figure out what markets were up to and where they are headed. There was no real conclusion other than a one of indecision. What I noticed most is many markets were showing wedge formations on the charts and this was particularly true with most currencies, Euro, Yen, US index and GOLD.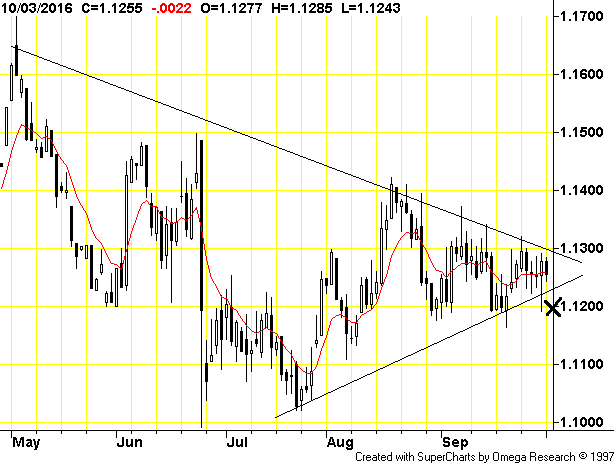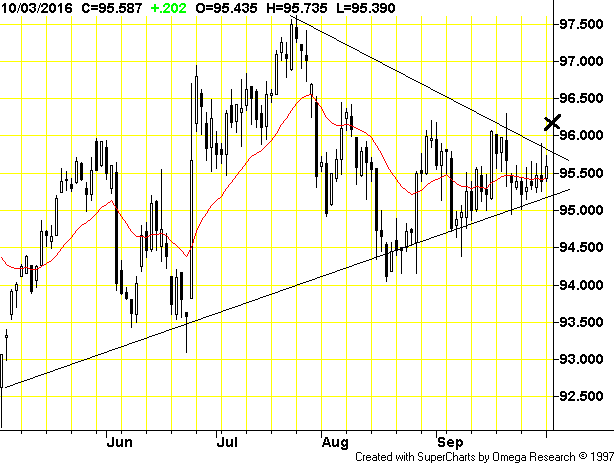 In early morning trading Gold was breaking down through it's wedge and so was the Euro breaking down and US$ breaking to the upside, as shown by the 'X'. The Pound and Yen were weaker early this morning also. These trends were continuing in early morning, until noon when the U$ reversed and gave back all it's gains, The Euro reversed and is actually higher, the only thing not reversing is Gold and probably points to a buying opportunity.
But interesting -
Bonds were higher in early trading but reversed and plunged by 10AM. When I was looking at these charts, I was thinking we would continue in these formations and break out with some catalyst, perhaps the US election, only a month away, but there is something unusual today. By Noon bonds have plunged further!!!!!!!!!!
There seems to be something strange in the financial system. The most obvious and important observation is the repo market. I talked about that market late in 2015 in my Blog here - as a way the FED could use it to raise their ¼ point.
The REPO market is a key short-term funding source for Wall Street. It tumbled on Monday from its highest since the global credit crisis almost eight years ago, but it remained elevated on signs lending had not fully resumed by the start of the fourth quarter.
The interest rate on repurchase agreements, in which financial institutions use U.S. Treasuries and other securities as collateral to raise cash from investors, was last quoted at 0.75-0.80 percent after falling as low as 0.30-0.40 percent earlier Monday, according to ICAP data. USONRP=GCMN
The overnight repo rate rose as high as 1.75 percent on Friday, which was last seen nearly eight years ago during the height of the financial crisis. This market is often volatile at quarter end and start, but this time it is way more extreme. One analysts notes - if this lasts until Wednesday there is some fundamental change.
Info and charts on this market are hard to come buy. I found one here, but it cannot be download.
I suggest you visit this link for a good picture. This chart is of yesterday.
It is hard to get up to date quotes except on the repo futures index, and that seems quite delayed, but early this morning the December futures were down, meaning interest rates up and probably why Bonds continued to fall.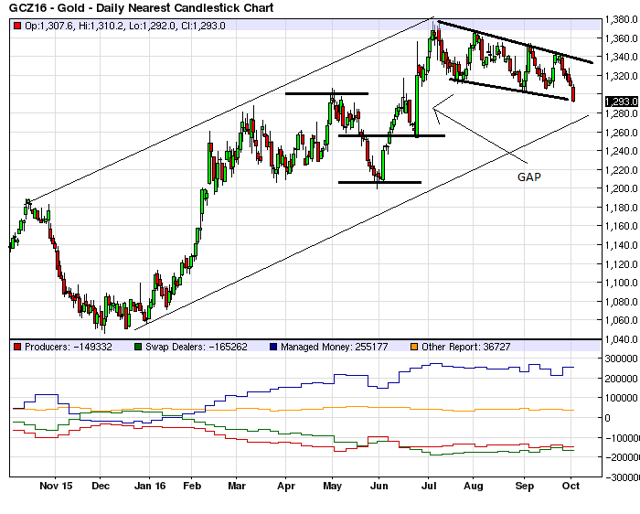 There seems to be a knee jerk down in Gold, probably responding to the stronger US$, but if the repo market problem manifests we will probably see a move back up in Gold, as it will become obvious there is a problem in financial markets. $1300 was holding as support, but with this break lower, I think the bottom of the correction will be found between $1260 and $1280 filling the up Gap we seen in late June. With all the reversals today, the bottom might be right now.
For traders, I would not be shorting GLD (NYSE:GOLD) now but looking at levels to go long.
On Friday I suggested FAS Put Options, which is going short the 3X Long Financials. I believe you should always short leveraged ETFs because of the erosion factor over time works with you.
However with good timing just buying the ETF can work too.
So you could also just buy the FAZ ETF that is a 3 times leverage in the down direction. If financial stocks take a hit downside this ETF should do well.
FAZ Fund Description
The Direxion Daily Financial Bear ETF provides 3x inverse exposure to a market-cap-weighted index of US large-cap financial companies.
Disclosure: I am/we are long GLD, FAZ.