It might be controversial to some but you cannot ignore a lucrative opportunity like this one. I forget where I seen this comment but I think it sums up the situation or opportunity perfectly. We have neverseen such a dramatic social and economic change in the country since prohibition.
I am not going to do a lot of research, but it did not take all that long before Distillery and Brewing companies became consumer brand names and blue chip stocks. I mention Seagrams because it is a distillery I knew well, not too far where I grew up and has an interesting history through prohibition. I remember the guys poker night back in the 1970s/80s when a Seagram sales rep would come over with a free bottle of rye for promotional purposes. I think those days are gone and we just refer it as 'the good old days'. Seagrams was bought out and long gone, but the location is still a landmark.
This is where the marijuana industry is heading, just under different circumstances and a different time. But here is an interesting comparison that I see.
With the U.S. mired in the Great Depression by 1932, creating jobs and revenue by legalizing the liquor industry had an undeniable appeal. Democrat Franklin D. Roosevelt ran for president that year on a platform calling for Prohibition's appeal, easily won victory over the incumbent President Herbert Hoover, ending prohibition in 1933.
And today with a similar brutal economy in the U.S. the tax revenue is just too great of an appeal for struggling governments, especially the State level that cannot print dollars like the Fed.
It only took Colorado 10 months to pass $1 billion in legal cannabis sales in 2016, one year after the state came up just shy of that milestone revenue figure. For 2016 through last October, Colorado has collected more than $150 million in taxes from legal marijuana
sales, including nearly $50 million from a specific excise tax that directs funds to school construction projects.
Whether you agree with it or not change is coming!!
More than two-thirds of United States' police officers believe marijuana should be legal for either medical or personal use, according to a new survey conducted by Pew Research Center.
Compared to the general public, police are more conservative on the issue of marijuana legalization. Among American adults, Pew found that 49 percent support legalization recreational marijuana, 35 percent support legalizing medical marijuana only, and 15 percent support prohibition.
A poll conducted by YouGov.com in August 2016 found that 65 percent of American adults feel the costs associated with enforcing marijuana prohibition are higher than the benefit they provide.
Prohibition of Pot is ending and like alcohol, Canada is leading the way over the U.S. There never was prohibition of alcohol in Canada and medical marijuana has been legal since 2001, but gained more popularity in 2014 with the implementation of the Marijuana for Medical Purposes Regulations (or MMPR) by Health Canada.
In June 2015, the Supreme Court of Canada expanded the definition of medical cannabis to include any form of the drug, including but not limited to brownies, teas, or oils.
Our new Trudeau government is in the process of legalizing recreational use across the country and I have heard legislation is planned by April. It is little sense speculating on details, but you can review all the details from the Task Force presented to the government.
Basically growth and sales will be regulated to ensure safety and quality. It is proposed that persons be allowed to grow up to four plants at their own residence. I guess you can might be able to become a hobbyist if you wish.
How everything unfolds on the legal front is only a matter of time and the only thing for certain it is spawning a huge new industry. Canada is good at producing resources: mining, oil&gas, lumber and foods. And I expect Canada to continue as a leader on the production front and the U.S. maybe more so on Pharmaceutical.
Here is a list of the 10 largest (by market cap) U.S.-listed companies-nine are bio tech/Pharmaceutical companies. Only one of the companies actually "touches the plant."
Worth noting that in Canada, the three largest weed companies are all growers, and they all qualify for a place in the largest marijuana businesses in North America. Know doubt the bio tech/Pharmaceutical is the most rewarding angle to play for investors and that is where Lexaria fits.
There is a very good and informative video done by Medical Marijuana Inc. (OTCPK:MJNA) on Youtube about the medical side of marijuana, the cannabinoids.
MJNA has 2.8 Billion shares out as of March 31st. That's right - billion - but they do have some revenue running between $1.5 and $2 M per qtr. They come in at 6th place in the top 10 list, based on market valuation.
I would never go near a pink sheet stock with billions of shares but many do, or trade them. Pretty ridiculous but it is among the top ten, shows the potential and high valuations in the sector. And that brings me to Lexaria as it is on the Pharmaceutical side but still has a very low valuation.
At about US$ 0.54 the market cap is only about $30 million a tiny fraction the value of MJNA or more precisely 1/15th the value. Lexaria has the potential to go to $5 to $7 if it can increase sales and the market maintains current valuations.
Lexaria CSE:LXX OTC:LXRP
55.3M shares out
After the stock ran to almost $0.65 it has come down and seen some consolidation which provides a good entry point.
The stock first corrected quickly to $0.40 to $0.45 but that only lasted two days and we are heading back up.
There is a lot of shares that are strongly held in this company and CEO Chris Bunka bought a lot of stock off the market last year. Canadian Insider just shows last 6 months but you can see some of it.
In a nutshell, this looks to be breaking to new highs again and I believe it could keep going and eventually into dollars instead of cents.
If I told you ten years ago the government would be working with Marijuana you would have probably laughed at me.Times are a changing.
Having the Gov't of Canada as a collaboration partner is very positive development for the company.
Lexaria, through its wholly owned Canadian subsidiary Lexaria Canpharm Corp., has signed and entered a master collaborative research agreement with the National Research Council of Canada (NYSE:NRC) to investigate technical aspects and new opportunities associated with bioavailability enhancement of lipophilic active ingredient compositions.
Lexaria believes that results from this scientific collaboration could motivate license adoption of Lexaria's patented flavour masking and nutrient delivery enhancement technology, including but not limited to the vitamin, pain reliever and nicotine sectors. Lexaria's technology is patented in the US, and patent pending in Canada and in 41 other countries around the world.
Under the agreement, Lexaria and the National Research Council will both provide up to CDN$125,000 in funding for this research, a total investment of up to $250,000. The master research agreement has an 18-month term, during which a number of shorter-term studies will be undertaken. The collaboration will investigate and define the chemical nature of the molecular association that Lexaria`s patented technology is believed to effectuate between lipophilic active agents and fatty acids as solubility and bioavailability enhancing agents. Effective delivery of lipophilic active agents spans across industry sectors such as, food, vitamins, pharmacy and more, which are multi-billion dollar opportunities.
Prospective lipophilic active agents to be investigated under the research agreement include cannabinoids (e.g., cananbidiol "CBD" and tetrahydrocannabinol "THC"), fat soluble vitamins, non-steroidal anti-inflammatory drugs ("NSAIDs") and nicotine, as described in Lexaria`s issued and pending patent applications as well as potentially other high value bioactives to be determined. The research agreement also provides for possible licensing of any arising, non-competing Lexaria intellectual property to NRC or its sub-licensees on terms to be defined in the future as applicable.
"This co-funded research agreement with the National Research Council of Canada is a major achievement for us," said John Docherty, President of Lexaria Bioscience Corp. "Having the privilege to work within their high caliber facilities alongside their expert scientists will allow Lexaria to further advance the characterization and commercial potential of its technology in the fastest way possible for a company of our size. Furthermore, the fact that they have a Level 2 dealer`s licensed facility in Canada in which some of this work can be conducted is of particular importance, thereby allowing us to advance research on controlled substances with ease."
More on the fundamental side, Lexaria has six closed and pending sales/royalty agreements so revenues will start to increase. They have been awarded one Patent for "Cannabinoid Infused Food and Beverage Compositions and Methods of Use Thereof" and there is 12 other applications filed.
Deals signed / pending:
1) Undisclosed, for 3 THC product lines, • Agreement signed May 2016. • Access to CO, WA, CA, OR
2) CBDM LLC., for 5 THC product lines, • LOI signed Aug 2016. • Access to PA, MA, NV, AZ & Indian Lands.
3) Undisclosed, for THC products, • California based - well-known brand. • LOI signed Aug 2016.
4) Timeless Herbal Care Ltd., multiple CBD products, • Agreement signed Sept 2016. • Access to USA, Canada, Jamaica.
5) NeutriSci Intl (TSX-V:NU), joint venture to develop cannabinoid chewables, • MOU signed Nov 2016.
6) HempCo (TSX-V: HEMP), for hemp products, • LOI signed Nov 2016.
On the JV front, the news January 20th with NeutriSci was huge, not only because their development of a edible tablet was a success. NeutriSci has a very strong marketing presence that will greatly benefit Lexaria as well
*******From News Release *********
NeutriSci International Inc. and Lexaria Bioscience Corp. have successfully developed and completed the initial trial of the industry's first cannabinoid (NYSE:CBD)/pterostilbene edible tablet, utilizing NeutriSci's and Lexaria's proprietary and patented technologies.
NeutriSci's proprietary pterostilbene tablet formula and Lexaria's technology were combined to produce the first market-ready pterostilbene/cannabidiol rapid-melt edible product. The pretrial hypothesis focused on whether the combination of NeutriSci's patented pterostilbene formula and Lexaria's patented CBD conjugation would prove effective in rapidity of onset, and strength of effect, while delivering improvements in taste. These initial trial
results have demonstrated that the consumer experiences positive effects that occur more immediately, and last longer, while utilizing dose-controlled amounts of CBD.
Based on these positive results, NeutriSci and Lexaria will formalize the JV (joint venture) agreement to market and commercialize a line of edible products using CBD derived from full-spectrum hemp oil, which is legal throughout the United States, along with several tetrahydrocannabinol versions, through distribution programs
with both existing and new strategic partners.
"We are very pleased with the results of this observational trial as the initial results have be invaluable in helping NeutriSci open dialogue with several of the world's largest CBD manufacturers and distributors," commented Glen Rehman, president of NeutriSci. "The idea of using our sublingual tablet and form factor to create a new line of zero-sugar and dose-controlled cannabinoid edible products will become a reality. This new groundbreaking proprietary tablet and form factor addresses what manufacturers, distributors and consumers have been asking, and positions us to be an industry leader in what will be a multibillion-dollar industry."
Looking at the chart, and there is 2 ways I would consider to play this. The stock looks poised to break higher, but maybe it will pull back first? You could try bids below market and try to buy on any dip or pull back and if that does not work, a clear sign of a break out would be a close at US$0.65 or higher and you could buy more aggressive on the break out as it would probably mean another run in the stock has started.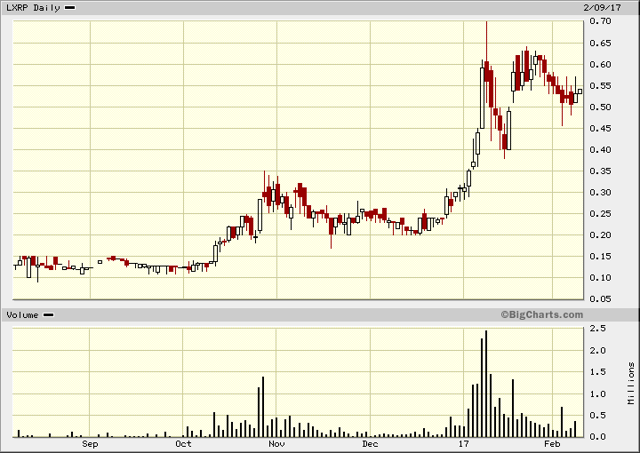 Disclosure: I am/we are long LXRP.