I put a (SPX) chart out on the weekend and an updated one Monday morning, so I pasted the  beginning of my article here. It is a bit dated because the markets tanked Monday afternoon, but it does show that we are in the target area I suggested so let us see what happens today.
Elon Musk SpaceX launches today, hoping to put a Tesla Roadster in heliocentric deep orbit. This is an orbit around the Sun, not Mars as some original hype. Good luck SpaceX!!!!!
In my January 22nd issue, I highlighted a lot of charts and markets at crucial reflection points. Cryptocurrencies and block chain have continued to go lower. For cryptos' this is a bear market and we may never see them at new highs, or at least for many, many years. Governments and CBs don't like the competition to their fiat currencies and they can destroy crypto much easier than Gold. On Friday, many U.S. banks and other major credit cards announced that they will not accept transactions to buy cryptocurrency. Just another tactic to stop them. There is some discussion here in the $$Lounge on Cryptos.
The past week there was lots of concern on markets correcting with the DOW dropping over 600 points one day last week. Just relax, this is nothing but a simple correction. I think it has just been so long since we have witnessed one that so many were surprised. I put this chart together on the weekend for chart of the day on the web site. The correction could be over today, but I see another possible target down to around 2650 area on the S&P 500. If the market corrected to that it would retrace January gains and only be a -13% correction. Currently the market is down a mere -4%. This correction is very healthy.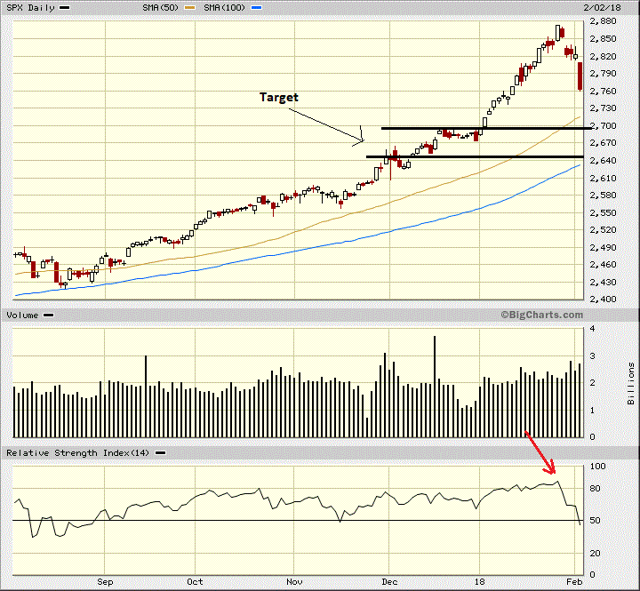 I noted with the red arrow that RSI went well above 80. I have never seen this indicator go so high in any market that I can remember. You can see this more pronounced on this 5 year chart of the S&P 500. Also note with this indicator that we could see a reading down around 30 to indicate the bottom of a typical correction we have seen over the last few years in this market.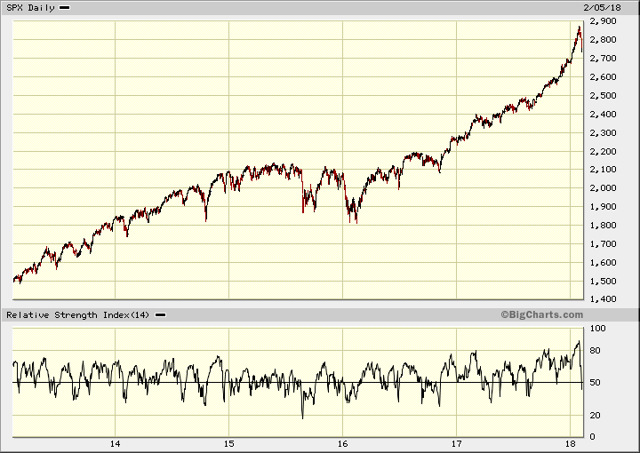 Markets really needed this correction and we can feel it to some extent in almost every market. Cryptocurrency is no big deal because it is so tiny. In Canada the biggest effect of this correction was felt in the marijuana stocks and that is because they seen a tremendous move higher since mid December and need to correct as well. The jump, from 500 to 1,000 was 100% so a 50% pull back is no surprise.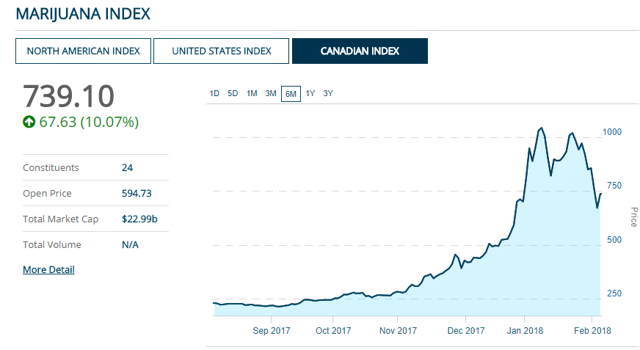 The correction in Marijuana stocks could be over, but lower still would not surprise. I am expecting another good rally from this bottom leading up to legalization in July and possible higher prices for some time after.
Disclosure: I/we have no positions in any stocks mentioned, and no plans to initiate any positions within the next 72 hours.