Gold (GLD) prices have been weak, moving back to the $1310 area but they really don't belong here. This chart from GMP shows correlation between Gold and Treasuries as well as the S&P 500 (NYSEARCA:SPY). The correlation between gold and treasuries (TLT) (top panel), which is usually positive, has fallen to near-zero. Moreover, the correlation between gold and the SPX (bottom panel), which is typically negative has turned positive.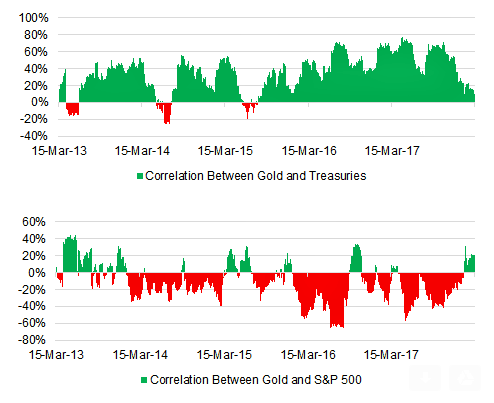 James Dine is now calling Gold miners, the most hated investment and is the time to buy. He is still bullish on marijuana and his outlook on interest rates and markets is well worth listening to.
I updated my Gold stocks short barometer and it is likely a lot of the recent down tic in mining stocks was short selling. On the chart notice, the increase in shorts for the first 2 weeks of February was the largest increase in a year. Also note they have for the most part already covered by the end of February. Well on the short topic, somebody highlighted in the $$Lounge, heavy shorting on Zonte (OTC:EREPF) in the last 2 weeks of February. Only 190,000 shares short volume, but trading thinly it represented 52% of the trade volume in that 2 week period. I believe shorting should be banned on penny stocks, it is just too easy to manipulate price.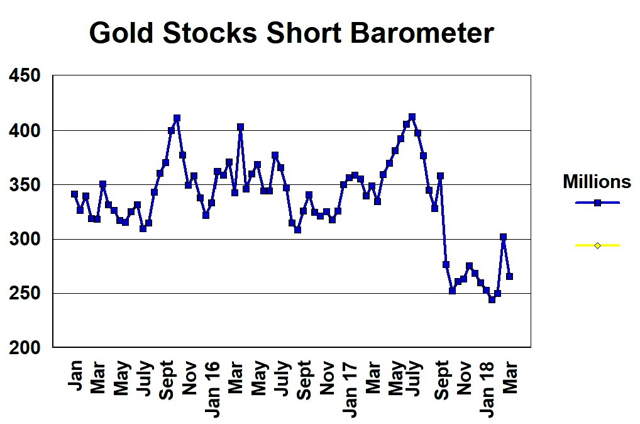 I have highlighted similar margin debt charts from Advisor Persepectives before. I believe it can be very helpful in picking market turning points in the longer term cycles. This chart is percent growth to end of January 2018 and helps to easier identify blow off tops. The sharp rise in margin debt from late 2017 to end of January 2018 is quite abrupt, but not as strong as peaks in 2000 and 2007. It will be interesting to see the effect of the February correction on margin debt. Stay tuned!!!!!!!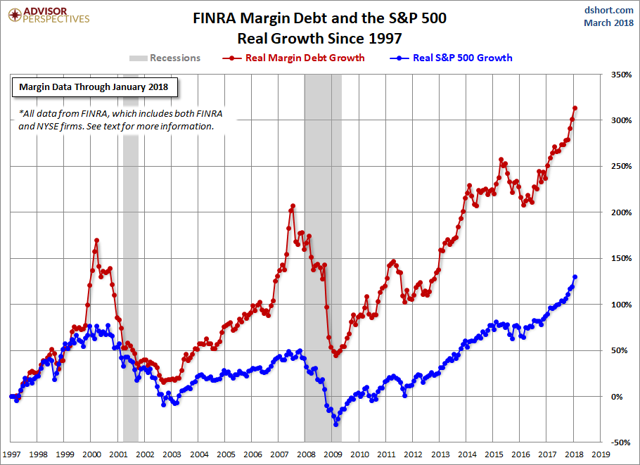 There is no doubt this market is highly leverage to debt, like pretty much everything. That was also another point Dines made as well.
The day is approaching when the precious metal stocks will gain respect again, but for now accumulate while they are cheap.
Sanatana Gold (OTC:SADMF)  TSXV:STA           Recent Price C$0.05
Sanatana has done meticulous work preparing for this and will now begin a 1,500-metre drill program to test an anomalous geochemical and structural targets on their Jackfish property, Ontario. These drill targets arise from combining recently completed inversion modeling of geophysical data and property wide geochemical results and geological observations.
Peter Miles, president and CEO, states: "Since assembling the property package in June last year, the company has swiftly taken the Jackfish property from a collection of isolated and seemingly disparate gold showings held by separate claimholders, to a single project developing a regional framework to make sense of the separate styles of mineral showings and past mines and form a coherent exploration strategy to work toward discovery of economic significance. The planned initial drill program will begin to test these ideas, with success leading to further drilling and other exploration activities on this target and the many other targets remaining to be tested on the property."
In October, 2017, Stratus Aeronautics completed a magnetic survey using cutting-edge drone technology. This data was modeled by Campbell and Walker Geophysics using the UBC 3-D inversion software and the company received results of this work in January, 2018. Abitibi Geophysics conducted a horizontal loop electromagnetics survey in late December, 2017, and this data was subsequently modeled through a 1-D laterally-constrained inversion process using invFDEM software produced by EMTOMO, with that work completed in early March, 2018. The modeled HLEM data interprets a moderately conductive zone coincident with surface geochemical anomalies which is consistent with a structurally controlled alteration zone that cuts through magnetic lithological units.
This zone will be the primary drill target in the planned drill campaign. Five separate bedrock anomalies will be drilled. I believe the stock could appreciate on drill speculation and other corporate developments. Notice on the C$ chart that it has been stuck in the 3.5 to 5 cent range for a year now, so that tells me that there is little downside at current prices and a lot more upside with drill results around the corner. A close above 7 cents would signal a solid break out.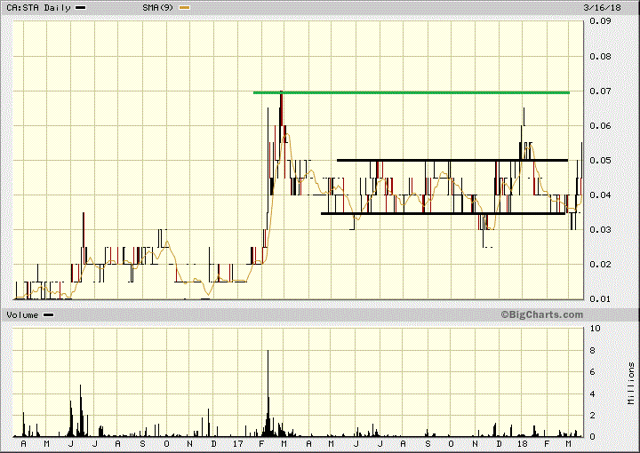 Klondex Mining (KLDX) – Hecla takeover
I mention this because Klondex was once on our list and some of you might own shares. I also points out that M&A activity is increasing in the sector, after hitting a 4 year high in 2017 up 15% from 2016. This is another sign of a market bottom.
Hecla Mining Company will acquire all the outstanding shares of Klondex Mines Ltd. through a plan of arrangement. Klondex's Canadian assets will be spun out to its existing shareholders.
Under the Transaction, Hecla will acquire Klondex for consideration of $462-million (U.S.) with a mix of cash and shares of Hecla common stock and the newly formed company (Klondex Canada). Klondex's shareholders will receive $2.47 (U.S.) per share in cash or shares of Hecla, which represents a 59-per-cent premium to Klondex's 30-day volume-weighted average price, as at March 16, 2018, on the NYSE American.
BMO's analysts Bahr expects 2018 to be very active especially battery tech related juniors – copper, nickle, lithium, graphite and cobalt.
Drone Delivery (OTCQB:TAKOF)             Recent Price C$1.69
FLT announced they completed a series of successful test flights during the week of March 5th, 2018 in the United States of America at the Griffiss International Airport located in Rome, New York.
"Testing at Griffiss was a natural extension for continued progress with our platform in a BVLOS non-segregated airspace environment. An active runway with large aircraft, helicopters, and general aviation aircraft is the latest advancement to our operations team airspace integration efforts and a progression from the knowledge learned during DDC's Moosonee operations, which remain ongoing. We are pleased to report 100% success rate with all our test fights and look forward to our expansion into the USA which has now begun in earnest," commented Paul Di Benedetto, Chief Technology Officer of Drone Delivery Canada.
The Griffiss International Airport, located approximately 500 KM from the Company's Canadian facilities, is one of seven FAA designated UAS Test Sites that provides BVLOS (Beyond Visual Line of Site) Research and Development capabilities and long-distance testing corridors within active airspace.
Tests were conducted utilizing the Company's Transport Canada compliant Sparrow Drone that has a lifting capacity of 5kg. Testing also included DDC's mission control operations, the Company's proprietary FLYTE management system as well as DDC's proprietary DroneSpot™ Technology which provides secure and controlled take off and landing area for users to interact with. The real time data provided by the DroneSpot™ includes localized weather, surrounding aircraft awareness, weight and balance monitoring among other data points integral for safe public operations.
Drone delivery is coming a lot faster than most investors realize. Today Cheetah Air ( a private company) announced approval from the FAA for night flights for package deliveries. Cheetah Air is not actually making deliveries yet but it proves the FAA is willing to proceed if systems can be proven to be safe and effective. Drone Delivery Canada is almost there, both in Canada and the U.S.
Looks like $1.50 is holding on the chart for support with 3 tests of that price level. The current price is not that far above support so a good buy level.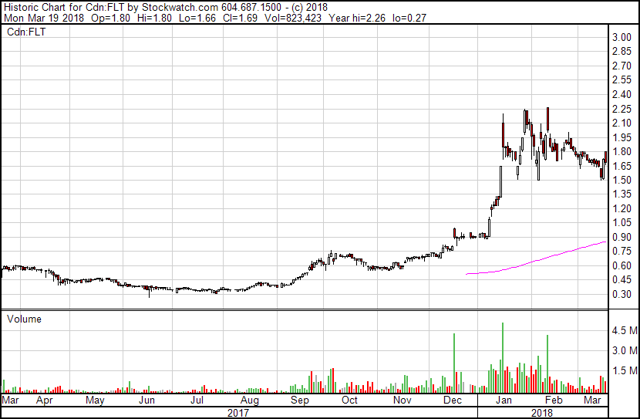 Disclosure: I am/we are long GLD, TAKOF, EREPF, SADMF.