This is an update I emailed out this morning
In my September 21st update I commented that I ruled out a double top in the S&P 500 (SPY) that we broke to new highs so the bull market was still in play. I also commented a correction was over due and watch out for October, which is one of weakest months for the stock markets. One of the catalysts I have been commented on that could end this bull market is the rise in Fed rates. And it is the interest rate bogyman that is spooking the markets this October.
The bond markets broke down further this October with yields rising and prices falling. I warned about this in January and February as the 10 year treasury (TLT) broke below what I called my line in the sand. Here is the latest monthly chart that shows a good long term perspective. I have drawn my own crude monthly candle for October that shows the recent break lower. What is so significant about this is the reversal from a 35 year bull market, an unprecedented event in itself. The bond market is a lot larger than the stock markets and for two straight years now funds and pensions are taking losses on their bond holdings.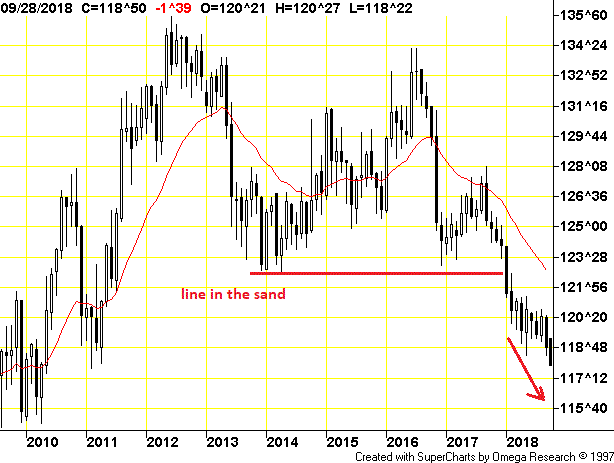 The next chart I have been using frequently this year. It shows LIBOR rates and recessions. Each cycle of rising rates causes a recession at lower peaks in the cycle. This is because debt levels continue to rise significantly so it does not take as much of an interest rate burden to trigger an economic slow down.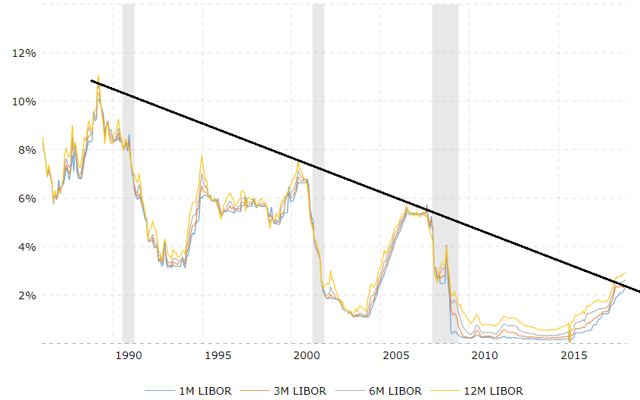 On the S&P 500 chart, I marked in the support levels I am watching. So far this is only a mere 5% correction so could easily go lower to next support. RIS is nearing 20 where you often see a rallies, perhaps a relief one. We could be witnessing beginnings of a head and shoulders top. A drop below 2575 would be very bearish. As of this writing, the S&P is indecisive with a doji star on the chart today. We could see a morning doji star reversal if this is maintained today and IF markets reverse higher tomorrow. This chart is at yesterday's close.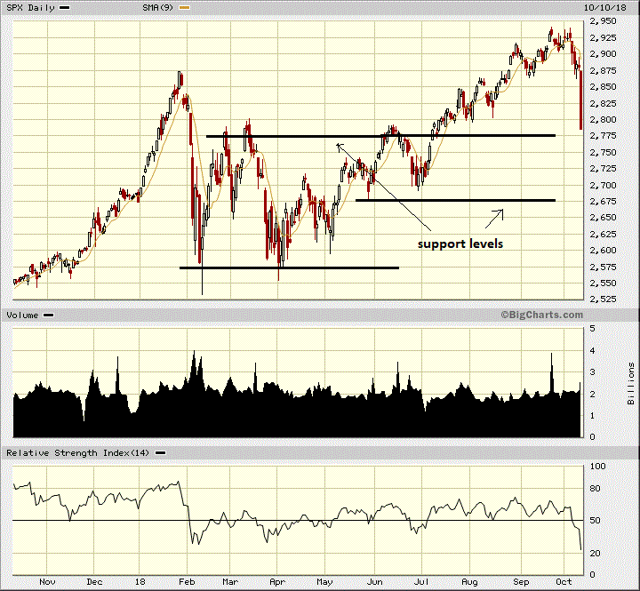 With markets dropping, gold is on the rise. I would like to see a move above $1220, as I believe that will trigger a short covering rally, maybe even a short squeeze. Shorts are at record levels in gold.
With legalization of marijuana next week in Canada, I am going to do a few articles on how best investors can take advantage. Some great updates with a few of our juniors. I added in a Zonte update this morning.
Zonte Metals (OTC:EREPF)    TSXV:ZON      Recent Price Cdn$0.34
Entry Price $0.15              Opinion – strong buy
Zonte released results of their IP survey that reveals a large IP anomaly coincident with the surface copper mineralization and the geophysical magnetic anomaly. The zone remains open along strike in both directions and keep in mind when viewing the 2D graphic that the IP only penetrates 150 meters in depth. What is most interesting is the IP picked up a new and strong anomaly you see to the left on the graphic, next page.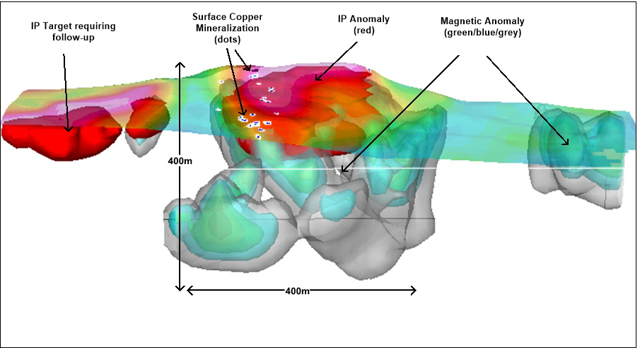 Perhaps more interesting is John Hayes joining Zonte. John Hayes, of TerraStrat Consulting Inc, has joined the Company as an advisor and will provide Capital Markets advisory and consultation services to the Company. Mr. Hayes recently served as Senior Vice President of Corporate Development at Osisko Mining Inc. upon his retirement from capital markets in April 2014. Mr. Hayes was a Managing Director and mining analyst at BMO Capital Markets, which he joined in 2003. Mr. Hayes has been granted 250,000 stock options in the Company in connection with his advisory role.
I remember reading some of Mr. Hayes analysis back in his BMO days. As a former mining analyst, he is very well connected in the mining finance circles in Canada.
Terry Christopher, President and CEO states "The recent discovery of the mineralized corridor at Dunns has been followed up with the identification of a significant and coincident IP anomaly. The IP anomaly, specifically the chargeability component, has identified the known surface copper sulphide mineralization and suggests that the mineralization extends past the effective survey penetration depth of 150 metres. The chargeability anomaly, which most likely represents sulphide content, remains open along strike and at depth. We are very pleased that all systematic exploration program results suggests that a robust target exists at Dunns Mountain. The geophysical data will be used, in combination with the geological and geochemical data, to select drilling locations for Phase 1 drilling."
There was a sell off in the stock yesterday. It looked like on seller out of RBC who dumped over 100,000 shares in the last hour of trading smashing all the bids. Might have been somebody with a margin call, or just panic with yesterday's plunge in all stock markets. It provides a wonderful buying opportunity.
Deer Horn Capital CSE: DHC, (OTC:GODYF)    Recent Price Cdn$0.40
Entry Price $0.40            Opinion – strong buy
One of the reasons I suggested buying Deer Horn was the prospect of them acquiring another property. Today we got that news and it is much better than I expected. Very strong historic data could not be put in the news release, not being 43-101 compliant but I will see what I can dig up. Here is the detail on this new property that can be worked year round.
Deer Horn has signed a binding Letter of Intent (LOI) with Colorado Klondike LLC to acquire a purchase option on the Colorado Klondike tellurium property located in south-central Colorado, USA. The Colorado Klondike property is a tellurium prospect held previously by First Solar Inc. as a potential primary source of tellurium for the company's cadmium-telluride (CdTe) solar panels. Colorado Klondike LLC, operated by former First Solar management, acquired the property in 2013 after First Solar terminated its worldwide raw materials exploration program.
The Colorado Geological Survey (CGS), in partnership with the Colorado School of Mines, reported on work performed by First Solar on the Colorado Klondike property in the 2015 Colorado Mineral and Energy Industry Activities 2014-2015 publication. In particular, the CGS noted:
"Surface sampling by First Solar, Inc. in 2006 found very high tellurium grades of up to 3.3% (33,000 ppm), along with locally high gold grades. Tellurium occurs principally as the native element and as altaite, a lead-telluride mineral. First Solar is the world's largest manufacturer of thin-film solar modules and tellurium is a critical element in the photovoltaic material. Tellurium grades at Klondike were the highest encountered in the company's nationwide exploration program. First Solar acquired the land in 2010 and began systematic exploration including geophysical investigations. However, the company discontinued their tellurium development program in early 2012 and sold the property to Colorado Klondike LLC."
Surface samples such as these are preliminary in nature and not conclusive evidence of the likelihood of a mineral deposit.

"We're very happy to be expanding our tellurium property portfolio at a time when technology is discovering important new applications for the metal," said Deer Horn president and CEO Tyrone Docherty. "It's also important that Colorado Klondike gives us an asset that can be explored for most of the year."
The Colorado Klondike property is located 10 miles (16 km) from the small town of Saguache and is easily accessible via paved and gravel roads. It is situated on the lower, south-facing slopes of the Cochetopa Hills on the northwest margin of the semi-arid San Luis Valley. Although the average elevation is 9300 ft (2835 m), the area receives just 40-50 inches (100-150 cm) of snow in a typical winter due to its sheltered position east of the Continental Divide. Annual precipitation averages 12-14 inches (30-36 cm). Most exploration work can be performed year-round.
Many of you will remember that we were the first to invest in graphite stocks and made a killing. The next energy metal craze was lithium and we made some big gains there too. Tellurium could become the next hot green energy metal. The tellurium price is among the most volatile of any metal, ranging from US$30 to $400 per kg since 2005. Prices bottomed in 2016 and are on the rise again. I plan an in depth report on Tellurium.
However, for now, get ahead of the curve and buy Deer Horn, the only tellurium stock available at this time.
Be aware this stock trades pretty thin, even for a junior explorer,
Disclosure: I am/we are long EREPF, GODYF.