Legalization of marijuana came into effect yesterday in Canada. There are some important factors that few have grasped among all the hype. Everyone focuses on how big the market will be and all the strong growth ahead, but my research and boots on the ground paints a much more sober picture.
The Colorado market is now mature with legalization almost 5 years ago in January 2014. Their market size in 2017 was $1.5 billion and Canada is about 6 times bigger than Colorado so we are looking at $9 billion in a mature market for Canada, much lower than all forecasts. A major part of this is because of an over  50% decline in marijuana flower prices in Colorado. The same will happen in Canada.
Second, when I looked at the market early in the year and calculated there was only about 5% to 10% market penetration, I was analyzing available stats and projections from various firms. What I have learned since - there are hundreds, maybe thousands of illegal outlets and many of them  selling legal grown cannabis. For example, in Hamilton that is a mid size city with about ½ million population there is about 50 to 80 illegal dispensaries or stores.
In other words, more of the market is already being satisfied with legal grown cannabis. If Canada fails to license enough legal retail outlets as they have a long way to go from opening day, legal marijuana may have trouble cracking 50% of the illicit market. For U.S. states it was just one set of retail regulations, but in Canada, there is 10 major provinces with 10 sets of different rules and practices. This will be much more challenging compared to the likes of Colorado. I expect we are already at 40% or higher market penetration on the 'S' curve, where the point of the first big consolidation is nearby. I will have more detail with an in depth marijuana market report.
I believe it will take a while for the market to figure out these challenges . The biggest reason for this, is a push by police to close up the illegal shops now that legalization is in effect. If illegal shops do not close, they risk not ever getting a legal license to sell. This will create a lot of market confusion for a while and push sales to the new legal stores. This will fool investors, thinking this is new big demand when it is only demand that has shifted. Once LPs start reporting slower growth figures, their stock prices will fade. Also, there are not near enough outlets open for the first day of legalization so this will fool most investors that see the high demand at these few outlets. For example, in Ontario, the online store seen over 30,000 orders by 7AM on Wednesday and that is because it is the only legal outlet open in Ontario.
There are very good ways for investors to take advantage of this, stay tuned for my next pick in the sector.
Patriot One Technologies       TSX.V:PAT        (OTCQX:PTOTF)
Recent Price $2.50  Entry Price $0.95             Opinion - hold
PAT, the makers of the award-winning PATSCAN CMR™ (Cognitive Microwave Radar) concealed weapons detection system released Volume 10 of theirNFORCED eNewsletter recently updating the market on recent events and milestones. We have included a link to the eNewsletter below which highlights the recent Security Forum event in Las Vegas where the PATSCAN™ concealed weapons detection has been deployed and is currently being tested/evaluated by their security team as well as a PATSCAN™ CMR product development update.
This graphic illustrates the multi sensor system.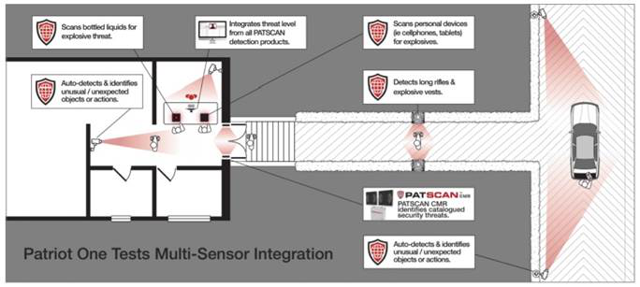 Excerpt from the eNewsletter:
The timing and location meant we could deliver an in depth preview to an invitation-only guest list of key security executives. For three (3) solid days, we enjoyed virtually nonstop activity as our sales and marketing team, alongside our engineers, presented the latest updates to our PATSCAN CMR solution, along with five (5) other sensor technologies that the company is evaluating to add to our proposed PATSCAN family of multi-sensor threat detection solutions. The response to the PATSCAN CMR technical advancements and the line-up of five (5) new threat detection solutions was unanimous and exciting. From our growing list of authorized security system integrators, dealers, and security professionals alike, all were keenly enthusiastic.
I also recommend reading this article written by Jeremy Hsu:New in School: AI-Driven Gun Detection Systemsand posted on the site UNDARK which goes into detail about the issue of gun violence and what is being looked at to protect school campuses. Here is a quote from the article:
"I can tell you with a lot of confidence that this technology, incorporated into Marjory Stoneman Douglas, would have probably saved all 17," Button said, "including my nephew — who was one of first people shot."
Company's most recent PPT presentation:
Investors are starting to discover the potential with this company.
In my early June update I suggested buying on dips below $1.50 and I hope some of you did as the stock temporarily dipped to the $1.30 area shown on chart next page. We have now clearly broken to new highs above $2.35 which should act as a support level now. I am suggesting a hold now as we may see some consolidation from these recent gains.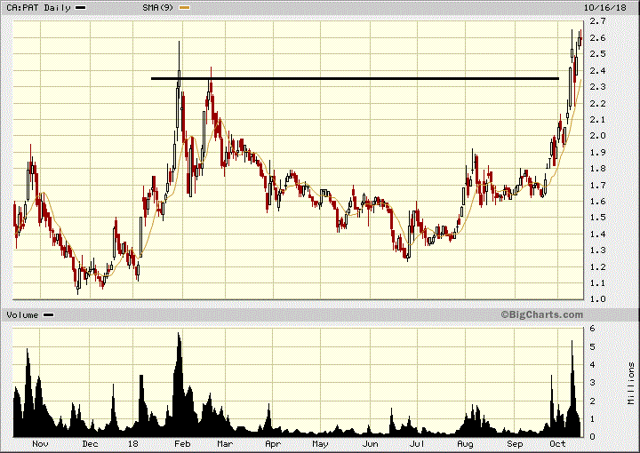 Perhaps the best is at the last of this blurb and that is this gold chart (GLD). We finally broke above the $1225 level I was watching for. This is now stronger confirmation that the bottom was put in this past August. The next resistance levels I see are around $1240 and $1275 and a lot of shorts piled in at those levels. If we can break $1240, the rally to $1275 area could be quick, driven by short covering. And I am expecting this to happen so $1275 would be my next target area. My gold producer picks from the V19.1 Sept 19th issue have started to move up. They will see a nice jump when gold runs to $1275. Wage inflation and a rising CPI are starting to concern the Fed and this should be a continued driver for higher gold prices.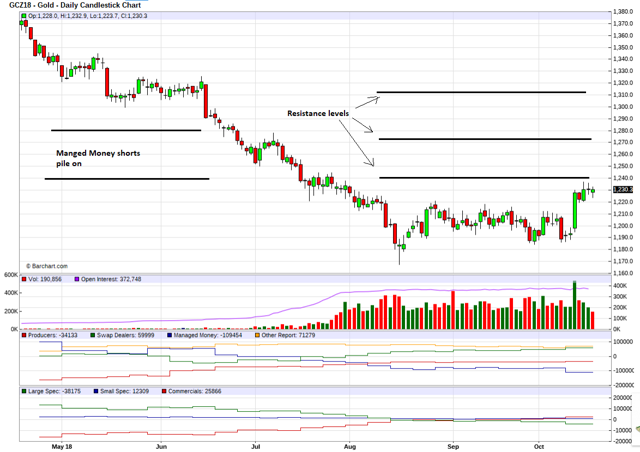 Disclosure: I am/we are long GLD.