Hello!
Valuation of blue chip and fast growth companies has gone far into the dark woods since last year and 2011 year's levels. It hardly ever priced fair - far beyond terms of intrinsic value, basically in 2013 we are being seduced to buy one dollar cost stocks for a dollar and a half or even for a two dollars. Whichever ok-company (without huge troubles or public disrespect) you take - you will see the same picture - high price for nothing special, sometimes rocket-price for a good stuff. For instance, we will look at ADM- Archer Daniels Midland, which is pretty vanilla blue chip and somehow it will show us the same picture that you can see at Ford, Nike or any other next stock.
ADM's business is oilseeds crushing and processing, corn producing and processing, other kinds of crops, bio-ethanol and even cacao. AMD is diversified international company which presented in more than half of the counties at our planet (160 to be exact). Revenue structure over the years is quite diversified among mentioned segments. About a half of the revenue ADM gains in US and about 20-25% at Europe, last part goes from Asia, Latin America and other regions. To add more respect for the company - ADM is century-age company that started its business at 1902.
For the last 12 month revenue amounted to 90 billion dollars and net income amounted to 1,18 billion dollars, however net income is far beyond company's high-marks, which are 2,16 billion dollars for 2007 year and 2,03 for 2011 year. 5-year average market capitalization is about 19 billion dollars.
Let's look at graphs.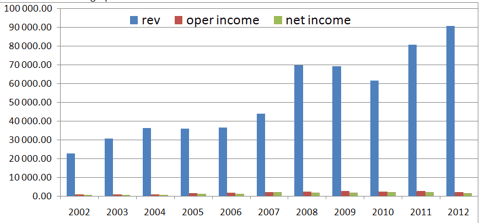 a) Yes, sales are growing quite ok. However, you will see later that it neither does any good for the profitability of the company nor makes a balance sheet healthier.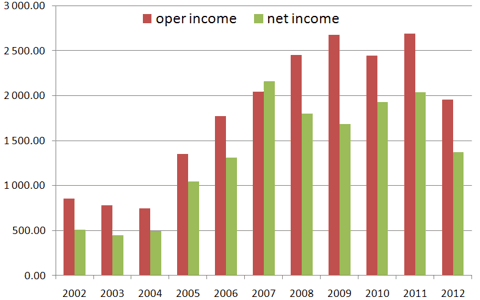 a) As you see - ADM does worse than in pre-crisis time, especially in terms of growth, it had really good times in 2003-2007 period, that was not all the way encouraging for agriculture companies.
b) Last year performance was worst in a 5-year row, but stock-price went pretty high.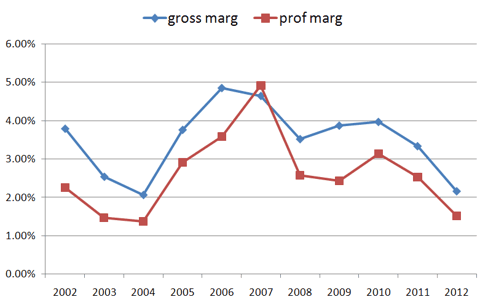 a) This graph tells us how company's business is deteriorating over years - OVER YEARS, it simply declares that the company's business is in a bad cycle for a long time, why should anybody want to buy it's stocks at current prices or even at levels of 2012 year?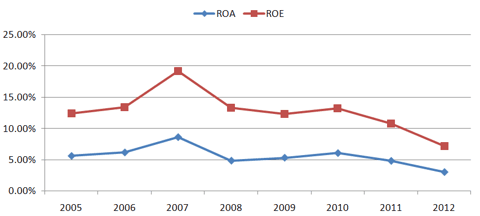 a) Company in its core does bad - it does bad with its assets - bad management with what you basically was given to manage, as well as it performs poorly for it's own capital - the very core of old good company.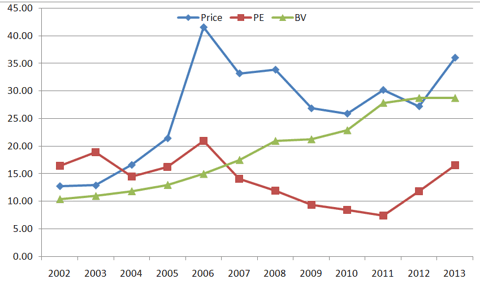 a) Here we can see how P/E ratio reflected well company's performance over last 5 years.
b) Very worrying fact is that nothing has changed - ADM does business not inspiring, but somehow price goes as if something had changed for the better.
c) Book value which is represented in a large scale by inventories goes higher, but it shouldn't. Because, basically, balance sheet is deteriorating too.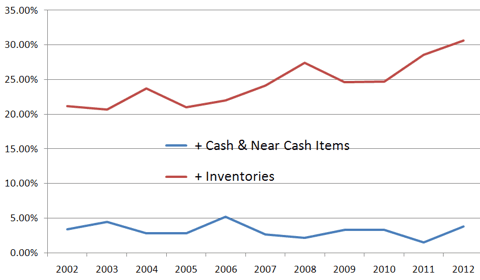 a) Let's assume that Inventories are represented by a half with commodity and price volatility for it is about 15-25% per year, and the last part is energy, parts and other stuff. By in large we may use discount 30-35% for Inventories, which writes-down more than 4 billion dollars.
b) Cash level is low, since illiquid assets growth with 9% 5-Y CAGR and Total debt 5-Y CAGR is 12.5%.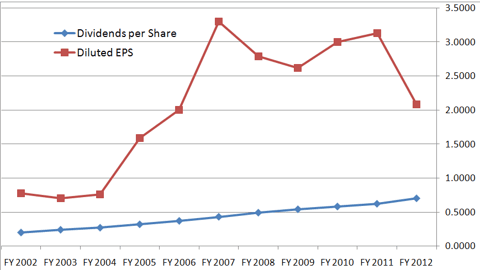 a) One good thing is - shareholders that had bought stock really low at 2002-2003 or at 2008 - are wise fellows.
Personally I think ADM is a way overpriced and good price for the buy is below 22 dollars per share.
But this is not a main idea of this topic.
Generally, I worried a lot about valuation because this type of development, in a different scale, can be spotted in every blue chip stock or fast growth - financial results goes loose, but price rocket-jet to the skies, just look at 2012-2013 S&P500 performance. With fast growth companies situation is the same, the stocks that should be priced from 30 to 60 Price to Earnings now priced 50 to 90, however growth rate of business is far lower than a two or three years ago, take LULU, SBUX, UA, MELI and etc…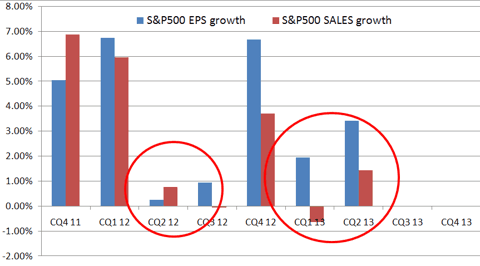 As a conclusion, investors - shareholders, please stay away from US-stocks right now, especially blue chip and fast growth (this advice I would not tell for short-term traders). The only area to L-T investment is undervalued depressed ideas or Canadian stocks, if you find cheap one.
Damir Babanazarov
Asset management of TAS.
Disclosure: I have no positions in any stocks mentioned, but may initiate a long position in SBUX, FSLR, TSL, GTAT, INTC, OTCPK:ACLLF over the next 72 hours.