PART ONE: THE HISTORICAL SPLENDOUR OF TRINA SOLAR
Personally, I have always admired the business of the Trina Solar (NYSE:TSL) and there were (and some still are) characteristics that made it a standout from other solar businesses.
I. The dynamics of financial performance. Trina Solar used to be among top notch performers of the industry. Its revenue, net income, EPS, multiples increased every year and were better than of other companies even at a time when the crisis of oversupply struck the industry in late 2010. Let's examine charts, pretending we do not know what is going to happen after the vertical purple line: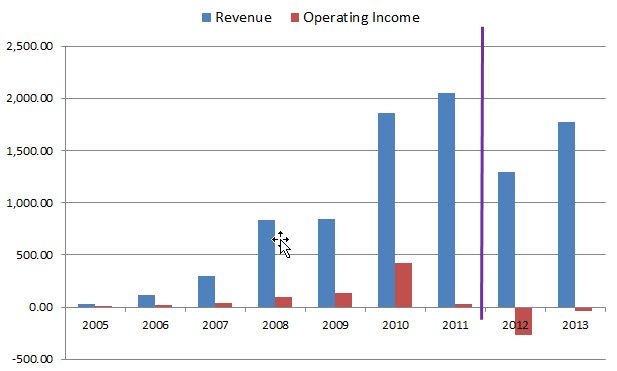 Chart 1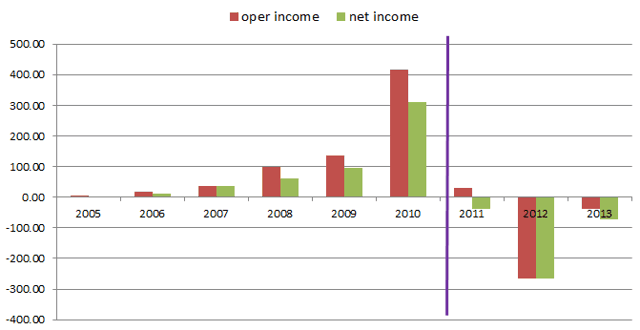 Chart 2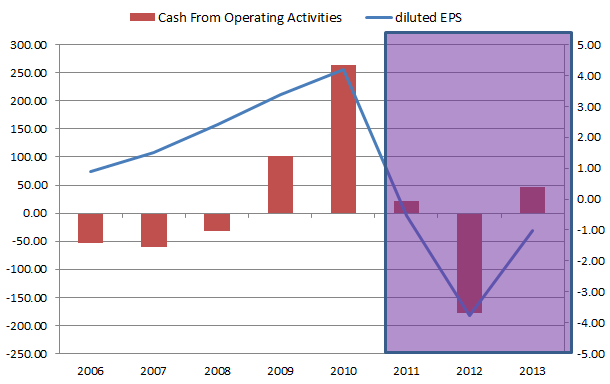 Chart 3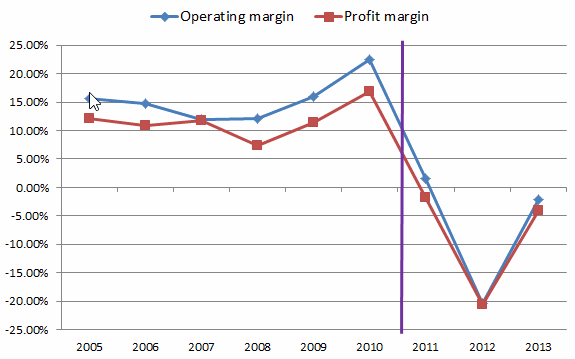 Chart 4
These are rough indicators - not scrutinized, an overview and it felt really strong and positive back then in 2009-2011. A real investment professional could have noticed many discrepancies such as underperforming owner's earnings, arbitrary adjusted cash-flows; and still one could not have resisted the fact that the dynamics was promising. Such a view was supported by the conservative financing and sound balance sheet structure. Moreover, at the peak of the crisis TSL looked robust due to its tenable cash position. And it turned out to be a classic opportunity for value investors.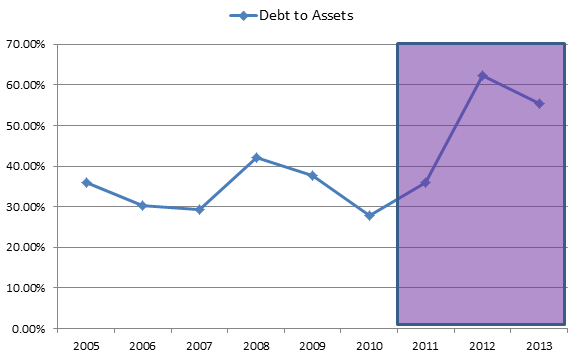 Chart 5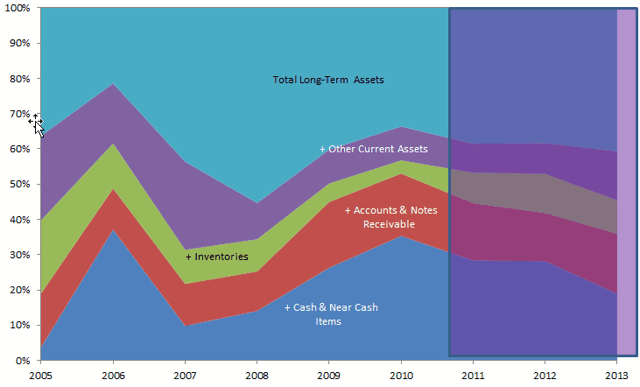 Chart 6
II. Investors liked and still do like the Management. Let's have a look at Mr. Giffan Gao's magnetic persona.
* A Vice Chairman of New Energy Chamber of Commerce of All-China Federation of Industry and Commerce, Executive Director of China National Renewable Energy Institute, Deputy Director of Professional Committee of Solar Buildings, Executive Vice President of Photovoltaic Industry Association of Jiangsu province, and Deputy to the People's Congress of Changzhou and member of board of directors of Fudan University… And so on.
* In 1997, in the wake of the Kyoto Conference and the global climate warming movement, Mr. Gao founded Trina Solar, ushering in the development of China's photovoltaic industry and becoming one of the leaders in photovoltaic industry of China.
* From June 2004 to October 2006. Prior to founding the company, Mr. Gao was the founder and the head of Wujin Xiehe Fine Chemical Factory, a Chinese company that manufactures detergents for metal surfaces, from 1992 through 1997. From 1989 to 1992 Mr. Gao was one of the co-founders and the head of Guangdong Shunde Fuyou Detergent Factory.
* Mr. Gao received his master's degree in physical chemistry from Jilin University in 1988 and his bachelor's degree in chemistry from Nanjing University in 1985.
Looking at his profile we can conclude that Mr. Gao has a solid background as well as a sagacity to employ. He still owns some 6-7% of the company.
III. Last but not least - operating performance. Titles such as "World Record" and "Number One" have been a crucial theme of many corporate presentations for many years and this is still the case.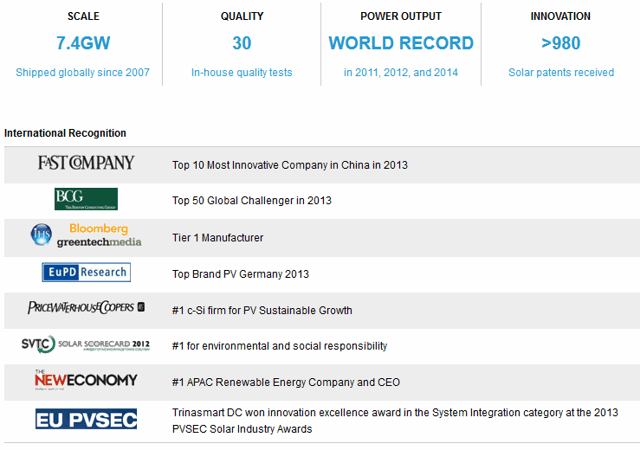 Source: Trina Solar
Now you can see in short what I used to think about Trina Solar. I bought and sold the stock several times over, sometimes unsuccessfully and sometimes extremely profitably. Being a believer I bought it at the $3 level in 2012 and sold it around $ 10 in 2014 when I discovered that Mr. Market preached bright future for the company, when in fact the prospects were a way more modest and competition became fierce. So I left the stock for a while hoping to pick it later when the business reflects a real take-off from the post-crisis base.
PART TWO: MIGHTY TREE EATEN BY TERMITES
I would not blame the management for making Trina Solar a bad investment, they did a better job than most. A goal to survive in the middle of a perfect storm could be difficult enough in itself. Nevertheless, damage was done and its consequences may be fatal.
· * To survive, every single company in the industry tried to expand its operation beyond European market and moving to new places especially the USA and China. Holding its ground, when completion grew fiercer, demanded from the company ample amounts of money for selling and marketing activities, opening new branches and international offices, not mentioning the necessity to continue financing R&D and capital expenditures.
* Price dumping became so common that solar companies missed their operating profit for a couple of years, they also lost a lot of money when they found out that limited demand and low prices made part of their inventories obsolete and the other part worth little. During that period solar companies had to "eat up" their cash reserves and take debt. You can see it on the Chart 05 as TSL was doing what everyone else did though TSL was more cautious.
* And the last thought is nothing more than just a thought: when a crisis hits the Murphy's Law activates and I have concerns about the trustworthiness of accounts receivable. On the other hand I don't have any doubts about debt and accounts payable.
Let's examine the numbers for 3Q 2014. By the way Trina's 4Q 2014 Earnings are to be published on 4 March 2015.
 

2011

2012

2013

12m 2014

Income Statement, million $

 
 
 
 

Revenue

2,047.90

1,296.65

1,774.97

2,106.72

- Cost of Revenue

1,715.26

1,239.41

1,556.78

1,753.06

Gross Profit

332.64

57.24

218.19

353.66

- Operating Expenses

301.68

322.11

256.27

249.97

Operating Income

30.97

-264.87

-38.08

103.69

- Interest Expense

35.02

51.89

48.44

34.76

 
 
 
 
 
 
 
 
 
 

Balance Sheet

 
 
 
 

+ Cash & Near Cash Items

 
 

486.69

318.83

+ Short-Term Investments

 
 

0.00

0.00

+ Accounts & Notes Receivable

 
 

435.09

556.65

+ Inventories

 
 

244.53

451.53

+ Other Current Assets

 
 

355.39

356.16

Total Current Assets

 
 

1,521.70

1,683.18

 
 
 
 
 

+ Accounts Payable

 
 

461.15

669.79

+ Short-Term Borrowings

 
 

935.59

783.88

+ Other Short-Term Liabilities

 
 

143.81

155.23

Total Current Liabilities

 
 

1,540.54

1,608.91

 
 
 
 
 
 
 
 
 
 

Amount to be paid within a year*

 

1078.38

1126.236

 

* Current Liabilities*0.7. Here I used a 30% discount for there could
be some non-cash amounts and errors

 
 

Amount available*

 
 

891.7934

1031.141

* Operating Income+Cash+Accounts Receivable*0.85+Inventories*0.3.
Accounts Receivable aren't 100% cash and not instant collectable, Inventories aren't cash at all and it takes effort to squeeze some cash of them.

Other Current Assets are subject of concern I don't count them in.

 
 
 

Discrepancy

 
 

-186.587

-95.0957

If TLS utilizes all Current Assets + Operating Income it will still miss $100 million.
However we cannot positively believe that TSL is able to utilize all of the Cash, nonsense there should be Waivers involved.

 
 
 

Long-Term debt

 
 

100.50

276.12

Discrepancy + Future Debt

 
 

-287.09

-371.22
Source: Trina Solar SEC Filings
Thus I have arrived to a conclusion that Trina Solar at best has a little liquidity gap, that can be covered by increased Operating Income (if any) or by taking more debt. Mildly put there is a lot of room for speculation on the TSL's future. One who believes that the 2015-2016period would be full of fantastic opportunities for solar companies makes a large bet.
On the other hand, a wary investor should feel some discomfort when a company in a competitive industry doesn't cover its liabilities with a great deal of cash (Cash or Operating Income).
There is one more concern that relieves TSL of the burden of being an Investment Grade Company, here it is:
| | | | | | | | |
| --- | --- | --- | --- | --- | --- | --- | --- |
|   | 2008 | 2009 | 2010 | 2011 | 2012 | 2013 | Now |
| ADS outstanding | 59.16 | 69.74 | 79.28 | 79.65 | 79.87 | 72.10 | 92.1 |
|   | 15.87% | 17.87% | 13.69% | 0.46% | 0.28% | -9.72% | 22% |
It has always been deemed a cheating to constantly dilute shares out as it is a negative for shareholders.
The last comment:
On 19 February 2015, according to Bloomberg the short interest was 15.2 million ADS vs 92.1 million ADS outstanding which equals to 16%.
CONCLUSION
Trina Solar should be avoided by long-term investors apart from short sellers.
Disclosure: I/we have no positions in any stocks mentioned, and no plans to initiate any positions within the next 72 hours.