The daily chart below indicates the current situation with regards to Exeter Resource Corp. (NYSEMKT:XRA). The stop of 0.74, indicated in the original report was hit and so we are out on the side‑lines. XRA continued on down from the 0.74 level and now rests between a resistance area of 0.74 and the potential capitulation low of 0.62.
For XRA to continue to sub-divide higher, it can not go any lower than 0.62. Note that this is not a prediction. It is one of the requirements for our model detailed in the original report.
If XRA penetrates the 0.62 level, it would then be sub-dividing lower, not higher and would therefore invalidate one of the conditions of the model that are needed for a significant bull or retracement move.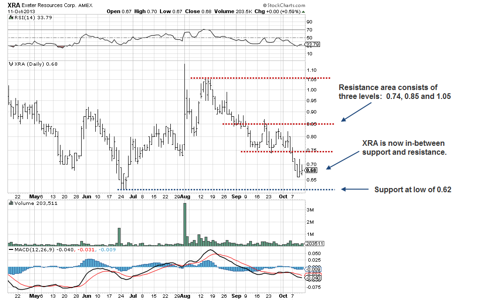 Charts by StockCharts.com
The entire sector (represented by GDX and GDXJ) is under pressure.
The following gold/silver mining stocks (that we track) have already reached a new low for the year: AEM, AUQ, CDE, NEM, NGD, PAAS, and SSRI.
With so many in the sector moving to new lows, there is a potential that XRA will do so as well. This situation is being monitored on a daily basis and there will either be an Instablog update or a new report submitted for publication as conditions change.
Disclaimer:
This report is for discussion purposes and contains our opinions only. This posting is to publicly document our thinking and market analysis actions within the Three Ten Trading entity. The data was obtained from sources believed to be reliable. However, we make no guarantee as to the accuracy of that data.
Investing or trading in equities, futures or options may result in a significant loss of capital, total loss of capital or a loss greater than available capital.
We are not advocating any stock or in any way offering portfolio management advice or stock selection service.
Respectfully,
Paul Mosgovoy, President: Three Ten Trading, LLC
Thank you for reading.
Disclosure: I have no positions in any stocks mentioned, and no plans to initiate any positions within the next 72 hours.