As stated in yesterday's report. There was a small probability that Exeter Resource Corp. (NYSEMKT:XRA) would gap-higher at the open.
That is the case at the beginning of the session. We are re-entering XRA at 0.66 with a stop at 0.62.
If XRA proceeds to 0.62 from this point, it is very likely that we are headed to much lower levels.
The volume from yesterday's session should have resulted in a break below 0.62. Since this has not happened as of this writing, the conclusion then is that there may not be any more supply.
Of course, it can all change in an instant. However, contact with 0.62 from our standpoint indicates a high potential for a break-down.
Therefore, the risk here should be minimal at 4-cents/share. We are either going to lose the 4-cents/share (and head to much lower levels) or this is a potential bottom for XRA.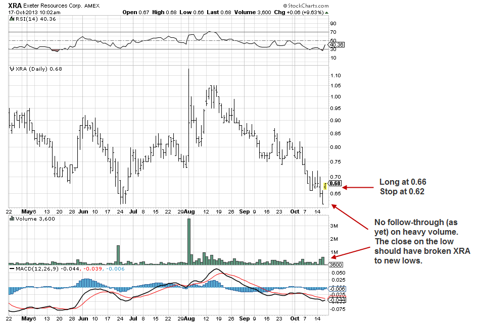 Charts by StockCharts.com
Disclaimer:
This report is for discussion purposes and contains our opinions only. This posting is to publicly document our thinking and market analysis actions within the Three Ten Trading entity. The data was obtained from sources believed to be reliable. However, we make no guarantee as to the accuracy of that data.
Investing or trading in equities, futures or options may result in a significant loss of capital, total loss of capital or a loss greater than available capital.
We are not advocating any stock or in any way offering portfolio management advice or stock selection service.
Respectfully,
Paul Mosgovoy, President: Three Ten Trading, LLC
Thank you for reading.
Disclosure: I am long XRA.