Exeter Resource Corp. (NYSEMKT:XRA) is in a deep test of support.
As sated in a previous blog post, we believe that the bottom (or a bottom) in Exeter was identified on October 19th.
Price action promptly recovered from that low and tested resistance at 0.75 - 0.76.
Now we are in a deep test of the original reversal. The price action looks threatening. However, when volume is taken into account, we can see that the thrust energy of the current move is much less than the thrust energy at the 0.62 low posted on October 16th.
The daily chart below shows the comparison between the two days that formed the low and the current test of support. Volume at this two-day test has contracted over 60% from the two-day volume at the October 16th low.
This is no guarantee of a move higher from here, but it does give some perspective.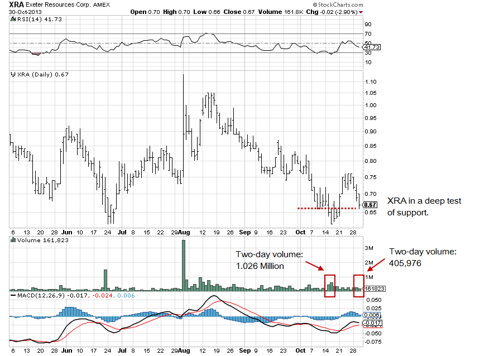 Charts by StockCharts.com
We are long XRA with a stop at 0.64.
Disclaimer:
This report is for discussion purposes and contains our opinions only. This posting is to publicly document our thinking and market analysis actions within the Three Ten Trading entity. The data was obtained from sources believed to be reliable. However, we make no guarantee as to the accuracy of that data.
Investing or trading in equities, futures or options may result in a significant loss of capital, total loss of capital or a loss greater than available capital.
We are not advocating any stock or in any way offering portfolio management advice or stock selection service.
Respectfully,
Paul Mosgovoy, President: Three Ten Trading, LLC
Thank you for reading.
Disclosure: I am long XRA.