For the purposes of this update, we are going to use the iShares Russell 2000 ETF (NYSEARCA:IWM) for the example data.
We have included a chart of Direxion Russell 2000 Bearish 3X ETF (NYSEARCA:TZA) as a reference.
As the daily chart of IWM indicates below, we may be at a top that will allow a significant down-side (upside in TZA) for a low risk trade.
The chart shows an apparent wedge pattern with what looks to be a "throw-over" of the wedge. To give credit where it is due, the first place we saw the "throw-over" term used, was in some material published by Elliott Wave International during the 1980s.
Not sure if they originated the term or not but just giving the reference.
According to long established trading rules, when the pattern throws-over, the entry signal is given when price action enters back into the wedge. This is exactly where we are now.
In this instance, the stop can be tight because if the pattern fails, meaning if price action continues higher, then the trade set-up is invalid.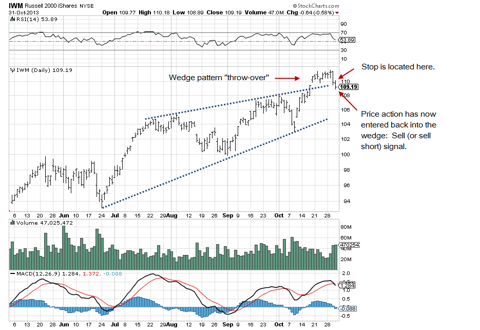 Charts by StockCharts.com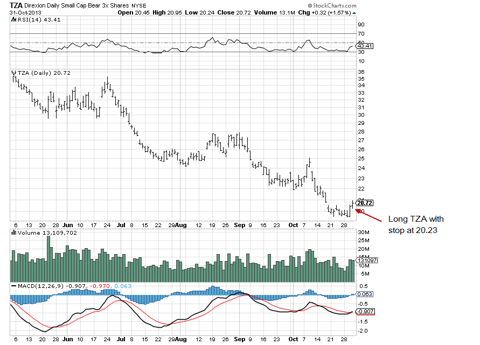 Instead of going short IWM, we have gone long TZA and have our stop just below today's low.
We are long TZA (the 3X inverse of IWM) with a stop at 20.23
Disclaimer:
This report is for discussion purposes and contains our opinions only.
This posting is to publicly document our thinking and market analysis actions within the Three Ten Trading entity. The data was obtained from sources believed to be reliable. However, we make no guarantee as to the accuracy of that data.
Investing or trading in equities, futures or options may result in a significant loss of capital, total loss of capital or a loss greater than available capital.
We are not advocating any stock or in any way offering portfolio management advice or stock selection service.
Respectfully,
Paul Mosgovoy, President: Three Ten Trading, LLC
Thank you for reading.
Disclosure: I am long TZA.