AuRico Gold Inc (NYSE:AUQ) has essentially been in a downward trading channel since its consolidation with Northgate Minerals in August of 2011.
The company has divested its more expensive operations and has just completed a commissioning project on its Young-Davidson mine.
From the beginning of this year, the down-channel has now developed into a contracting wedge pattern as seen in the weekly chart below.
As in the rising wedge noted in updates for the iShares Russel 2000 ETF (NYSEARCA:IWM), these are termination patterns.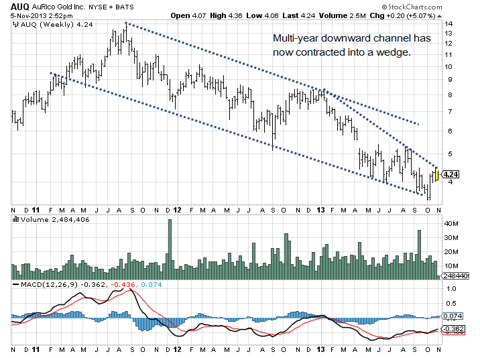 Charts by StockCharts.com
The wedge shown above has established characteristics that have increased the probability of a measured move.
As can be seen, there are several contact points both on the upper wedge line and the lower line. This gives credibility to the formation.
There has been a "throw-under" of the pattern at the beginning of October. It is interesting to note that the culmination of the throw-under coincided with a quarterly release from AuRico where they indicated that their capital project on Young-Davidson was essentially complete.
The week of October 28th was a contact with the upper wedge trend-line and then a reversal. This week, we see that the prior week's reversal is failing.
As stated in previous reports, failed moves reveal the entity in control. In this instance thus far, the bulls are in control.
Taking into account all of the above, we can use technical analysis to generate a measuring object, or measured move for the probable outcome of what is occurring now.
The weekly chart is repeated below and now shows the measured move forecast to the 8.00 - area: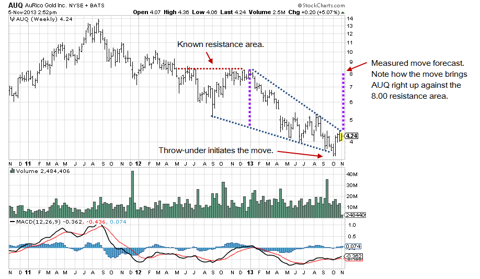 Charts by StockCharts.com
As long as this week's low of 4.06 is not penetrated, the forecast remains valid.
We are long AUQ with a stop at 4.09
Disclaimer:
This report is for discussion purposes and contains our opinions only. This posting is to publicly document our thinking and market analysis actions within the Three Ten Trading entity. The data was obtained from sources believed to be reliable. However, we make no guarantee as to the accuracy of that data.
Investing or trading in equities, futures or options may result in a significant loss of capital, total loss of capital or a loss greater than available capital.
We are not advocating any stock or in any way offering portfolio management advice or stock selection service.
Respectfully,
Paul Mosgovoy, President: Three Ten Trading, LLC
Thank you for reading.
Disclosure: I am long AUQ.