For those that are new or those that are just now beginning to read these updates, the following is a re-cap of where we are thus far on the short position in the iShares Russell 2000 ETF (NYSEARCA:IWM).
The longer term measured move top in IWM was identified and can be accessed here. Near term, we identified that the IWM had met conditions for a short position. That report is here.
Instead of actually going short the IWM we are using the inverse fund from Direxion. That fund is the Direxion Russell 2000 Bearish 3X ETF (NYSEARCA:TZA).
Since the reversal in IWM is now becoming obvious (although not complete just yet), we can begin to forecast the likely targets of the down move.
Until the charts indicate otherwise, we are analyzing this reversal as if it is the potential top of the entire move from the 2009 low.
The Fibonacci retracement levels identified on the weekly chart below are in reference to low made during March of 2009.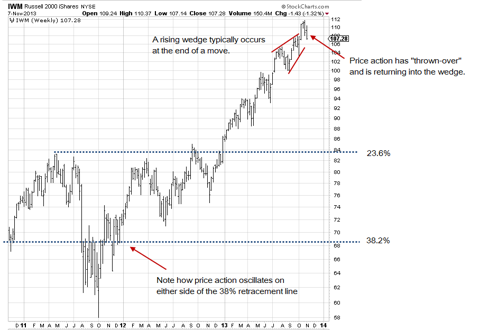 Charts by StockCharts.com
It is interesting to note that the Fibonacci retracement areas correspond to significant price action points on the chart. This is no guarantee that we are at the top. However, cleanly defined Fibonacci retracement areas such as those above do provide support to the reversal potential.
If the subsequent chart action dictates (and it could happen tomorrow, next week or next month) that this reversal is not a top of significance, then we will modify the forecast at that time.
As stated in the prior reports, a rising wedge is a termination pattern that typically occurs at the end of a long duration move. In this case, the move was approximately 4.5 years from the 2009 low to now.
If we use Fibonacci timing analysis we see that from the March 2009 low to the October 2013 top, is 55 months. Meeting a Fibonacci number is not in itself a cause for action. It is just one more piece of data that indicates the potential for a top.
As price action or events dictate, we will continue these updates until stopped out or exit out.
We are long TZA with a stop at 20.39
Disclaimer:
This report is for discussion purposes and contains our opinions only. This posting is to publicly document our thinking and market analysis actions within the Three Ten Trading entity. The data was obtained from sources believed to be reliable. However, we make no guarantee as to the accuracy of that data.
Investing or trading in equities, futures or options may result in a significant loss of capital, total loss of capital or a loss greater than available capital.
We are not advocating any stock or in any way offering portfolio management advice or stock selection service.
Respectfully,
Paul Mosgovoy, President: Three Ten Trading, LLC
Thank you for reading.
Disclosure: I am long TZA.