We were stopped out of our position in the iShares Russell 2000 ETF (NYSEARCA:IWM) as indicated in previous posts. the IWM has started to sub-divide higher.
Now on the sidelines we can see that the IWM may be in the final stages of a blow-off top.
The daily chart below shows the signals that portend such a move:
The lower energy on each set of new highs
The increasing ascent angle of the trend lines
The potential for a bearish MACD divergence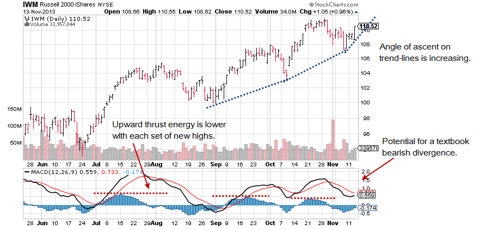 Charts by StockCharts.com
If this is a blow-off move, then we need to start to prepare for the appropriate entry signals.
This is a short list:
Some kind of significant positive news in the pre-market session
A significant gap open higher above all levels of resistance
Volume 2X - 3X or more than normal for the past 3 - 6 months
Hourly reversal bar within the first two hours of the session
Or, an end-of-day reversal (or outside down reversal) bar
There is a chance that the IWM will gap lower at the next session and begin a new process of subdividing lower. If that happens, it will be addressed at that time.
We currently have no open positions.
Disclaimer:
This report is for discussion purposes and contains our opinions only. This posting is to publicly document our thinking and market analysis actions within the Three Ten Trading entity. The data was obtained from sources believed to be reliable. However, we make no guarantee as to the accuracy of that data.
Investing or trading in equities, futures or options may result in a significant loss of capital, total loss of capital or a loss greater than available capital.
We are not advocating any stock or in any way offering portfolio management advice or stock selection service.
Respectfully,
Paul Mosgovoy, President: Three Ten Trading, LLC
Thank you for reading.
Disclosure: I have no positions in any stocks mentioned, but may initiate a long position in TZA over the next 72 hours.